Today I wrote an article on Forbes titled, Why I Am Not Selling My Top-Performing REIT, in which I explained my rationale for holding onto my shares in Realty Income (NYSE:O):
The balance sheet is in the best shape in at least 10 years and can grow at 5%+ this year without having to dilute shareholders through significant equity issuance volume.
Owning the low-cost leader in the Net Lease REIT sector does not necessarily mean one should keep holding Realty Income shares, but it does suggest that the company is well-positioned to grow at a sound rate. Besides, where else can you find a safer alternative with a yield on cost of around 6% (O's current yield is 3.8%).
Arguably, Realty Income has one of the safest dividends in the entire REIT sector.
Of course, that does not mean I would buy it today, arguably, the shares have become down right expensive as evidenced by the all-time high of $62.89 yesterday.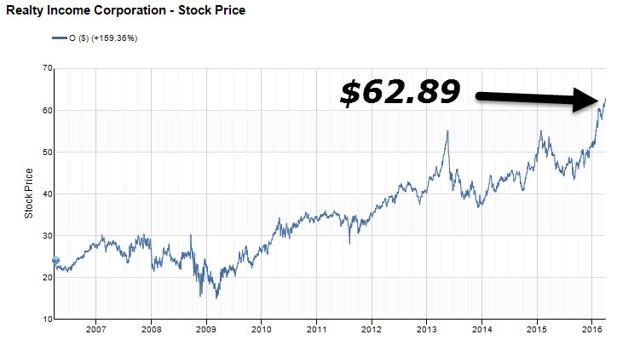 Click to enlarge
Clearly there are more buyers than sellers of Realty Income and I'm certain that a large percentage of the buying population is feeling better because of the Fed's relaxed rate policies. As I explained,
Mr. Market does not believe that we will see another May 2013 - or 100 bps shock to the 10-year. It's rather obvious now that the economy is not accelerating to the upside as the 10-year looks tight.
But what if an investor is ready to cash in his winning Realty Income chips? Where else can you find an alternative opportunity that promises such dividend safety?
External Management Is a Deal-Killer
Gladstone Commercial (NASDAQ:GOOD) is now the highest-yielding Net Lease REIT in the sector, now paying out $1.50 per share and yielding 9.2%. While the yield is attractive, investors should always take a closer look at the security to determine whether or not it is a sucker yield and whether it is artificially engineered.

Click to enlarge
GOOD is a small-cap Triple Net REIT that listed on the Nasdaq in July 2004 (almost 12 years ago). The company is externally advised by Gladstone Management Corporation, an affiliated adviser with around $1 billion of funds under management. GOOD has a market cap of $384 million, and here's how that compares with the peer group:

Click to enlarge
GOOD is one of a family of funds (managed by Gladstone Management) and other affiliated companies include Gladstone Capital Corporation (NASDAQ: GLAD), a business development company (or BDC) that invests in small and medium private businesses; Gladstone Investment Corporation (NASDAQ: GAIN), a BDC that operates primarily as a buyout fund that also invests in small and medium businesses; and Gladstone Land Corporation (NASDAQ: LAND), a REIT that invests in farmland located in major agricultural markets across the US.
The common denominator for all of the above referenced Gladstone businesses is David Gladstone, who serves as chairman and CEO of Gladstone Management.
The senior Gladstone is also chairman and CEO of all four Gladstone public companies, and he is past chairman of Allied Capital Commercial (a former REIT) and a past board member of Capital Automotive (formerly a publicly traded REIT on the Nasdaq through December 2005, when it completed a privatization with DRA Advisors LLC).
The external management team at Gladstone Management includes a team of experienced employees, but there appears to be conflicts of interest in the duties, responsibilities and compensation associated with the various entities.
Notably, I find GOOD's Management Services Agreement with its Adviser to be riddled with risk. For example, in the 10-K, the "Advisory Agreement provides for an annual base management fee equal to 2.0% of total stockholders' equity less the recorded value of any preferred stock and an incentive fee based on FFO".
The Adviser does not charge acquisition or disposition fees when acquiring or disposing of properties, and there are no fees charged when the Adviser "secures long or short-term credit or arranges mortgage loans on properties".
But the Adviser "may earn fee income from our borrower's tenants or other sources. This fee income earned by our Adviser or portion thereof may at the sole discretion of the Board of Directors be credited against our base management fee as rebate to the base management fee."
The incentive fee would reward our Adviser if our quarterly FFO before giving effect to any incentive fee or pre-incentive fee FF0 exceeds 1.75% or the hurdle rate of total stockholders' equity less the recorded value of any preferred stock. We pay our Adviser an incentive fee with respect to our pre-incentive fee FFO quarterly.
As you can see, this is more complex than most Triple Net REITs. Why would the Adviser be getting compensated a 2% management fee that is already on the high side and additional earned fees from GOOD's borrower's tenants or other sources?
The Portfolio
Let's take a look at GOOD's top tenants: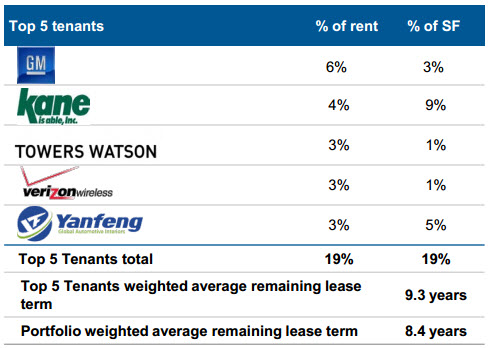 GOOD owns 99 properties in 24 states. Here's a snapshot of the portfolio: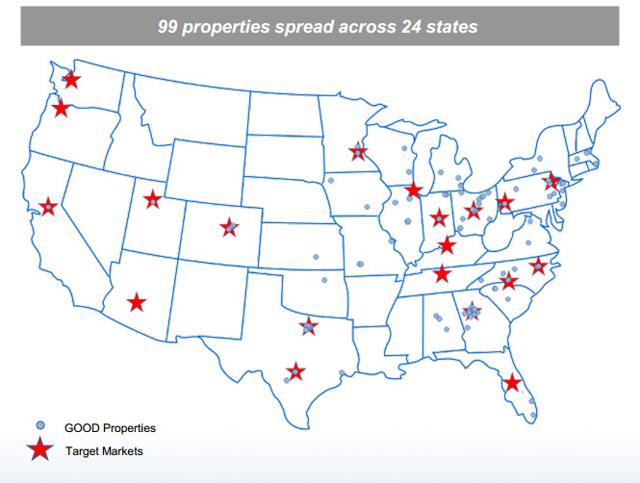 Click to enlarge
The portfolio consists of mostly office (52%) and industrial (41%) with a few retail (4%) and medical office (3%) buildings.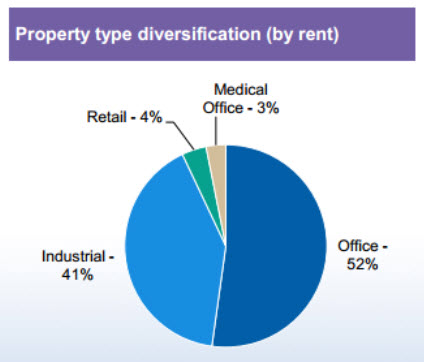 It's important to remember that GOOD's portfolio is much smaller than Realty Income and there is considerably less industry diversification. Remember what's happening now in the healthcare sector? Most REITs with exposure to assisted living and senior housing are getting crushed, that's precisely why it's critical to own net lease REITs with highly diversified portfolios.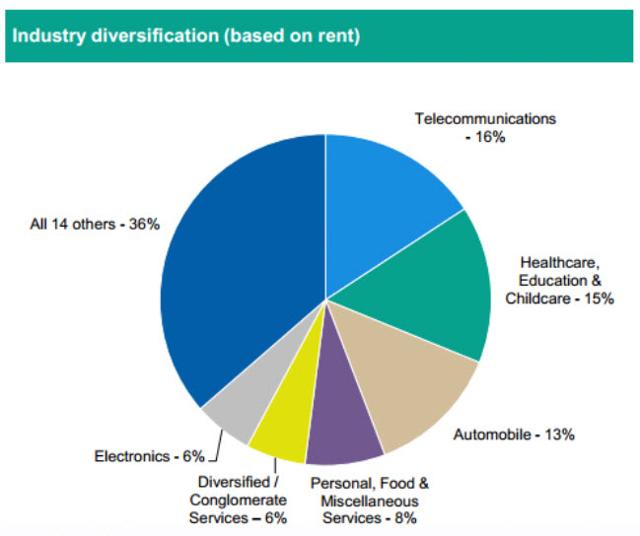 Click to enlarge
GOOD's portfolio consists of around 69% private tenants and 31% public tenants. As we'll discover later (below), there's a good reason GOOD invests in more private companies.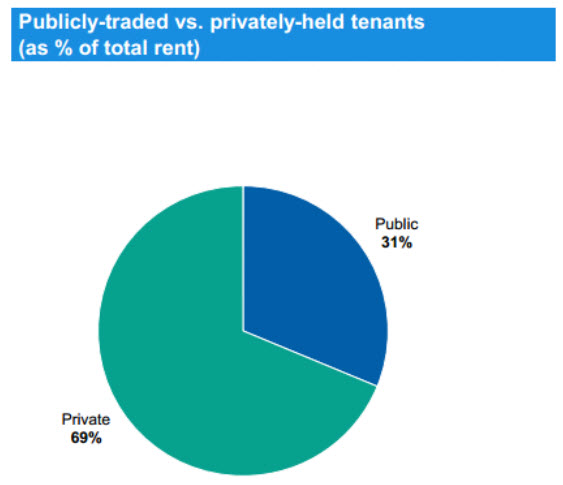 GOOD states that around 71% of the tenants are "rated investment-grade and non-rated equivalent," but that's not to be confused with the actual 18% of rated investment-grade tenants.
There is a big difference between these two and GOOD even points out in the 10-K that "highly leveraged tenants and borrowers may be unable to pay rent or make mortgage payments which could adversely affect our cash available to make distributions to our stockholders.
"Some of our tenants and borrowers may have recently been either restructured using leverage or acquired in leveraged transactions. Tenants and borrowers that are subject to significant debt obligations may be unable to make their rent or mortgage payments if there are adverse changes to their businesses or because of the impact of the recent recession."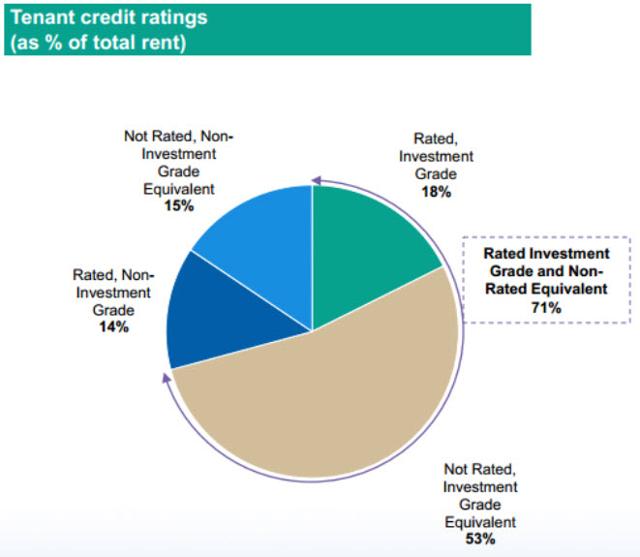 Click to enlarge
The Business Model
It's clear that GOOD is no Realty Income, even though the two companies invest in similar free-standing buildings, they are really apples and oranges.
As I explained in my recent Forbes article, Realty Income's weighted average cost of capital (WACC) is around 4.4%, the lowest of any Net Lease REIT peer. However, GOOD's WACC is significantly higher, around 7.5%.
For Realty Income to earn profits the company invests in high-quality buildings with cap rates of around 6.5% to 7%. That means that the profit margins are around 210 bps and the buildings are leased to credit worth customers.
GOOD, on the other hand, invests in lower-quality properties such as:

Click to enlarge
GOOD does not have any bank debt outside of its revolver, and it uses preferreds quite liberally. The revolver is at Libor +225 bps, but that's not "permanent debt," so I assume somewhere around 5% is where it could issue 10-year paper at (though this is a completely wild guess). Using 5% cost of longer-term debt at 50% leverage and 10% cost of equity, you're looking at around 7.5% WACC.
Keep in mind, though, GOOD is also taking on considerable more risk with its higher leverage. In other words, its WACC would be around 8.5% if it were to use more conservative leverage like Realty Income (33% equity), so it's important to recognize that GOOD is generating investment spreads of around 100 bps (8.5% cap rate - 7.5% WACC) with substantially more balance sheet risk and tenant risk.
My point here is that GOOD's 9+% yield may look good on the surface but you can't always tell a book by its cover.

Click to enlarge
Give Credit When Credit Is Due
While I am not a fan of GOOD's external management and higher cost of capital, I wanted to provide a few positive attributes (yes, this is a first), starting with the muted lease rollover risk.
GOOD's leases are well-laddered and there is limited lease expirations short term. Looking out to 2020, there is 15% coming due.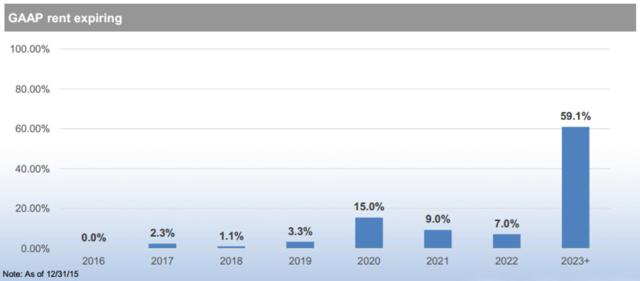 Click to enlarge
I also want to point out GOOD's steady occupancy history: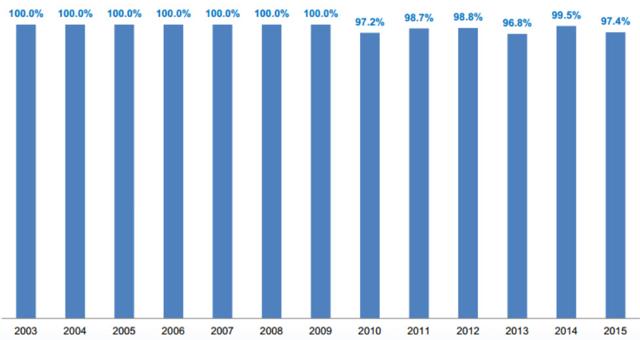 Click to enlarge
On the surface, GOOD appears to be growing earnings at a steady and predictable rate: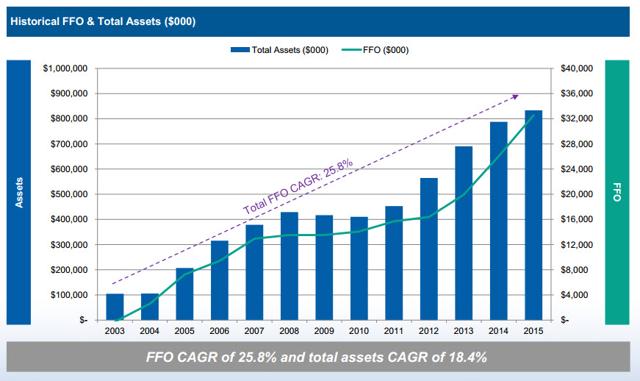 Click to enlarge
The Proof Is In The Pudding
Again, on the surface, GOOD looks like a stable REIT. As you can see below, there has been NO DIVIDEND CUT and the company has paid out $1.50 per share since 2008.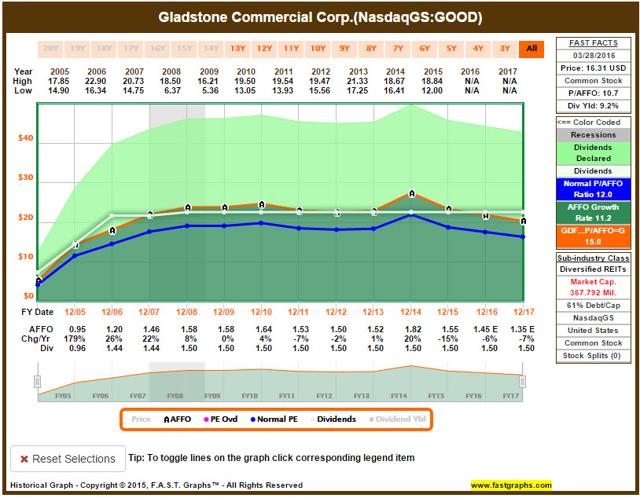 Click to enlarge
It seems that the company barely covered its dividend in 2015 and in 2016 it appears that the dividend will NOT be covered by FFO.
But let's take a closer look at "real profits" or AFFO and you will see that GOOD is really not covering its dividend, at least that is what the consensus illustrates for 2016 and 2017.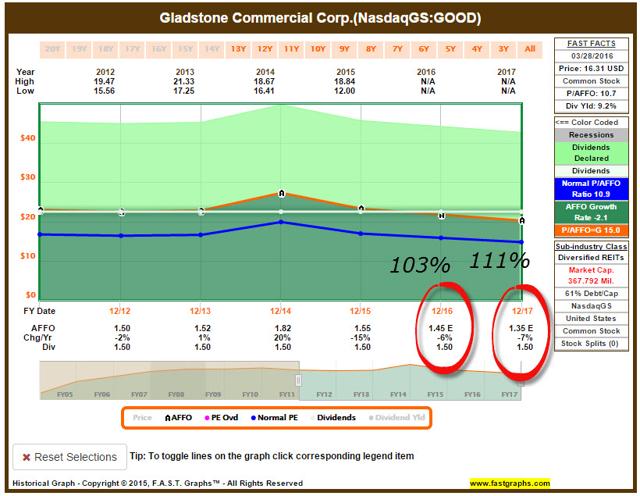 Click to enlarge
In case you didn't know, I have a new rule, thanks in large part to the lessons I learned from VEREIT (NYSE:VER), prior to its accounting hiccup:
When there's smoke, there's usually fire.
Folks, I smell smoke with GOOD. In addition to the higher risk business model and external management, I am now raising my eyebrow to the dividend payout. But I'm not alone in my conclusions, here's how Mr. Market is responding:

Click to enlarge
It seems there's always someone who defends GOOD based on its steady dividend performance. What good is a double-digit dividend when you are losing hard-earned principal? Remember Rule #1: Protect your principal at ALL costs.

Click to enlarge
In conclusion, I have no BUY price for GOOD. Regardless of the price, shares are cheap for a reason. I am maintaining a SELL on this "sucker yield" REIT.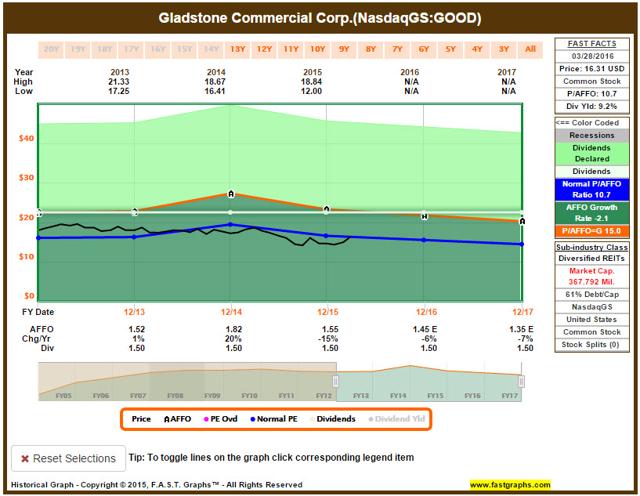 Click to enlarge
Author's Note: I'm a Wall Street writer and that means that I am not always right with my predictions or recommendations. That also applies to my grammar. Please excuse any typos, and I assure you that I will do my best to correct any errors if they are overlooked.
Finally, this article is free and my sole purpose for writing it is to assist with my research (I am the editor of a newsletter, Forbes Real Estate Investor), while also providing a forum for second-level thinking. If you have not followed me, please take 5 seconds and click my name above (top of the page).
The only guarantee that I will give you is that I will uncover each and every rock I can, in an effort to find satisfactory investments that "upon thorough analysis promises safety of principal and satisfactory return. Operations not meeting these requirements are speculative." (Ben Graham).
REITs mentioned: (NYSE:SRC), (NYSE:EPR), (NYSE:LXP), (NYSE:WPC), (NYSE:NNN), (NYSE:ADC), (NYSE:GPT), (NYSE:STOR), (NYSE:GNL), (NYSE:MNR), (NYSE:OLP), (NYSE:HASI).
Source: SNL Financial, FASTGraph and GOOD Filings.
Disclaimer: This article is intended to provide information to interested parties. As I have no knowledge of individual investor circumstances, goals, and/or portfolio concentration or diversification, readers are expected to complete their own due diligence before purchasing any stocks mentioned or recommended.
Disclosure: I am/we are long EXAMO, DLR, VTR, HTA , STAG, GPT, ROIC, HCN, OHI, LXP, KIM, WPC, DOC, EXR, MYCC, BX, TCO, SKT, UBA, STWD, CONE, BRX, CLDT, HST, APTS, FPI, CORR, NHI, CCP, WSR, CTRE, WPG, KRG, SNR, LADR, HCN, HCP.
I wrote this article myself, and it expresses my own opinions. I am not receiving compensation for it (other than from Seeking Alpha). I have no business relationship with any company whose stock is mentioned in this article.