TerraForm Global (NASDAQ:GLBL) filed an 8-K this morning confirming that they will be unable to meet their March 30th 10-K filing deadline because of SunEdison's (SUNE) ongoing issues filing their own 10-K. Due to their management services agreement with SUNE, Global's financial reporting and control processes rely heavily on SUNE systems and personnel. Since these systems are currently one of the main reasons that SUNE is not able to file in a timely manner, Global is also stuck waiting for the issues to be dealt with.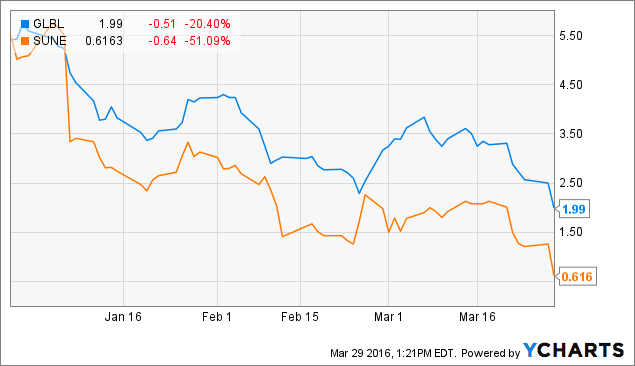 The 8-K also confirmed that due to SUNE's ongoing liquidity difficulties, there is a substantial risk that SUNE will soon seek bankruptcy protection. This confirms Debtwire's peice last week regarding DIP (Debtor-in-Possession) financing talks. Unsurprisingly, the news has put pressure on both SUNE and Global's share prices, sending SUNE under $.75 and Global into the $2 range. It's likely that if SUNE does in request bankruptcy protection, Global will fall even further.
However, I believe that the company is considerably more valuable than $2, even in the case that SUNE goes through a restructuring. Global confirmed in the 8-K that they believe they have sufficient liquidity to support ongoing operations, even if they lose access to their $475mil revolving credit facility.
The 8-K also confirmed additional issues surrounding a SUNE BK, which I've covered previously. In particular, certain projects which were expected to be transferred to Global may never be transferred. Fellow contributor Henrik Alex has a good summary of all the issues brought up in the 8-K. I won't duplicate his efforts, but strongly recommend reading his piece in conjunction with my analysis.
Based on my work, the company should currently have around $750mil in unrestricted cash available. Below, I've broken out the large balance sheet changes that occurred during Q4 2015. Note that we haven't gotten confirmation that the company did in fact de-lever their existing projects during Q4, but the Q3 10-Q noted that this was expected to occur.

Click to enlarge
Looking at this table, what stands out to me is the fact that the company could deal with a large portion of their potential obligations as described in Henrik's article by simply using their unrestricted cash. However, it turns out that Global's 2022 Senior Notes are actually trading at $.70, so the company could actually buy back an even larger portion of their debt if they made that a priority.
Alternatively, the company could buy back their shares. At current prices, Global could purchase every single share outstanding for about $350mil (178mil x $1.97). Unfortunately, this could only occur if there was no change of control, but the example goes to show just how underpriced I believe the company is currently.
What's The Downside Scenario?
The 8-K has confirmed the potential negative outcomes resulting from a SUNE bankruptcy, as described in some of my previous articles. At the time, I considered them as my downside scenario, whereas now we have to assume that they are likely to play out. The largest impacts are as follows:
1. SUNE goes BK; which would likely eliminate the support agreements with Global. These agreements were to be worth $107mil in 2016, and at least $40mil and 2017
2. SUNE goes BK before transferring over any of the Indian solar plants which Global pre-paid $231mil for in late 2015. This would leave Global out the cash with no recourse.
3. Global may not receive close to 95MW in projects which were expected to be transferred from SUNE when they were completed.
4. Global may not be able to close on the last Renova project, or the BioTherm and Solarpack transactions.
4. SUNE's Class B shares could be converted into Class A shares, leaving all shares on the same boat in terms of dividend payments. This would be a negative given that currently, Class A shares are paid the full $.275/share quarterly payment before SUNE's class B shares get any dividend.
Others have brought up additional concerns that SUNE management will force Global to "prepay" for more projects, then go BK before completing any of these new projects. Based on Global's 8-K today, I believe that the company has no interest in taking on additional risk from SUNE, so the damage is limited to what has already been announced.
Thus, the current situation is likely "as bad as it will get" for the company. What does this situation look like? I've outlined a few potential scenarios below which show that even in a SUNE BK, Global is still a good value for a long term investor at current prices. In all scenario's, I assume that all shares turn into class A shares and are paid equal dividends of 100% of CAFD, since the company would be in a runoff scenario.

Click to enlarge
Today: shows the situation today, assuming no large changes to debt, cash, or projects. This clearly won't be the scenario to play out, since something will be done one way or another.
Debt Cut 60%: This scenario assumes debt is cut to about $430mil, leaving the company with annual interest costs of about $42mil, and no need to sell any projects. Thus revenue would stay the same.
Debt Cut 100%: This would require the company to sell certain projects, resulting in a revenue cut, but complete elimination of any interest or debt expenses.
Debt/Stock Mix: This scenario is broken out in more detail on the bottom portion of the image. I assume the company uses the cash on a mix of debt and stock buybacks. If we were to lower shares outstanding by 50mil and Debt outstanding by about $375mil, CAFD would increase to about $90mil, equaling about $.70/share; a 35% yield.
The last scenario would be my preferred outcome, but may not be realistic, given that debt holders may want out of the company due to the risks. In any case, I think I've presented a range of options that all show solid returns at current prices.
Takeaway
I have been wrong in my previous analysis of SUNE, as I was too optimistic that the company would manage to pull through given their large amount of assets. It's disappointing to have been wrong, and I sold much of my SUNE stock this morning to salvage some cash. On the other hand, the complete lack of information coming from the SUNE complex has made it easy to lose sight of the real assets and cash that Global is holding and compare them to its current stock price. While SUNE itself is clearly a complete speculation at this point, I believe Global is a good value at current prices, even if many things go wrong.
Disclosure: I am/we are long SUNE, TERP, GLBL.
I wrote this article myself, and it expresses my own opinions. I am not receiving compensation for it (other than from Seeking Alpha). I have no business relationship with any company whose stock is mentioned in this article.
Editor's Note: This article covers one or more stocks trading at less than $1 per share and/or with less than a $100 million market cap. Please be aware of the risks associated with these stocks.