Stock Selection: Really Great dividend yields
This is Part 7 of A Portfolio For Mom, which explores the portfolio we're building for one of our most important clients. The series outlines our investment philosophy, centered on loss avoidance, while hopefully educating our client through a variety of case studies.
We'll introduce the philosophy, present case studies, and discuss potential stock candidates. With the help of the Seeking Alpha community, we hope to improve her investment returns.
In this edition we'll continue with stock selection introducing five companies with really great dividend yields who are candidates for A Portfolio For Mom. An added bonus is they are some really well-known brands in Canada.
Safe Dividend Growth is Key!
In Part 1 entitled Laying the Ground Rules, we introduced Mom and her experience with investing thus far. We noted that with a government pension, she isn't relying on this portfolio for income. She would just like to find some investing success after some ill-timed decisions.
We also highlighted our wealth-building philosophy centered on loss avoidance. We choose boring stocks with a history of profitability and good financial health. Many pay dividends as well - and that's a nice bonus as we're cognizant of the fact dividend growers outperform.
The following are not only dividend growth candidates but have great dividend yields and an underappreciated history of profitability (brokerages barely cover them). Importantly, we believe the dividends are safe, which gives us a head-start with respect to avoiding a loss and making money.
The latter became particularly important in the past two years. With far too many high-yielding, aggressive oil companies cutting dividends, shareholders suffered from this illusion of security.
We've chosen these five because we want no part of these illusions.
Pizza Pizza Royalty Corp
Pizza Pizza (OTC:PZRIF) is Canada's largest pizza chain with a store base that's heavily concentrated in Ontario. However, Pizza Pizza Royalty Corp doesn't actually run the restaurants. That's the responsibility of franchisees. It also doesn't distribute products or do anything behind the scenes. It's only purpose is to distribute the royalty it earns on the sale of products at Pizza Pizza restaurants.
Let's explore this in more detail - it's as if Pizza Pizza Royalty Corp essentially lent money to the operating company in exchange for a royalty on sales (as opposed to interest payments). This was done to take advantage of previous tax laws (among other reasons). Those tax laws have been changed but the publicly traded entity remains. This structure also applies to Boston Pizza, A&W, and The Keg.
Why it Fits
We don't have any illusions that Pizza Pizza Royalty Corp is one of the best stocks in Canada. If not for its attractive dividend, shareholder returns haven't been anything to write home about. However, the operating company is doing reasonably well. Sales grow modestly and a few new stores pop-up here and there each year. It has a great network of convenient locations and they continue to improve the product offering.
We also get paid a good dividend, which should grow a bit every year. The company has about 10% of its store base in Alberta so the slowing economy should be manageable for Pizza Pizza. Combined we think it offers a good place to a) protect capital and b) earn a reasonable low-risk return. You'll find we feel the same about the next four.
Pizza Pizza also trades on the TSX under PZA
Boston Pizza Royalty Income Fund
Boston Pizza (OTC:BPZZF) is another brand many Canadians are familiar with. It is the largest casual restaurant in Canada and, over the years, has managed various competitive threats reasonably well. As a result, sales have increased steadily over time.
Like Pizza Pizza, it has a decent-sized presence in Alberta and has struggled a bit as a result. However, the economic weakness has not yet impaired the financial health of the company nor its ability to pay a dividend.
Why it Fits
One of the under appreciated aspects of Boston Pizza (and most casual restaurants) is how well they've done defending their turf against American competitors. It's competitive but they aren't dealing with large, sophisticated U.S. restaurant chains. In contrast, quick-service restaurants regularly face an onslaught of great competitors from down south such as Chipotle (NYSE:CMG), Starbucks (NASDAQ:SBUX) or a revitalized McDonald's (NYSE:MCD) (among others).
That doesn't mean it isn't competitive. It's an insanely competitive industry and Boston Pizza must run its business extremely well to survive. But the industry has a nice tailwind that gives us a head-start when trying to avoid losses. Canadians, like in most Western economies, have an increased propensity to eat away from home. Consider the following chart, which highlights, even through the recession, sales at restaurants continued to grow.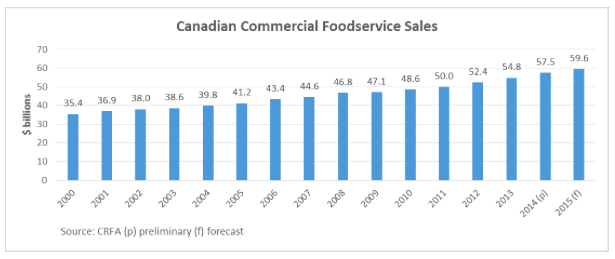 How many industries deliver such steady growth? While the past is not a predictor of the future, it again gives us a good head-start.
Boston Pizza also trades on the TSX under BPF.UN
The Keg Royalty Income fund
The Keg, like Boston Pizza, competes for the same away-from-home restaurant dollars. It's slightly more upscale (and the only national steakhouse in Canada) but generally they are after the same customer.
Remember the difference explained between the royalty company and the operating company from earlier? Well at The Keg, this structure has helped shareholders of the royalty company. Two years ago, Fairfax Financial bought a controlling stake in the operating company and since that time, they've been implementing a variety of improvements. Sales have responded very well.
For shareholders of Keg Royalty, which earns a royalty on sales at Keg restaurants, this meant more income and more dividends.
How many businesses can you think of that grew sales in the last recession? We like the simplicity of this type of business and think it's a good fit for Mom.

Why it Fits
The justification is similar to the previous two. A good industry with a well-run company and good financial health gives us a head-start in terms of achieving our loss avoidance goal. The Keg operates in a unique niche but has a good brand name and national recognition. The royalty company pays a good dividend, which we view as safe, and we expect it is likely to continue to grow.
Keg Royalties trades on the TSX under KEG.UN
A&W Royalty income fund
A&W is Canada's second largest burger chain behind McDonald's. The company has been expanding aggressively into Eastern Canada and has found tremendous success with its "better ingredients" initiatives, which have boosted restaurant sales.
The company, however, still has a large number of stores in Western Canada (mostly B.C.) and is certainly more exposed than others to Alberta's weakness.
Why it Fits
We could easily own two of these royalty companies as opposed to all four and achieve a similar outcome. However, we believe in the restaurant sales trend presented earlier and think owning more of this stable, steadily growing industry will help with our loss avoidance goal.
It's important to emphasize we are under no illusions regarding the competitiveness of the restaurant industry. Competition is intense and barriers to entry low - everyone and their mother could open a restaurant or coffee shop tomorrow. For that reason, we diversify and try to own some of the better businesses and brands in the industry.
A&W trades on the TSX under AW.UN
Corby Spirit & Wine
Our last candidate veers a little but not too much. Corby Spirit & Wine (OTC:CBYDF) is a distributor and marketer of alcohol brands (Wiser's, Jameson, and Jacob's Creek among others) owned by French company Pernod Ricard (PR also owns a majority stake in Corby). Alcohol may be a little "less-boring" than some of our other businesses but the company seems to plod along year after year without much fanfare or discussion.
Why it Fits
With a net cash balance, the company could easily have been highlighted in our Really Great Financial Health list. However, Corby also pays out a lot of the extra money it earns annually to shareholders. The current dividend yield is more than 4% and they've often paid special dividends to shareholders (kind of like a surprise cash gift every once in a while).
The business maintains its profitability year after year. It doesn't grow very fast but the dividend is good and the company requires little reinvestment to generate cash flow. We think that is a good recipe for achieving our loss avoidance goal.
Corby also trades on the TSX under CSW.A
Mom Approved (Hopefully)
Sometimes a high dividend yield suggests the dividend is at risk of being reduced. We're aiming for the opposite. These companies, with good dividend yields, have good financial health and, in our view, a low probability of ever reducing the dividend. We hope Mom approves of such reliability.
Here's our first 15 stock candidates: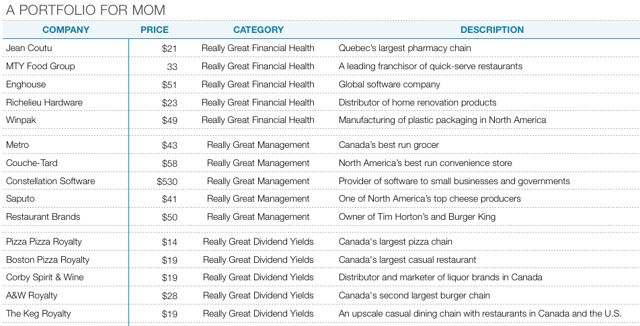 Click to enlarge
Up next is Part 8 where we'll present a case study of what a reasonably valued stock looks like to further help Mom "buy-in" to our investment philosophy. We hope it helps Mom understand the basics of valuation as it relates to the profitable, boring and financially healthy companies we want to own.
What do you think of our five high-dividend stocks? Do you have a candidate that you think might be more suitable for Mom? If so, why?
Disclosure: I am/we are long PZRIF, BPZZF.
I wrote this article myself, and it expresses my own opinions. I am not receiving compensation for it (other than from Seeking Alpha). I have no business relationship with any company whose stock is mentioned in this article.
Editor's Note: This article discusses one or more securities that do not trade on a major U.S. exchange. Please be aware of the risks associated with these stocks.