Spectra Energy (NYSE:SE) has seen a positive run up in 2016. This is a company that I have said before is overshadowed by the energy market and has not been given enough press, but this is likely due to the safety of the stock and of Spectra itself. Much more consideration should be given to this midstream, namely because of its dividend history and current yield, as well as its safe, quality asset base.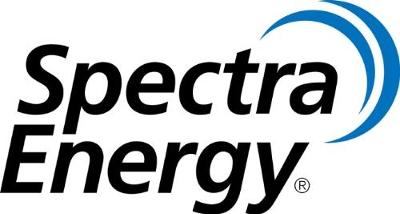 Building Around Spectra
Spectra on a YTD basis has outperformed all of its peers: Energy Transfer Partners (NYSE:ETP), Magellan Midstream Partners (NYSE:MMP), and Kinder Morgan (NYSE:KMI), although the latter is not far behind. This is key when it comes to adding midstream diversification portfolio, but the company is not without its various risks.
These are low-priced commodity times, particularly with oil now sub-$40 again and natural gas still sub-$2, and fear over counterparties' creditworthiness has been brought up. This really started to gain traction late last month after Chesapeake Energy (NYSE:CHK) had to post collateral to show good faith on their creditworthiness. Now, this fear has swollen and extended to the broader energy market.
The first point of concern regards Chesapeake Energy's contribution to Spectra's sales. CHK comprises just under 3% of sales for Spectra and in this article I've explained that the company will be able to service their debt and not go bankrupt. Yes, CHK is a junk bond issuer and is in the middle of a very difficult operating time, but their ability to be a customer of Spectra has not changed. CHK, despite the surface level view that it is a junk counterparty, has a massive net PP&E base that it can divest in order to create short-term liquidity and prop up its financial health, without having to access the debt markets for additional credit. With core divestments being a strategy of many distressed producers and integrated companies, CHK can effectively divest it's high-quality asset base to propel itself out of the distressed range, payoff debt, and become free cash flow neutral.
Second, the more general fears revolving counterparty risk - as to how safe is Spectra's total revenue in terms of customers terminating their contracts - are overblown. Take a look at the below graph. The first thing to notice is the strong 90% figure that accounts for the 90% of customers who have investment grade or investment grade equivalent ratings, meanings that a majority of their revenue is safe. Every firm is going to have counterparty risk and the immediately noticeable risk for Spectra, at the moment, is 10%. This is much less daunting than the word "fear" suggests.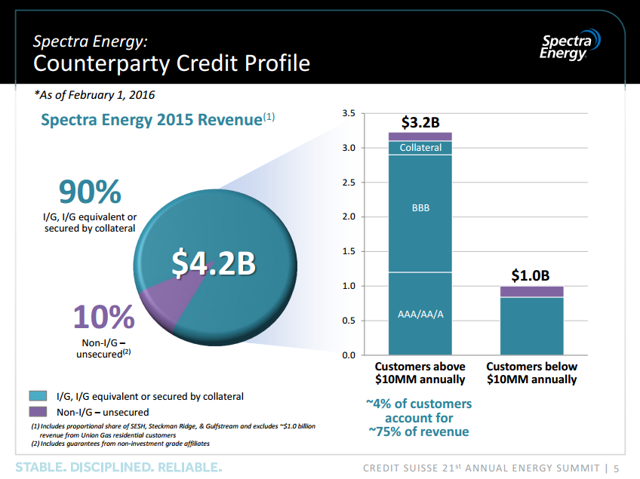 Click to enlarge
Source: Investor Presentation
The company has 95% of its revenue coming from a fee-based model that has little volume risk. Additionally, the company does have $2.8 billion in liquidity.
Short-Term Debt
Interestingly enough, even with this relatively large amount of liquidity, the company has rather weak quick and current ratios of 0.40 and 0.49, respectively. These liquidity ratios account for two separate, high interest debentures that Spectra had to pay off in 2H 2015 of $129 million and $108 million.
Also along the lines of liquidity is the company's short-term debt lineup. The company is indirectly liable for their MLP's, Spectra Energy Partners (NYSE:SEP), $500 million 2.95% senior unsecured notes that are due in June of this year. Additionally, Spectra has their own $145 million 4.64% medium-term notes also due in June. The company has already paid off its $181 million 3.28% medium-term notes that were due in January, which will show up on the Q1 report.
While the operating environment's effect on E&Ps and more importantly, Spectra's customers, are largely out of their control, what I will hold the company accountable for is distributable cash flow as it relates to their ability to service their short-term debt. Below is the DCF projection for the next few years. Notice the drop off in DCF in the 2018 estimate. This is mainly due to the outflow of cash for income taxes, which they expect to either be higher that year or have deferments. Even so, the company expects to see significantly active growth projects online in the next few years, with 75% of those projects being demand pull-based. With an aggregate $645 million due in unsecured notes in 1H 2016, the company will average $685 million per half. That's just enough to where DCF can cover the short-term maturities, but if the operating environment takes a turn for the worse, then DCF generated in the 1H 2016 may not be enough to cover these maturities. However, the company also has cash assets of $213 million which it can use to help pay down debt.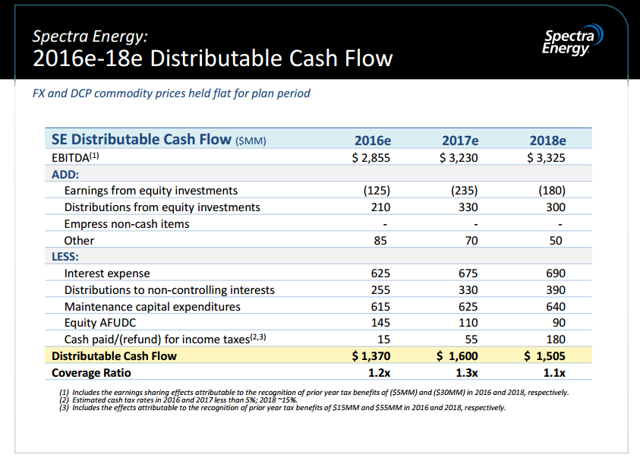 Click to enlarge
Source: Investor Presentation
Staying Positive
An overwhelming majority of Spectra's debt is currently trading at a premium, which shows the investment community's confidence in this company to provide a stable return and remain a bellwether in the industry for what quality performance looks like. This isn't to say that the company isn't going to be volatile, and that's clearly indicated by a 1Y chart of the equity. The beta of 0.65 doesn't quite paint the best picture here as this company is a leveraged midstream and prone to quick movements.
Spectra has an investment grade balance sheet and a large amount of North American coverage. Additionally, the company is projecting $1 billion in additional EBITDA by 2020, so despite the comfortable dividend yield, the company is anything but maturing. To put this in perspective, Spectra had a negative EBITDA in Q4 2015 at -$144 million, but $455 million over the LTM. Adding $1 billion in four years would mean an average of $250 million of additional EBITDA. That's a 55% increase in EBITDA over the LTM amount. That's a commitment from management to their own business and to shareholders that Spectra is going to put solid earnings on the table through growth projects.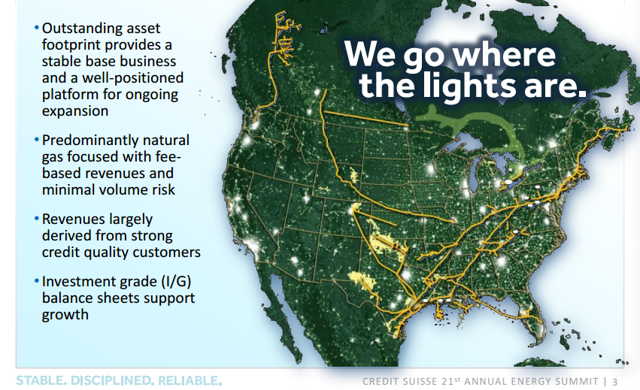 Click to enlarge
Source: Investor Presentation
Strong Equity Performance
SE moves in the same general direction as crude oil does via the WTI, but it is not a tight correlation as SE did not experience the late January or mid-February lows that oil did. On a relative basis, this company is still well-below its mid-2014 highs of roughly $43, and retreated rapidly throughout 2015 before bottoming at $21.43. That being said, the risk/reward is still well in the favor of new longs, as the upside to the 52-week high is currently 27.8%. In retrospect, the decline could have been a lot worse, but again, that's where the lack of leverage comes into play. This R/R used to be a lot larger, especially at the beginning of the year, but getting paid a very comfortable dividend to hold this equity for several quarters is an ideal scenario.
As I've mentioned before, this company does not have a strong correlation to the Henry Hub, the primary natural gas index (the YTD rally in SE, for example, is directly contradictory to the decline in the HH). This is interesting because a strong majority of Spectra's overall revenue comes from natural gas transport. Many equities on the market that have one commodity as their primary sales driver generally correlate to an underlying index, which allows the investor, on a fundamental basis, to view the specific company's equity irrespective of the non-systematic risk and turn to more macro strategy focused on the particular commodity to project near-term and long-term results. This makes life easier, but unfortunately is not the case for Spectra. Below is SE versus the WTI and the Henry Hub on an LTM basis. Really notice how the stock's movements are much less volatile than both the WTI's and the Henry Hub's.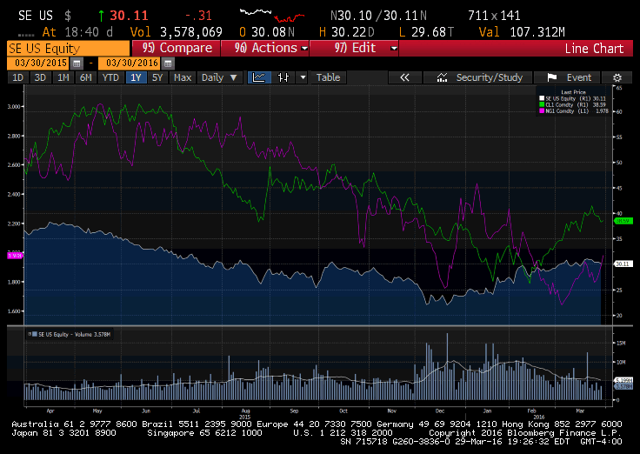 Click to enlarge
Source: Bloomberg
The company's dividend is still very attractive, at a current yield of 5.38%, which is well above the S&P 500 average of 2.11%. This dividend, furthermore, is approaching its 2009 levels in terms of yield. Now, as we all know, March of 2009 was the beginning of the bull market. It's a pretty interesting scenario to see the yields be so in line with one another seven years later. From a growth perspective, management has announced 14 cent increases to the dividend through 2018. For the last nine years the company has met or exceeded its dividend growth commitment - that's an incredible fact especially with the low-priced commodity environment that they currently face. Their planned coverage is 1.2x this year, followed by 1.3x in 2017 and 1.1x in 2018.
Think about this company's distribution strength in terms of a U.S. 10-Year. What Spectra is saying with their current distribution is that they'll pay shareholders nearly 2.5x a U.S. 10-Year to go long in the current environment, in which a risk/reward scenario is still in the shareholder's favor and the company is low risk based upon its own creditworthiness and its counterparty creditworthiness. Below is the 10-Year yield over the LTM: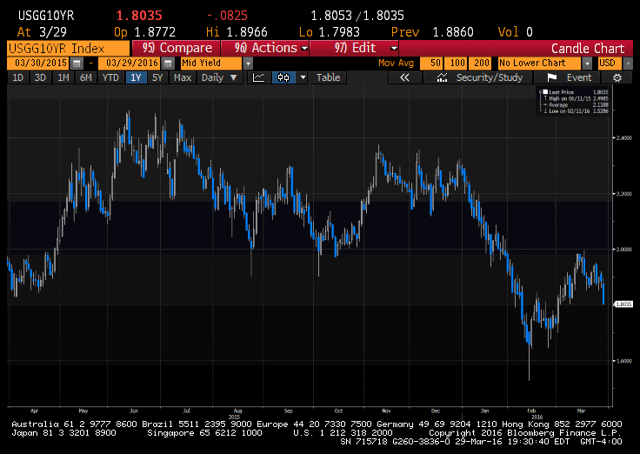 Click to enlarge
Source: Bloomberg
Conclusion
In constructing a portfolio of long investments to bet on the broader oil and gas recovery, Spectra should be a name, at bare minimum, investors consider putting in their portfolio based upon its current yield, anticipated future yield, high level of fee-based, LT contracts in natural gas, and strong management focused on returning value to shareholders.
Disclosure: I/we have no positions in any stocks mentioned, but may initiate a long position in SE over the next 72 hours.
I wrote this article myself, and it expresses my own opinions. I am not receiving compensation for it (other than from Seeking Alpha). I have no business relationship with any company whose stock is mentioned in this article.