The last article I penned on Acadia Pharmaceuticals (NASDAQ:ACAD) was published on June 5th, 2013 when the stock was trading at roughly $15 per share. In July 2015 the stock hit a high of roughly $52. Since then, it has retreated and now sits at $23.77 per share. Today, the stock was halted all day while a 14 member FDA Advisory Committee (AdCom) discussed and voted on the benefits and risks of Acadia's Nuplazid (previously known as Pimavanserin). If you are not familiar with the FDA's drug approval process, when making a decision on whether to approve a drug, the FDA usually accepts the decision of the AdCom.
Today, the AdCom voted on the following 3 questions:
1) Has the applicant provided substantial evidence of the effectiveness for pimavanserin for the treatment of psychosis associated with Parkinson's disease?
VOTING RESULTS: 12 yes 2 no
2) Has the applicant adequately characterized the safety profile of pimavanserin?
VOTING RESULTS: 11 yes 3 no
3) Do the benefits of pimavanserin for the treatment of psychosis associated with Parkinson's disease outweigh the risk of treatment?
VOTING RESULTS: 12 yes 2 no
Obviously today was a very big day for the company and the stock and I am anticipating a gap up in morning trade tomorrow! This article will cover a peak sales valuation method for Acadia. Although, there are still big hurdles such as formal FDA approval (on May 1st) and a successful drug launch, I believe there is considerable value in Acadia shares. This article will NOT cover why pimavanserin is a breakthrough drug as I covered this in my 2013 article. In a few sentences though, here is why I believe in Nuplazid:
In a sea of anti-psychotics gaining effectiveness through manipulation of dopamine and serotonin brain receptors using a shotgun approach, Nuplazid is a sniper directly targeting and limiting neurotransmission of serotonin through the 5-HT2A serotonin receptor. Thus, all the nasty side effects which come with manipulation of various receptors in the brain can be avoided. This includes motor issues which are especially serious with the elderly, weight gain, sleep issues, and many more. This is precisely the reason Nuplazid is such a homerun for Parkinson's Disease Psychosis (NYSEARCA:PDP), because as mentioned in the Lancet "typical antipsychotics can cause profound dopamine D2 antagonism and worsen Parkinsonism."
A Sector-wide Pullback Creates Value
One of the main reasons Acadia stock is on sale is because of a sector-wide pullback which began in July of 2015. The IBB, an ETF which tracks the biotech industry, fell from $400 to roughly $250 which is roughly a 38% plunge. Small cap biotechs, especially with no revenue, were decimated. I believe ACAD was unfairly placed in the category of "garbage biotech stock with no revenue". Today's stock market is so algorithm driven that, sometimes, values are created when indiscriminate machines take down an entire sector.
Safety Concerns on AdCom Decision and Fear of Blackbox Label Create Value
Today, the AdCom panel expressed more than a few concerns over Nuplazid's safety profile. The data shows elevated deaths and adverse events when compared to the placebo group. However, we are dealing with an old and frail patient population, most of which have been dealing with Parkinson's for years or, in some cases, a decade or more. As gruesome as it sounds, deaths and adverse events in this population should be expected. In fact, according to this FDA slide, pimavanserin's frequency of mortality falls in line with many other drug studies compiled by the agency on dementia: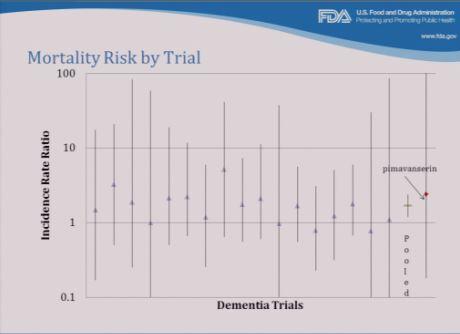 Based on the conversation in today's AdCom, I do believe Nuplazid packaging will ultimately contain a black box label warning about using the drug for other ailments not including Parkinson's Psychosis. However, I do not believe this will translate to a reduction in sales when the drug actually launches. Seroquel and other anti-psychotics contain a black box warning today, and physicians are not hesitating to prescribe to questionable patient populations such as PDP patients. Also, CEO Stephen Davis and CCO Terry Moore had the following comments on black box warnings in the last company conference call:
Terry Moore:
The research that we've done has been extensive and what it showed is that when physicians force rank the attributes that are most important to them when making a prescribing decision, first and foremost is not impacting motor control, was their antipsychotic.

Number two, is almost always that it's an approved indication. When we look for the black box warning, it fell way down the list and oftentimes was more than half way down the list in terms of their concern about using a black box product, as you can imagine they are using them today. So our research indicated that it was not a concern to these folks.
Stephen Davis
We don't know if we'll have the box warning or not, and all of that will depend on whether we in the FDA think that that's an appropriate thing for the medical community and for patients.

we do not believe there is a significant commercial impact on having a box warning or not and we've done a lot of research, testing both labels with a warning and without.
Indication Expansion Will Create Value
The public comment section of the AdCom today was extremely educational and also heart-breaking. About 12 individuals testified on why Nuplazid is so necessary to the Parkinson's community. Stories by care-givers of elaborate delusions and hallucinations experienced by mothers, fathers, and grandparents were brutal. In one story, a PDP patient actually set up trip wires outside his bedroom door because he thought children were entering his room, screaming, and waking him up. The caregiver tripped over this wire while tending to her patient. Another granddaughter eloquently spoke about her grandmother and how Parkinson's psychosis had ruined her grandmother's perception of reality creating constant hallucinations of random people outside her house. There were numerous stories of psychotic patients accusing spouses of infidelity and "hearing" conversations between the spouse and a fabricated lover. There were also more than a few caregivers who spoke of their loved ones taking part in the Pimavanserin trial and, subsequently, delusions and hallucinations vanished. Of course, there is the concept of unscrupulous biotech companies paying people off for their testimony. However, some of these stories were so gut-wrenching and tearful that I find it hard to believe they were fabricated.
Parkinson's Psychosis is very similar to Alzheimer's Psychosis. At least, the symptoms are very similar and the patient population is just as frail and intolerant of mainstream anti-psychotic side effects. Before 2018, I believe Pimavanserin will be utilized in some capacity to combat not only Parkinson's Disease Psychosis, but also Alzheimer's Disease Psychosis, Schizophrenia, and Alzheimer's Disease Agitation. The committee admitted today that the positive effect of the drug was undeniable, therefore, I truly believe the drug will eventually expand its reach into other categories of psychosis. In fact, in the last company conference call, CEO Stephen Davis alluded to an expansion of indications:
"in addition to PDP, ADP, and Alzheimer's agitation, we also have interest in multiple additional indications for pimavanserin in other areas of large unmet need and we will unveil these indications around the time we commence applicable studies."
A Peak Sales Estimate With No Partnerships
The following spreadsheet snippet provides sales estimates based on an average annual drug price of $9,000 across four different indications. Peak sales could approach $7.5 billion by the end of 2018 if Nuplazid can capture the following market share which I believe are realistic:
70% market share for PDP
30% market share for Alzheimer's Disease Psychosis
20% market share for Alzheimer's Disease Agitation
10% market share in Schizophrenia
If no partnerships or buyouts take place, the stock would be worth approximately $167 per share using a 2.5x peak sales model. Of course, I realize partnerships are very likely necessary to get Acadia into a position to capture the above market share estimates. However, this model illustrates that the potential for Nuplazid is very large should the drug be used in other forms of psychosis.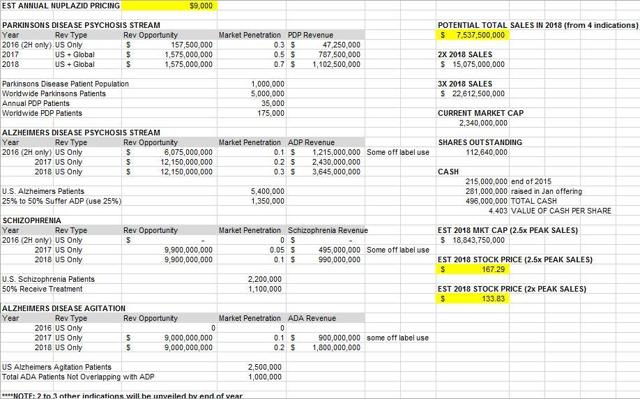 Click to enlarge
Peak Sales Estimate With Partnerships
Acadia could also partner with a big pharma company to more easily gain market share in Alzheimer's Disease and Schizophrenia. Using the same market share percentages above, but applying a 19% royalty to all indications excluding PDP (since it looks like Acadia is building its own sales force for PDP), Acadia could see peak sales of $2.32 billion in 2018. This translates to a stock price of $51 by 2018 using 2.5x peak sales.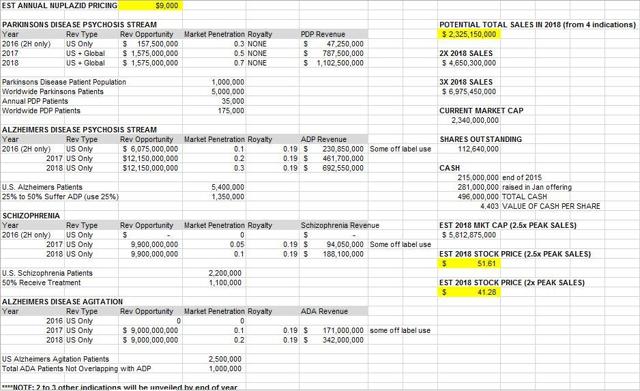 Click to enlarge
Conclusion
Therefore, based on a sector-wide biotech pullback, AdCom decision fears (which are now resolved), Black box warning fears, and a possible expansion into other indications, I believe shares in Acadia are extremely undervalued. With an FDA approval on May 1st, a buyout is also on the table.
Disclosure: I am/we are long ACAD.
I wrote this article myself, and it expresses my own opinions. I am not receiving compensation for it (other than from Seeking Alpha). I have no business relationship with any company whose stock is mentioned in this article.