Brembo SpA (OTC:BRBOF) is an Italian company that produces automotive brake systems, especially for high-performance cars and motorcycles. The company is highly specialized in the development and production of high performing brakes and components and works with prestigious automakers such as Ferrari (OTC:RACE), Aston Martin, Mercedes-Benz (OTCPK:DDAIF), Porsche (OTCPK:POAHF), Pagani and many others. Brembo's brakes are also used in Formula One cars, rally cars and by several Moto GP teams. Motorcycle companies that use Brembo brakes for their models include Yamaha (OTCPK:YAMHF), Ducati, Aprilia, Harley-Davidson (NYSE:HOG), BMW (OTCPK:BAMXY), Cagiva and many others.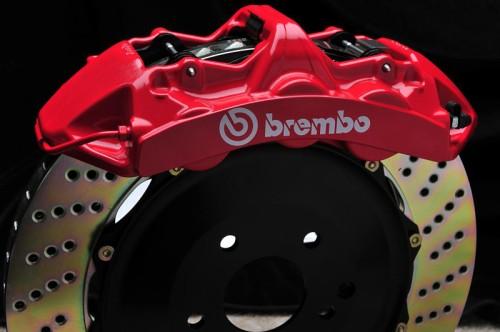 We will see that the company constitutes a good example of stable business with strong fundamentals and durable competitive advantage. I will also try to assess whether the current valuation is appropriate.
Cyclicality of the business
The automotive industry is known as a cyclical sector, a definition that indicates sectors that are sensitive to the business cycle. Economic logic suggests that in good economic times people have more money to spend to buy cars or motorcycles and companies need more vehicles for their business. The number of motor vehicles sold is also inversely correlated with interest rates, since low interest rates make more convenient to get loans to finance their purchase. Investors who follow the automotive industry are familiar with the effects that monetary policy can have on stocks in the industry and closely monitor Fed's activity. Therefore interest rate hikes can be particularly harmful for automotive companies, as people who get loans should pay more money, in the form of interest payments.
Since we are enjoying extremely low interest rates in all the developed economies, we have to assess whether Brembo's business can be hurt if central banks start tightening corridors.
Brembo is not immune to the cyclicality of the industry, but operates mainly in segments that are much less sensitive to the overall economy. We all know that premium and luxury lines in many industries are not cyclical; some investors usually consider the whole luxury industry as an anti-cyclical one. The share of revenue that comes from the sales of components for supercars and luxury cars can be considered much more stable than the rest.
According to the last annual report (not yet published in English), 74.6% of the company's turnover comes from the car segment, 9.4% derives from Motorbikes, commercial and industrial vehicles accounts for 10% of total sales and 5.9% comes from racing.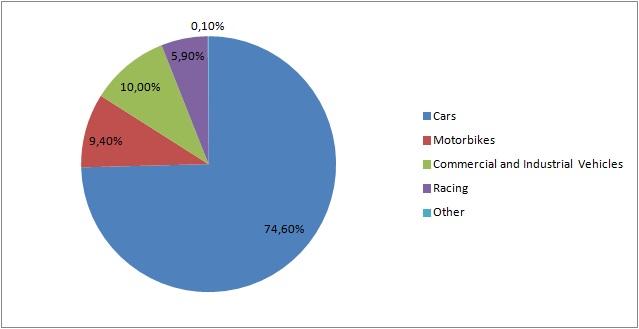 We can consider all the revenue coming from racing and most of the revenue coming from car components as non-cyclical. I estimate that at least 60-65% of the company's revenue is strongly related to non-cyclical segments, giving a good even if not full protection from possible interest rate hikes.
Is there a Moat?
I tried to assess whether the company enjoys some competitive advantage in its industry. I understood that the segment of high-performance vehicle component is characterized by a very high level of specialization, with particularly skilled workforce and clearly a significant use of patents to protect the companies' know-how. Nowadays the company is the leader in high performing brake systems and it will probably be for many years.
The market is not easily accessible for new entrants, thanks to some factors that prevent competition:
- First, the level and typology of skills required in such a particular field is not easily available in the market, so companies like Brembo can benefit from the amount of know-how they accumulate over the years, both in terms of registered patents, and in terms of tacit knowledge. It would be extremely difficult for new entrants to access similar capabilities and threaten Brembo's market share.
-For the same reasons, business relationships between car producers and companies like Brembo are particularly tight, with a lot of interaction in the research, development and testing processes. Brembo's brake systems have been constantly used by companies such as Ferrari, Aston Martin, Porsche, BMW and many more. These companies started using Brembo brakes in the 1980s or before and still do. I see this kind of business relationship as inherently long-term oriented. Similarly, racing teams have strong business relationships with their partners, with tight bonds that have lasted for decades. The Ferrari Formula One racing team has been using Brembo brakes since 1975. Those tight bonds between the company and its business partners are the main reason why I don't consider other brake systems makers such as Delphi (NYSE:DLPH) and Bosch serious threats for the company.
I therefore believe that the company's business is well protected by a mix of high specialization and long-term business relationships.
The company's financials
The company's financials confirm that we have a strong, steadily growing company with good margins and a healthy balance sheet.

Since 2009, revenue has grown at a 16.57% CAGR (11.32% in USD), while net income has grown at 62.48% CAGR (55.77% in USD). This growth rate for net income is outstanding, but we have to consider that it's coincident with strongly increasing net margins, in a measure that is not possible to achieve again from the current levels. But there is no reason why the company shouldn't continue to grow net income at a good rate in the 10% to 15% range.
On the balance sheet there is nothing that makes me nervous. Current assets total €798 million against current liabilities of €622 million, giving a good Current Ratio of 1.28. Total liabilities are 1.13 times current assets and 0.60 times total assets. No debt problems for a company that constantly spits a good amount of free cash flow.

Valuation
The stock trades at roughly 15 times earnings, that I consider fair for a stock that has good competitive strengths and growth potential.
If we apply DCF analysis with modest growth rate assumptions, we have the confirmation that the stock is fairly valued.
Let's consider two scenarios. In the first scenario, the company grows net income at a 6% rate for 10 years, and then keeps growing at a modest 4% for the next 10. In the second scenario, the company is able to grow at 10% for the first 10 years and 4% for the next 10. The discount rate is 9%.
In the first scenario, the DCF gives a value of €40.6 (USD 45.88), in the second case it says the stock is worth €53.36 (USD 60.30). It currently trades at € 43.20 (USD 48.82), very near the value given by our pessimist scenario.
Conclusion
Brembo is a good company with good financials and strong competitive advantages given by several factors, such as the nature of the business relationship in which it is involved and the level of skills required to compete in its industry. The current stock price seems fair for long-term oriented investors who want a stable company with good growth potential in their portfolio.
Disclosure: I/we have no positions in any stocks mentioned, but may initiate a long position in BRBOF over the next 72 hours.
I wrote this article myself, and it expresses my own opinions. I am not receiving compensation for it (other than from Seeking Alpha). I have no business relationship with any company whose stock is mentioned in this article.
Editor's Note: This article discusses one or more securities that do not trade on a major U.S. exchange. Please be aware of the risks associated with these stocks.