By Harry Rosner, George Alchas, Patrick Ryan and Ben Stern
Cheniere Energy (NYSEMKT:LNG) is developing into the leading exporter of liquefied natural gas in the Western Hemisphere. Due to superior production and transportation infrastructure, costs for extracting and transporting natural gas in the United States are significantly lower (Morgan Stanley presentation) than those in the rest of the world. Between its Sabine Pass (SPL) and Corpus Christi liquefied natural gas terminals, Cheniere has taken advantage of these lower costs by initiating 20-year sale and purchasing agreements (SPAs) with several customers, ensuring longstanding, steady streams of cash flows. The establishment of these contracts positions Cheniere as a dominant player in the LNG export market, and primes it for significant future growth.
Liquefied Natural Gas: An Industry Set to Outperform the Market
The natural gas industry is attractive for investment as a result of various advantages over other forms of energy. During a time of increased environmental regulations, natural gas is a cleaner, more attractive option than "dirtier" fuels such as coal or other fossil fuels. Additionally, it provides more productivity than renewable energies such as wind and solar, while avoiding the risks of nuclear power. American natural gas production has increased substantially as extraction methods such as horizontal drilling and hydraulic fracturing have made shale gas production feasible (American Petroleum Institute 2014 Presentation).
Shale gas production has risen from 5% of U.S. natural gas production in 2006 to 40% in 2013 (API 2014 Presentation). Increased shale production and greater efficiency have allowed U.S. production to increase despite a declining rig count, as shown in the chart below. This increased efficiency reflects decreasing extraction costs that have driven down prices and allowed America to become a net exporter of liquefied natural gas. Cheniere has been able to capitalize on this opportunity by taking advantage of the price differentials between US gas and locally produced gas in other parts of the world.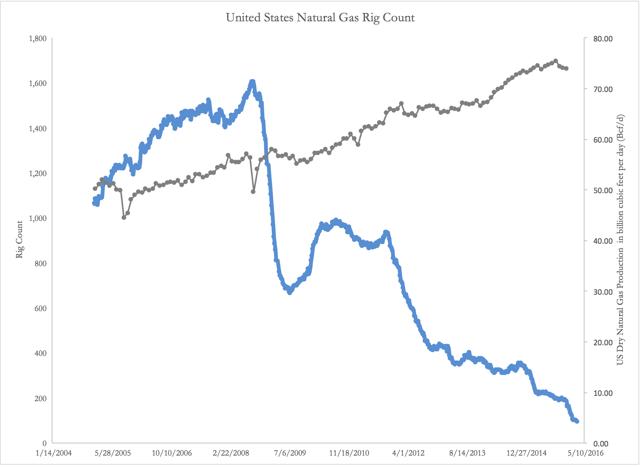 Click to enlarge
Source: Baker Hughes Rig Count, U.S. Energy Information Administration
As a result of increased production efficiency in the U.S., Henry Hub, the spot price of U.S. natural gas, consistently trades below natural gas prices in global markets. This spread makes it economically viable to export liquefied natural gas, which occupies 1/600th of the volume of natural gas in its gaseous form. Cheniere can consolidate natural gas into its liquefied form for export into higher priced markets. Liquefied natural gas prices in overseas markets have traded in tandem with crude as seen in the chart below. Henry Hub trades at a significant discount to liquefied natural gas in Japan, showing a gap that Cheniere has been able to exploit.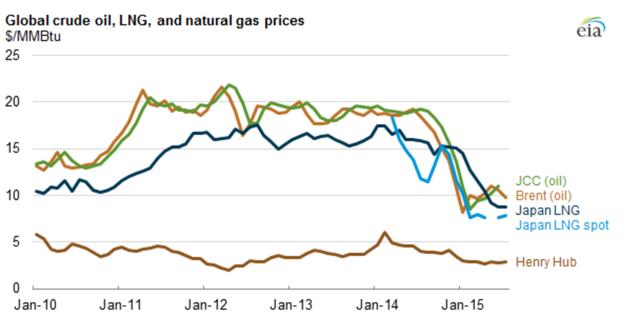 Click to enlarge
Source: U.S. Energy Information Administration
Decoupling of Crude Oil and Liquefied Natural Gas Catalyzes Demand
Liquefied natural gas has typically tracked crude oil in the past, but we believe this will not continue going forward. International liquefied natural contracts have typically been linked to Brent prices as seen in the chart above. Higher Brent prices will make liquefied natural gas exports relatively more competitive and could drive a Henry Hub price increase due to a demand surge. Historically, liquefied natural gas has not enjoyed the integrated global market on which crude oil has been traded, contributing to low liquidity. As LNG and other exporters ramp up operations, liquidity should improve in the liquefied natural gas market and liquefied natural gas prices should decouple from crude oil prices.
We feel the low crude prices have masked the growing demand for liquefied natural gas, and that crude will continue to rebound in 2016. Liquefied natural gas prices should remain in the single digits over the short to mid-term, creating a growing gap between feedstock prices. As prices of crude and liquefied natural gas diverge, sleeping demand will be unmasked.
Cheniere's Competitive Advantage as a First Mover
Given LNG's imminent increases in demand, Cheniere finds itself at the heart of a growing industry. The company is the only exporter of liquefied natural gas in the United States, giving it a valuable first mover advantage. With a two-year head start on competitors, Cheniere will be able to develop expertise in the industry and develop strong relationships with customers and suppliers in the pipeline chain. A major factor contributing to Cheniere's exclusivity in the market is the amount of time it takes for the U.S. Federal Energy Regulatory Commission (FERC) to approve the construction of liquefaction projects.
As shown below, Cheniere owns 3 of only 7 liquefaction projects that have been approved in the United States. This approval process can take up to 2.75 years from time of application, giving a fast-acting company like Cheniere the competitive advantages it enjoys. On March 11, FERC denied a new liquefied natural gas Terminal in Jordan Cove, Oregon by citing environmental and neighborhood-level impact. The company's head start on construction and regulatory approval has allowed it to gain a dominant market share in the North American export market; Cheniere projects will supply around 50 mtpa (million tonnes per annum) of the estimated 84 mtpa capacity in the U.S. by 2025.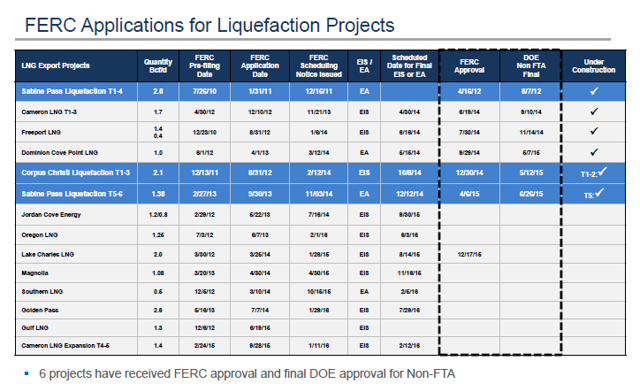 Click to enlargeSource: Cheniere Investor Presentation
In addition to Cheniere's advantage in acquiring FERC approvals, the company enjoys autonomy in the market because it has developed fourteen 20-year SPAs with no price openers. This gives it a stream of fixed payments from customers that provide insulation from commodity price fluctuations. Fears over the weak liquefied natural gas price environment have contributed to LNG's recent share price fall, but these fears ignore the company's revenue structure. Customers make fixed payments to Cheniere, regardless of the prevailing market price and whether the customer actually takes delivery of the gas. These SPAs have other advantages as well; through these agreements, Cheniere has sold out all its capacity, locking in customers who are obligated to keep paying for the next 20 years.
Risks
As previously discussed, a major risk associated with Cheniere are its debt obligations. Cheniere's $17.6 billion debt is the elephant in the room. The company will likely need more debt to finance the construction of Train 6 of the SPL Project and Train 3 of the CCL project, and refinance some of its existing debt. However, Cheniere has had no problem raising new debt in the past, and its ability to do so should increase as it begins to generate high operating cash flows. Moreover, Cheniere already has enough debt financing arranged to finish building trains 1-5 at Sabine Pass, and trains 1-2 at Corpus Christi. Any additional debt would be used to finance new projects, which it is safe to assume would generate a positive return. Cheniere typically does not raise debt until customers and supply contracts are locked in, meaning project risk is significantly reduced. Overall, Cheniere will need access to the credit market to further increase its train count, but this should be relatively easier now that it has begun exporting liquefied natural gas.
Cheniere has never been profitable, so there is no past basis for investors to rely upon when assessing the company's financial performance. The company only started receiving cash flows from SPA's in Q1 2016, meaning it is significantly dependent upon future SPA cash flows to counterbalance the large capital and operating expenses associated with its train development and maintenance. Cheniere also needs its customers who are locked into its 20-year SPAs to remain solvent and continue to make payments on time for the company to realize the benefits from these agreements.
De-Risking the Story
Cheniere has a significant debt load which has scared off investors recently but it has structured it in a way that will ensure the company can service its debt. On February 26, the company closed on a credit facility of approximately $2.8 billion. This four-year credit facility of Cheniere Partners, L.P. will be used to pay $1.7B of Sabine Pass LNG terminal debt due in 2016, and prepay other medium-term debt obligations. As a result of these debt management moves, LNG has no debt obligations maturing before 2020. By then, Cheniere Energy Inc. will have sufficient cash flows from operations to pay down its debt. Cheniere also exported its first shipment of liquefied natural gas to Brazilian energy company Petrobras in late February. It is no coincidence the company chose to refinance its debt after this milestone, as the successful export of liquefied natural gas calmed investor fears of uncertainty.
Its second train is expected to come online in mid-2016, and additional trains are expected to come into operation at staggered intervals through the end of 2019. As the company begins to receive fixed fees from its contracts with liquefied natural gas importers, it will have predictable cash flows to service debt payments. The chart below illustrates the company's construction obligations winding down in 2019 to 2020 as its trains begin operating. Investors should also note that a significant portion of its long term debt is due after 2020 which is when the company will have ample cash flow to cover its obligations.

Click to enlarge
Source: Form 10-K
Cheniere Energy as a Value Play
We feel that Cheniere is undervalued by the market relative to its intrinsic value. The novelty of the liquefied natural gas market, combined with the weak energy environment in general, has caused widespread weakness that has spread to companies only loosely associated with energy prices. The mispricing created by uncertainty creates a compelling opportunity for value investors. In addition, the complex ownership structure of LNG and its subsidiaries dissuades some investors but creates an opportunity to capture value. Liquefied natural gas has historically been an opaque market, however the increased liquidity described earlier should alleviate many of these issues. As more data becomes available, investors should obtain more certainty and Cheniere's price will reach its fair value.


We value Cheniere using a sum of the parts model, separating its partnership interest in CQP from its ownership in the Corpus Christi facility. To value the CQP interest, we projected cash flows from distributions based on Cheniere's common unit ownership, as well as its general partner interest. We modeled out revenues for trains 1-5, leaving train 6 as upside since customers have yet to be locked in. Since variable revenue is marginal, almost all revenue in the model is virtually guaranteed, with the only risk coming from project delays or facility failures. All revenues, expenses, and ownership are projected as constant after train 5 comes online in 2019.
We also model out the incentive distribution rights that are 100% owned by Cheniere through its holding company, Cheniere Energy Partners GP. The rights grant Cheniere 50% of all quarterly distributions above $.638 per share. Since we have distributions per share of approximately $.95 in the terminal year of our model, any growth not accounted for in the model would provide incremental distributions more than 70% attributable to Cheniere. For the sake of conservatism we attached a perpetuity distribution growth rate of 0%, though we believe the opportunity for profitable investment will arise as the natural gas market outgrows its temporary oversupply.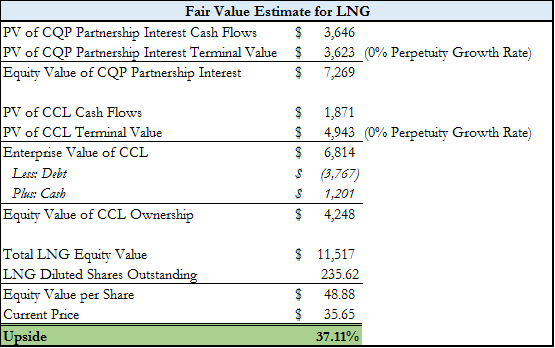 Our target 12-month fair value estimate has an implied upside of 37.11% over the current market price. We believe this price can be achieved as liquefied natural gas uncertainty clears, natural gas market prices decouples from crude oil, and Cheniere continues to pay down and restructure its debt obligations. The important thing to note is that the model is extremely conservative in accounting for growth prospects. We assign no value to SPL train 6 and CCL train 3, which management believes are almost certain to be built (timing is less clear). We also exclude Cheniere Marketing, which is an interesting business in its own right and should provide additional value as the company matures.
Disclaimer: We wrote this article ourselves, and the opinions expressed are solely our own.
Disclosure: I/we have no positions in any stocks mentioned, but may initiate a long position in LNG over the next 72 hours.
I wrote this article myself, and it expresses my own opinions. I am not receiving compensation for it (other than from Seeking Alpha). I have no business relationship with any company whose stock is mentioned in this article.