We're just a couple of days from the end of the first quarter of 2016, which means earnings season is not that far away. After rallying to nearly $700 late last year, shares of Amazon (NASDAQ:AMZN) lost nearly a third of their value over the next roughly six weeks before rebounding. With some of the company's best growth hopes seeming to lose steam in recent months, I believe Amazon could be this earnings season's most fascinating company to watch. Here are some key issues that investors need to focus on.
What's going on with AWS?
Back in November 2015, I stated that Amazon shares seemed to be topping out in the high $600s. Part of my argument was that Google/Alphabet (NASDAQ:GOOG) (NASDAQ:GOOGL) made a key cloud hire, one that could start to threaten some of AWS' dominance. With AWS being the primary revenue growth driver (in percentage terms) for Amazon currently, shares may be pressured again if the business starts to show some weakness.
We recently heard that technology giant Apple (NASDAQ:AAPL) has reportedly started to use Google's cloud infrastructure platform in a meaningful way, with Apple significantly reducing its reliance on AWS. A few weeks before that news, Spotify announced it was migrating its infrastructure to Google cloud. The loss of some key clients could not only slow AWS' strong revenue growth but may impact margins if Amazon also is forced to cut prices.
Are shipping costs continuing to rise?
Amazon's Prime service offers some very good delivery options, but they could be a net negative to the company's bottom line. Amazon is expanding Prime Now in Germany this year, and has recently hiked its free shipping minimum to $49 for non-Prime members. This may be to combat rising shipping costs, seen below.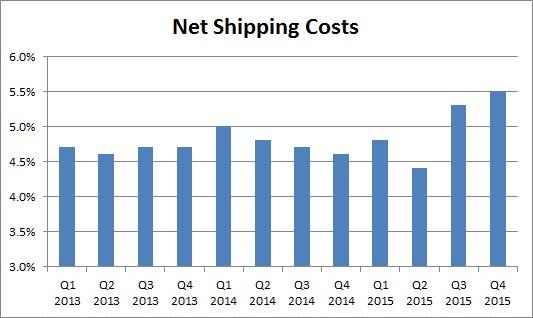 Net shipping costs totaled 5.5% of Q4 worldwide revenues, the highest amount in the past three years. A few tenths of a percentage point might not seem like much, but it is huge for a company's whose operating margins are in the low single digits. I'll be very interested to see if the recent trend continues in Q1.
Does gross margin progress work its way to the bottom line?
While Amazon is barely profitable, the company did report earnings per share of $1.25 last year, up from the $0.52 loss in the prior year. However, Q4 surprised with a large miss, so the company did not make as much progress as hoped. In the past couple of years, Amazon has done a good job of growing gross margins, partially thanks to some accounting changes, seen below.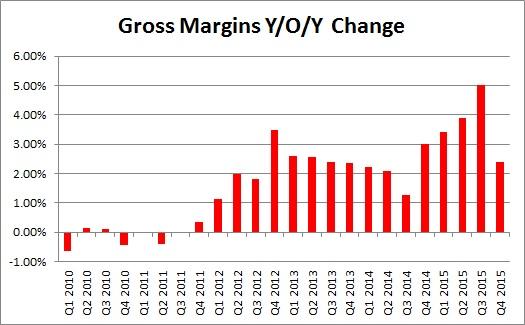 Gross margins recently peaked at 34.6% in Q2 2015, up sharply from the recent low of 20.8% in Q4 2009. Amazon has reported a quarterly gross margin increase over the prior year period for 17 straight quarters. One must wonder how much better the company can do, and if these increases slow down the company might need to find other ways to cut costs.
As a result of the Q4 2015 miss, EPS estimates for this year have dropped nearly a dollar in the past three months. Analysts are still forecasting a profit of $4.68 this year, with further gains in 2017. The items I've discussed in this article will play a major role in determining whether Amazon hits that bottom line figure.
Final thoughts:
With AWS reportedly losing some top tier clients recently and shipping costs on the rise, Amazon will be a very interesting company to watch this earnings season. Shares remain well off their highs after last quarter's disappointment. As you can see in the chart below, the 50-day moving average just crossed under its 200-day counterpart, a key technical event for those who use such analysis. In recent years, investors have done best shorting the stock when it has been this much above the 50-day and buying when it is below this technical line.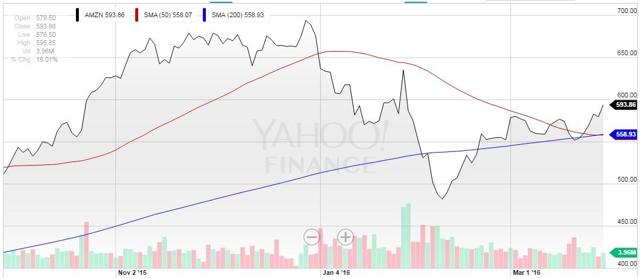 Click to enlarge
(Note: All data for author's charts taken from Amazon's investor relations quarterly results page. Stock chart from Yahoo Finance.)
Disclosure: I/we have no positions in any stocks mentioned, and no plans to initiate any positions within the next 72 hours.
I wrote this article myself, and it expresses my own opinions. I am not receiving compensation for it (other than from Seeking Alpha). I have no business relationship with any company whose stock is mentioned in this article.
Additional disclosure: Investors are always reminded that before making any investment, you should do your own proper due diligence on any name directly or indirectly mentioned in this article. Investors should also consider seeking advice from a broker or financial adviser before making any investment decisions. Any material in this article should be considered general information, and not relied on as a formal investment recommendation.