In our previous articles, we reiterated that 2016 is going to be a year packed with volatility. We also recommended investing in a video/movie entertainment company like Disney (NYSE:DIS), which offers diversification and resistance against economic downturns.
There are many forces shaping the U.S. market this year, from oil prices to consumer confidence, from corporate earnings to Fed rate hike decisions. With these uncertainties and chaos, we started to see some change in the market place. One of these changes that take place this year is the Canadian equity market return overtaking the U.S. equity market return (and not just the U.S. equity market, we would say most of the developed markets). See below a comparison between the two broad market indices YTD: S&P 500 (U.S.) and TSX (Canada).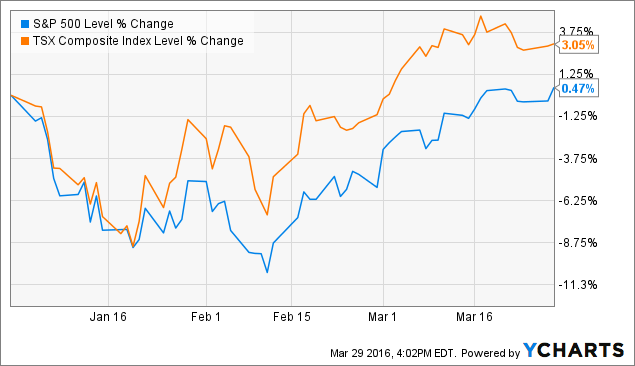 The Canadian stock market exhibited robustness this year against some of the biggest global economic downturns. During the major global sell off in February, most developed stock markets were dropping double digits, while the TSX was only down less than 5%. YTD TSX returns 3.05% compared to a 0.47% from the S&P 500.
Some of the recent events that contribute to this include the dovish guidance from the Fed. We heard about the disagreement among the open market operation committee. The Fed is forecasting 2 rate hikes this year instead of four. Now, in our view, even this is quite optimistic, as we continue to see mixed data.
The Fed has been "threatening" a rate hike for years before the first rate hike in December last year. This threat of raising rates have driven up the U.S. dollar and capital flows to U.S., which then translated into a healthy return of the U.S. stock market. As investors across the globe realize that U.S. is not categorically in a better shape, and the promised rate hikes are not going to come as expected, this support would start to disappear, which is why we have seen the U.S. dollar on the decline in the last 2 months. Now is the time to look beyond the Northern border for diversification and return enhancement.
Diversify to Canada with EWC
We are all quite familiar with the SPY, so we are not going to say too much on this. It is the SPDR S&P 500 Trust ETF (NYSEARCA:SPY), which tracks the S&P 500. It has a market cap of around $180B, and is one of the most invested ETFs. It has an expense ratio of 0.11%, which is really as low as you can get.
Now, for exposure to Canada, we are going to present the iShares MSCI Canada ETF (NYSEARCA:EWC). For exclusive exposure to Canada (meaning not as part of a MSCI region index for example), there are only a few ETFs including: the First Trust Canada AlphaDex ETF (NASDAQ:FCAN), the IQ Canada Small Cap ETF (NYSEARCA:CNDA) and the SPDR MSCI Canada Quality Mix ETF (NYSEARCA:QCAN).
EWC is the largest broad market ETF on Canada, with a market cap of 2.48B. It tracks the MSCI Canada Index, which has exposure to large and mid-sized companies in Canada. The Index targets a coverage of 85% of the Canadian stock market in terms of market capitalization. It has an expense ratio of 0.49%, the lowest among its peers.
Currency Exposure
It is important to point out that this ETF is not hedged, meaning you will be exposed to/and benefit from the currency movements of the USD/CAD pair. Here is a comparison of EWC and SPY year-to-date.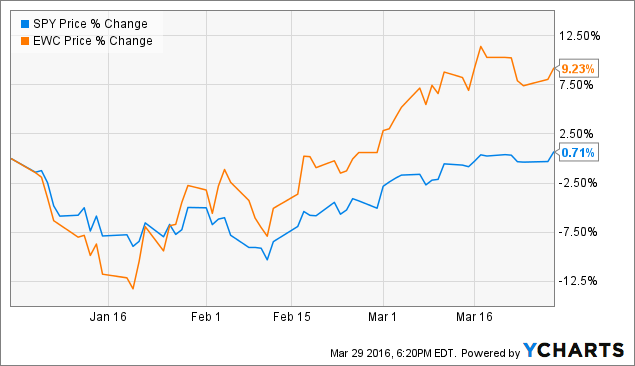 As we could see, the EWC outperforms by a lot. Part of the reason is the fundamentals of the Canadian equity market. The other part of the reason is the rising Loonie, or Canadian dollar. Please see below. We will talk about our view of the USD/CAD relative strength later.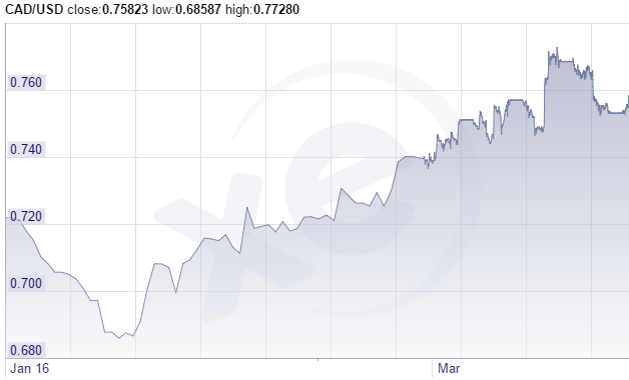 Since EWC is not hedged to U.S. dollar, if CAD appreciates, this will further enhance the EWC performance, and if USD appreciates, this will offset some of the EWC returns. This is important to know, as we know some investors would love a CAD exposures, while others would rather not have that. If you would like to stay away from the currency exposure, there is the iShares Currency Hedged MSCI Canada ETF (NYSEARCA:HEWC). Note that this one has a much smaller size and trading volume, and a slightly higher expense ratio.
Dividend Yield and P/E Valuation
Another two items we would like to analyze are: dividend yield and P/E valuation. We mentioned that its good to get paid while waiting for the economic storm to pass. Dividend is very important for Index ETF investment, because it often accounts for over half of the total return in the long term. Between EWC and SPY, the dividend yield is comparable: around 2.5% for SPY and 2.2% for EWC. However, EWC is valued much lower with a trailing P/E of 14x compared to SPY's 17x.
Relative Performance History: SPY vs. EWC
Below is a 20-Year historic chart of SPY vs EWC (EWC's inception date is March 12, 1996, it has just past the 20 year mark). Notice how before 2005, SPY outperforms EWC. Between 2005 and 2013, EWC outperforms SPY. After 2013, SPY outperforms EWC. If you go back far enough, you can see that the U.S./Canada relative performance has followed this trend for a long time, switching back after a few years. As oil prices gain, Canadian equity performance leads. Going forward, we would expect to see the same trend.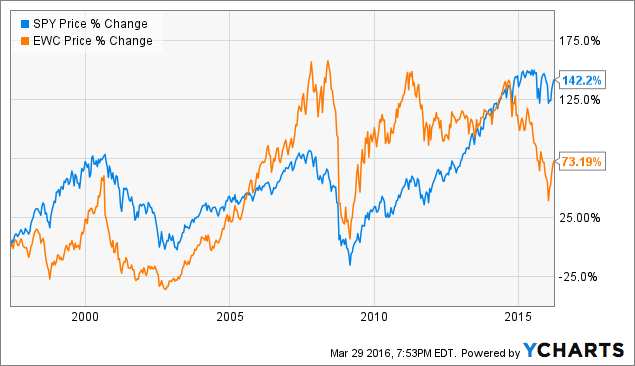 Fundamental Factors supporting a stronger SPY
Federal Reserve Rate Hike. If the Fed decides to adopt a more hawkish approach towards rate hike, this may be a positive factor for the U.S. stock market, as investors re-evaluate relative equity market performance and direct capital flows to U.S. However, correct timing and solid fundamental data support are important to deliver positive market impact.
U.S dollar and Commodity Prices. We all know there is a strong, inverse relationship between U.S. dollar and commodity prices. In fact, the correlation between gold and the U.S. dollar is around 70% to 80%. If the U.S. dollar appreciates, it can be a positive factor for the stock market, provided it does not suppress the commodity prices to an unsustainable level.
Stronger corporate earnings. We mentioned that S&P 500 earnings for Q4 2015 are expected to be around 3% below Q4 2014. If we see stronger earnings coming out this year, it is a plus for the SPY.
Fundamental Factors supporting a stronger EWC
Rebounding of the oil price. Canada is a resource based country, and provinces like Alberta relies on oil & gas activities to grow the economy. So far this year, crude oil has climbed almost 50% from the lowest point, settling at around 4% up YTD. As oil continue to climb back to a more sustainable level, the Canadian equity market would reap rewards.
Rising Loonie. The two most important factors affecting the Canadian dollar is oil price and central bank action. So far this year, the central bank has been quite supportive of the strengthening CAD.
Results of the Federal Budget. The new Liberal government proposed its fiscal budget last week. Among other items, the budget calls for $2.5 billion spending on public transit infrastructure, $1.8 billion on green infrastructure, $574 million for energy and water upgrades. Theses initiative have already raised consumer confidence index from 53.8 to 54.5. We view this positively, because many countries are relying solely on monetary policies (rate cut, open market operations, etc) to stimulate the economy since they are relatively easier to implement. Monetary policies have their limits, and fiscal stimulus needs to be part of the formula to reinvigorate the economy. The Canadian government forecasted a 0.5% to 1% GDP growth boost for the next two years as a result of the fiscal stimulus. Even though we accept that the federal budget is a little weak on the economic front (with focus diverted to many social issues), we believe these measures will contribute to a stronger economy in the short to medium term.
Combining SPY with EWC
We have analyzed the correlation between SPY and EWC, given a long enough horizon, it generally falls between 50% to 80%. We believe this provides ample diversification benefits. Below we backtested three portfolios with different allocations to SPY and EWC. We found that the sweet spot is a 60/40 split and rebalance annually.

Click to enlarge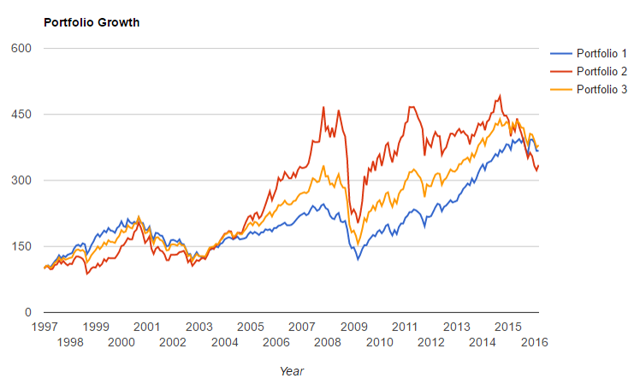 Click to enlarge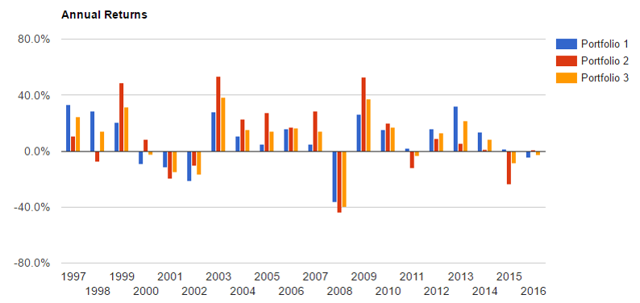 Click to enlarge
As you could see, the blended portfolio provides the highest portfolio value and the highest CAGR of 7.21% (aside from MER and trading costs). This is the total return, with dividend reinvested. A key to have this alpha is sticking to the rebalancing schedule since this contain an automatic buy-low-sell-high mechanism. One of the disadvantages of owning EWC is the higher volatility, partially due to the currency exposure. With the blended portfolio, we could reduce the volatility to around 17%.
Conclusion
The U.S. stock market tends to underperform the Canadian stock market after periods of strong outperformance. We believe the Canadian equity market offers substantial diversification benefits and is an attractive investment opportunity now given the lower valuation. EWC is the ETF that will give you the Canadian exposure, complement your SPY portfolio and provide return enhancement, especially in the short to medium term.
We will cover more country diversification and sector rotation strategies in future articles. Stay tuned.
Share your thoughts in the comments below:
What is your view of the U.S. Market/S&P 500 in the short to medium term?
Are you diversifying your portfolio with exposure to Canada? Europe? Emerging Market? Internationally?
---
Thank you for reading. We hope you liked it and found something helpful to your investing strategy out of it.
We dive deep into the most popular global topics and events to offer you an alternative insight. We provide independent equity research covering the Telecom, Technology & Media, Mining, and Financial Sectors, Dividend Investing Strategy & Value Stocks in both Canada & United States (TSX, NYSE, NASDAQ).
Follow Us for more investment ideas, feel free to leave comments, and if you know someone else who may like this, feel free to share it with them. Spread the investment wisdom and grow portfolios together.
---
Disclosure: I/we have no positions in any stocks mentioned, and no plans to initiate any positions within the next 72 hours.
I wrote this article myself, and it expresses my own opinions. I am not receiving compensation for it (other than from Seeking Alpha). I have no business relationship with any company whose stock is mentioned in this article.