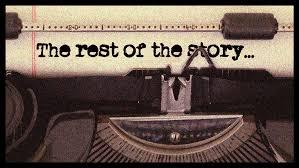 Those of my generation will remember the late, great Paul Harvey. Paul Harvey was a newsman extraordinaire, but he was an even greater storyteller. His radio series, "The Rest Of The Story", was a classic. After following Intermap Technologies (OTCPK:ITMSF) over the past few months and reading their recent earnings announcement, so much of the story is missing. I was reminded of Paul Harvey and his insightful, entertaining broadcasts on the radio.
To be frank, I began writing this piece months ago. That's how certain I was of the eventual outcome. I first wrote an article on October 1st of last year highlighting the pitfalls of investing in this high flying, financially crippled company. My follow-up article on November 13th was a David Letterman style monologue of top ten lessons learned. The stock hasn't fully imploded yet, so the lessons have been ignored by most and strongly refuted by some.
I have contended from the beginning that analyzing a highly speculative investment like Intermap can be constructive. My goal, as I wrap up my trilogy of articles, is to provide investors with an alternative perspective from a bear's viewpoint and to highlight the warning signs that were along the way.
Red Flags Everywhere
I won't belabor the points covered in my previous articles. Instead, I'll focus on obvious red flags. Intermap had been elephant hunting for large international projects for over three years prior to June, 2015 when it announced the award of a $125 million contract. The stock shot up over 700% on the news. However, over six months later and nothing had materialized. Finally in early 2016, the contract emerged with the Democratic Republic of the Congo. Investors rejoiced. What they failed to realize or chose to ignore was the executed contract was pending financing - not a small detail for a large P3 project in the middle of Africa.
A closer look at the initial PR and subsequent guidance from the company suggested something was amiss. The original PR indicated Intermap would be the prime contractor representing a consortium of companies on the $125 million, 2-year contract. However, during the conference call discussing Q3 results in November, the CEO stated, "Everything goes through project financing organizations. So there are banks involved. So we, Intermap never receive any money directly from the government. We end up going through our prime contractor who is project financed through some very large banks around the world."
Whoa! It was the first red flag. Intermap wasn't the prime contractor as indicated in their original PR after all. Investors brought it to the attention of management and the response was "We are the prime contractor to the prime contractor." Irrespective of the fact there is no definition of a prime contractor that would suggest such an arrangement fits within the definition itself, the PR clearly suggested Intermap was dealing with the end-user (sovereign government) as the prime contractor.
And then, during the Q2 conference call, management stated; "Also, I have received questions from some of our shareholders about how much of the announced $125 million Letter of Award is our portion. The answer to that question is 100%."
What happened to the consortium? The project is $125 million. Are the other companies going to work for free?
The constant inconsistencies suggested further digging may bear fruit. Going back and reviewing prior transcripts revealed the company was either misrepresenting its pipeline or, at best, was one of the worst companies at converting pipeline to closed deals. Specifically, here's what management said in 2013;
Question: What does it mean when you reference, as you do in your corporate presentation, $500+ million of identified pipeline opportunities?
CEO: "Pipeline refers to our identified opportunities. The identification follows a fairly rigid qualification process that says: there is money, there is a need, there is a timeline for them to want to purchase. If it satisfies those hurdles, we can count it in our overall pipeline."
And it was followed by this;
Question: Within that pipeline, are there any contracts or RFPs [requests for proposals] in which you're well along the way? Are there any which you expect to hear back on over the next 12 months or so?
CEO: "Yes, there are a number of very large contracts that utilize our entire suite of software, our data acquisition technologies, as well as our ability to aggregate other company's data, of which we should hear back over the next twelve months."
Management indicated the company had over $500 million in strong identified pipeline opportunities for the coming year. However, in 2014 Intermap generated revenue of just $8.3 million, a conversion rate of only 1.7%. Giving management the benefit of the doubt, we could assume a large portion of the $500 million in identified deals were large SDI projects that apparently take years to cultivate (assuming they ever materialize).
But, in Q2 2014, the CEO stated, "Our pipeline of non-large SDI opportunities remains very strong at over $200 million." Booked revenue for the following twelve months was only $5.5 million. So, taking out the large SDI contracts, the company converted just 2.7% of "rigidly qualified" small pipeline opportunities to closed deals over the following twelve-month period.
Over the past year, there were also signs of discord between Intermap and its lender, Vertex One. Vertex One is an asset management firm headquartered in Vancouver. One of its alternative funds, the "Vertex Fund", had invested heavily in Intermap in the form of loans and equity. In April 2015, as part of a new $2.5 million note, Vertex required an amended agreement requiring Intermap to sweep revenues into a restricted account to be used to repay existing debt. Never a good sign from a lender. In March 2016, the debt was consolidated and extended for 6 months while the interest rate was lowered from 25% to 15%. As part of the restructure, the interest was capitalized and included in overall debt. Further evidence of Intermap's inability to repay debt or even the accumulated interest to its debt provider.
Finally, while retail investors were holding tight waiting for the elusive $125 million contract to close, Intermap's institutional investors were selling. Invesco, one of the company's largest shareholders, was accelerating its divestiture of the company throughout 2015 as reflected in its monthly filings.
4/30 - 9/30 - 540,000 shares sold
9/30 - 11/30 - 2,617,000 shares sold
11/30 - 12/31 - 3,666,000 shares sold
By year-end, Invesco had a little over 8 million Intermap shares left. They had liquidated over 45% of their holdings over the past eight months and the volume of selling continued to accelerate during that time.
Then, in early 2016, Vertex followed Invesco's lead and sold off over 20% of their equity position.
Contract Contingencies
When the contract finally surfaced, two things were clear; 1) Intermap was a sub to the concessionaire (Airmap) and was not the prime directly negotiating with the end user or even a direct party to the contract itself and, 2) Financing had not yet been finalized. I've stated from the beginning that financing P3s can be problematic. That would go doubly so for a multi-year P3 worth several hundred million dollars with a small African nation. The contract which was signed by the concessionaire required financing to be obtained within 90 days of the contract date of November 30, 2015. By the end of February, it appeared the deadline for obtaining financing had come and gone.
Finally, in March of this year, a French company, IGN FI, signed an MOU with Congo's Geographical Institute [IGC]. The MOU was punctuated with a celebratory announcement which included financial backers and other government stakeholders. The announcement presented the following:
"The protocol to be signed will cover several strategic issues, including IGC's modernization and repositioning as a model operator in data production and maintenance in DR Congo."
The concession contract identified IGC's role solely as a technical adviser. The main role of the licensee (concessionaire) was stated as follows in the contract:
"The dealer must operate and maintain the database in accordance with the requirements in the operation and maintenance."
Something clearly has changed since the concessionaire contract was signed. Meanwhile, as previously stated, the contract for the concession came and went with no word regarding financing. More telling, there was no mention of Airmap or Intermap in the IGC press release.
Separating Fact From Fiction
While red flags were everywhere, many shareholders were creating their own narrative that didn't exactly match with reality. Below are examples of the dichotomy.
Royalty:
Shareholder View - The royalty was a placeholder because Intermap couldn't issue additional warrants.
Fact - The royalty debt was issued in February 2015. Additional debt was issued in April 2015 with warrant kickers. The royalty wasn't a placeholder due to the company's inability to issue warrants.
Vertex:
Shareholder View - Vertex is a debt oriented "friendly" investment fund that's concerned about its reputation in the debt market.
Fact - Vertex is an alternative hedge fund. Its goal is capital appreciation. It's mainly concerned about poor performance and its reputation to its investor base.
Royalty Conversion:
Shareholder View - The royalty will be converted to equity at a conversion price that will not be excessively punitive to existing shareholders.
Fact - Based on reasonable assumptions and standard methodologies for calculating the net present value of the royalty in perpetuity, it is probably worth more than the entire market cap of Intermap, rendering shareholder value virtually worthless.
Congo SDI Contract:
Shareholder View - It's a done deal.
Fact - The contract is subject to financing within 90 days of execution. At the end of 90 days, there was no indication the financing was obtained.
Welcome To Spin City
Fourth quarter and year-end results are hot off the press and they're not pretty. I'll get the ridiculous out of the way first. Management leads with its Adj. EBITDA, which was $200,000 for the quarter. Total revenue for the quarter was $3.2 million. Financing cost was $3.1 million, nearly 100% of revenues. Touting EBITDA is pretty meaningless when expenses below the line are nearly 100% of revenue!
Cash at year-end was $Nil. (The PR indicates cash of $0.8 million but it's restricted cash, so the press release was highly misleading). Working capital was negative $16.4 million. At year-end, the company had a $22 million negative net worth. The hole just gets deeper and deeper!
The notes in the financial statement that cover the company's debt is where it gets interesting. As previously stated, Vertex amended and extended Intermap's debt in February for an additional six months. The prior year, Intermap was forced to set up a sweep account in order to restrict cash for debt payments. This is per the financial statement:
At year-end, $801,000 was included in restricted cash, which is $449,000 short of the balance required, resulting in a breach in the terms of the amended agreement.
In other words, Intermap was in technical default on its debt at year-end.
Conclusion
It's easy to be a Monday morning quarterback in the stock market. However, Intermap was identified as a poor investment from the beginning. Looking back, red flags were everywhere. As a financial investment, Intermap appears to offer little to no value for shareholders as I've consistently stated. Shareholders are subordinate to a royalty payment that is likely worth more than the company itself. I'll wait for that to sink in...
After the royalty, shareholders likely get nothing. I understand high risks can translate into high returns but investing in something with possibly no value is hard to comprehend. Preservation of capital is important, no matter how large or small your portfolio may be. However, even a poor investment can leave us with the value of knowledge and what to look for (and what to avoid) in our next investment. And, in that sense, Intermap was worth a final review. As Paul Harvey would say, and now you know the rest of the story.
Disclosure: I/we have no positions in any stocks mentioned, and no plans to initiate any positions within the next 72 hours.
I wrote this article myself, and it expresses my own opinions. I am not receiving compensation for it (other than from Seeking Alpha). I have no business relationship with any company whose stock is mentioned in this article.
Editor's Note: This article covers one or more stocks trading at less than $1 per share and/or with less than a $100 million market cap. Please be aware of the risks associated with these stocks.