Investing is a combination of good research and good discipline. Whenever any investor finds a mispriced security he/she enters the position. Then comes the waiting period as the market doesn't get an alert that you purchased the security and then automatically re-price the stock. This can be a frustrating task as well as a difficult one. If an investor decides to publish his/her opinion on the mispriced security, it is essentially a complaint filed with the market saying "hey look over here, you made a mistake." Of course, this frustrating mispricing is exactly the reason why good investors can make money.
If you foresaw the recession which is going to occur in the middle of this year, early in 2015 you would have had superior analysis to those investors only catching on now, but you wouldn't have been rewarded for this achievement. The burden of having superior research is you have to manage your risk with the knowledge that you can be too right (or too early). This ability to manage risk could have made you money on the several corrections we have experienced in the past 12 months as the market goes through its topping pattern.
The reason why I wrote that introduction is because the data is becoming so obviously bad, yet the market is relatively close to its all-time highs. The economic data has been slowing for several quarters on a rate of change basis, but the reason why I am now declaring the slowdown obvious is because mainstream organizations are now seeing it. As you can see from the screenshot from CNBC below, all of the major organizations have lowered their Q1 2016 GDP projections.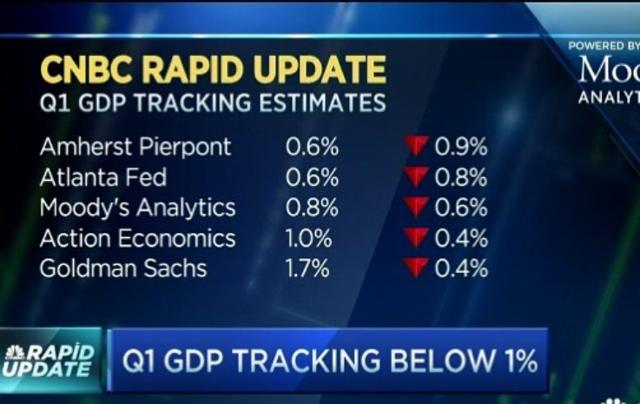 Click to enlarge
I have specifically highlighted the GDP Now report in my previous posts. I said when it was above 2% that it would be going much lower. It is now at 0.6%. We're in a weird moment in time where I have been right about the economy, but the stock market hasn't followed through. This is the equivalent of a company missing earnings and having its stock go up. In that specific scenario it would be very easy to figure out why this is the case, but for the overall equity market, it's not as easy because of its sheer size.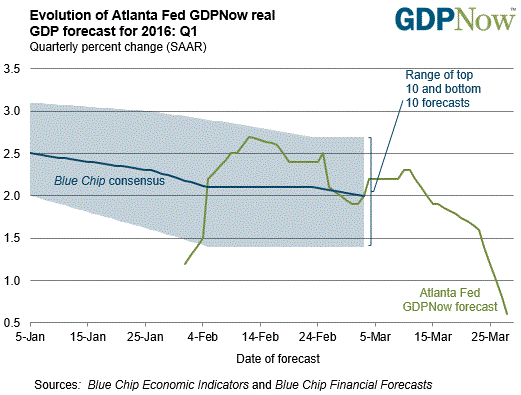 Before I get into another possible explanation for the market increase, I will show you the chart below which supports my point that the GDP Now report showing a change in growth expectations usually correlates with market movement. Investors can either ignore history and data by owning stocks or show patience by sticking to investing based on those two critical factors.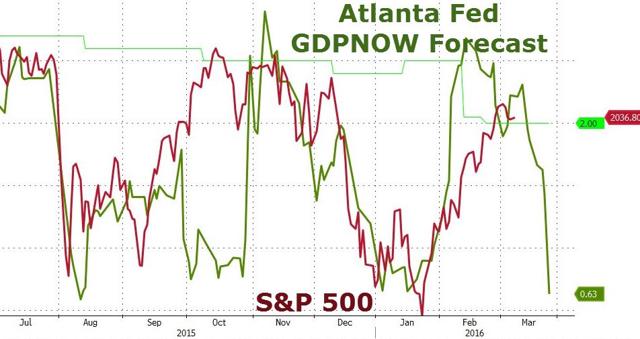 Click to enlarge
The chart below is another explanation for the market increase recently. The oil market has been highly correlated with stock market. The oil market's price increase has been caused by a short squeeze. This movement makes sense in a way because the market was having its worst start to a year ever. At some point the market was going to bounce. At this point the bounce has happened and the market is in 'no man's land.' It is eventually going to once again reflect reality. I would be lying to you if I said I knew exactly when that is going to happen.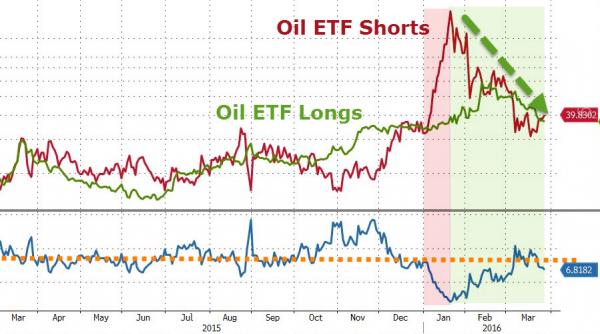 Disclosure: I/we have no positions in any stocks mentioned, and no plans to initiate any positions within the next 72 hours.
I wrote this article myself, and it expresses my own opinions. I am not receiving compensation for it. I have no business relationship with any company whose stock is mentioned in this article.