LocalShares is a small financial services company specializing in developing investment products that allow investors to "participate in the potential of geographic regions" Their first and only product: the LocalShares Nashville Area ETF (NYSEARCA:NASH), an exchange traded fund based on Nashville Tennessee, a rich and vibrant American city in the heart of the south. The ETF was launched in 2013. We will analyze its performance to date as well as look in depth at what exactly this security offers to the potential retail investor.
Basic ETF Stats:
Expense Ratio: 0.49% (This is a pretty good expense ratio)
Assets under management: 10.26 million
Price: $24.88 (3/30/2016)
NAV: 26.43
Allocation and Regional Exposure:
98% Stock
1.16% Cash
NASH is all American, which is to be expected.
| | | | |
| --- | --- | --- | --- |
| North America | Latin America | Asia | Europe |
| 100% | Zero | Nada | Zilch |
Market Cap and Sector Exposure:
47.18% of the holdings are small cap and 20.85% micro. The rest of the ETF is made up of large/medium cap stocks and there are no blue chips in this ETF. This means that the ETF has pretty solid growth potential.
The Three main Sector Allocations:
Healthcare: 31.58%
Real Estate: 19.40%
Consumer Cyclical: 21.42%
Consumer cyclicals are heavily dependent on the business cycle and tend have reduced revenue in times of recession. The same is often true about real estate. On the other hand healthcare, the number one allocation in the ETF, counteracts this market risk because it is an industry that retains its demand in all economic climates.
Investing in Nashville:
Before we go any further into our analysis of the ETF lets look at the city of Nashville and the opportunities it presents to an investor. Nashville is the fourth largest city in the South, clocking in at over 600,000 residents, and it the Capital of Tennessee. The city is well known for its country music contribution, hence the nickname "Music City."
In 2013 Nashville grew GDP by 4.3%, beating the national average. Employment grows at around 1.9% and its GDP was $85,796,000,000 in 2011. The real estate market in Nashville is absolutely sizzling hot ranking 3rd in the nation. Perhaps most relevant to our analysis is the fact that the city is home to a number of large publicly traded corporations. According to the LocalShares website 150 successful corporations have recently moved to the city because its business friendly policies.
Stock Holdings of NASH.
I think the regional based ETF market has great potential but I would like it even better if ETF, ETN and CEF managers looked into holding a mix of municipal bonds, preferred stock and private stocks. Basically the stuff which is not normally available to the general public. That would make thee funds much more interesting, as well as more representative of the area they seek to represent. This is just my opinion however.
The stated goal of NASH is to provide an efficient way for investors to invest in publicly traded corporations that are based in Nashville. The fund is passively managed and has selected its holdings based on a market cap of above 100 million and over 50,000 daily volume of shares traded. These specific securities were selected based on quote; "A proprietary formula developed to account for earnings, momentum and valuation metrics."
Here is a nice image of all the brand symbols.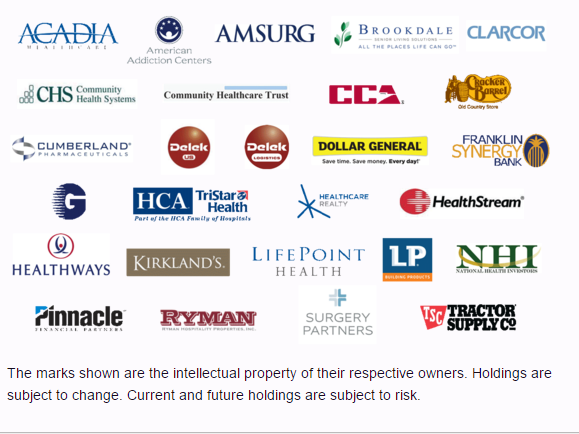 But to be honest, I think its pretty clear that the securities here don't really have that much do with the city of Nashville aside from perhaps being headquartered there or being founded there. Investors should disregard the notion that they are actually investing in a city when they buy this ETF. NASH is simply a diversified portfolio of stocks that simply share a loose relationship with a particular geographic area.
The question we should ask now is whether or not this portfolio has an edge over the rest of the market.
Lets look at the ETF's holdings and compare them to the market.
I don't know if this is just luck or skill, but today was a really good day for the stocks in NASH.

Click to enlarge
But despite all the green, the ETF is still underperforming the S&P 500 by a very significant margin. The average share price increase of the stocks within NASH was over 2% today, with LifePoint Health Inc (NASDAQ:LPNT) jumping 4.42% and Amsurge Corp (NASDAQ:AMSG) jumping 4.89%.
The ETF responded to this good news by dropped 2.95% in this same day!
This seems to be a sign of market inefficiency, perhaps caused by low liquidity or lack of information. NASH is trading at a -5.41 discount to NAV while the performance of its components are beating the market.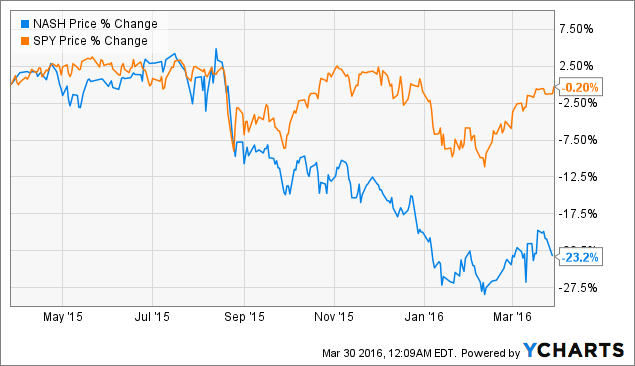 The companies that make up NASH perform brilliantly yet the ETF languishes at -23.2%.
Its hard to say where exactly the problem is coming from because almost every company included in the fund has had an excellent performance this year: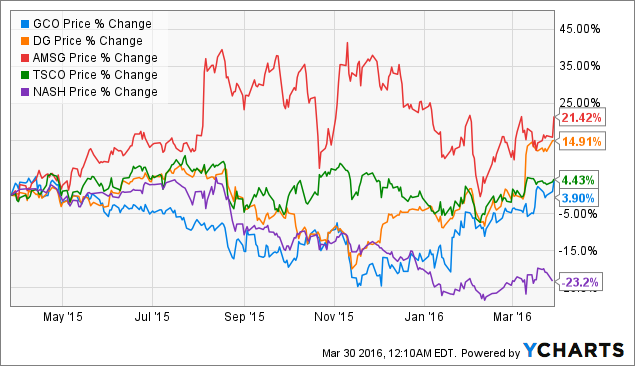 Conclusion:
I do not feel like NASH is an actual representation of the city of Nashville. It is however, a portfolio of impressive, high growth stocks in strong industries. I expect a fund like NASH to be low risk and generally move with the market. But with over 50% of its holdings being exposed to real estate and consumer cyclical this is not the type of fund investors should be looking at with the threat of recession looming.
There is also a strange disconnect between the performance of the stocks that comprise NASH and the performance of the ETF itself. NASH is on sale for much cheaper than it is actually worth and investors who are interested in exploiting market inefficiencies may want to give this ETF a closer look.
Retail investors who are just interested in a low risk fund with a chance to beat the market should probably just pass on NASH and instead build their own portfolio out the strong companies that this fund is made of. Sometimes ETFs can be more trouble than they are worth.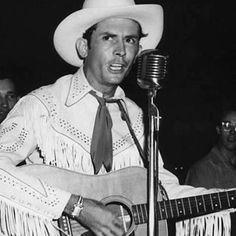 Disclosure: I/we have no positions in any stocks mentioned, and no plans to initiate any positions within the next 72 hours.
I wrote this article myself, and it expresses my own opinions. I am not receiving compensation for it (other than from Seeking Alpha). I have no business relationship with any company whose stock is mentioned in this article.