Continental Resources (NYSE:CLR) has been one of the best performing shale oil players on the stock market this year. The stock has delivered impressive gains of over 30% so far in 2016 as it has taken aggressive steps to counter the challenges posed by a weak oil pricing environment. On the other hand, a recovery in crude oil prices in the past few weeks has also aided Continental's rise. In this article, we will take a look at the reasons why Continental Resources will continue to gain momentum going forward.
Robust fundamentals
Continental Resources has a robust liquidity position and production profile that will allow the company to emerge stronger from the current oil pricing scenario. In fact, in a bid to strengthen its liquidity position further, Continental had announced last month that it will be reducing its capital budget by 66% this year, and might reduce the levels further if needed.
Additionally, Continental has decided to halt fracking activity in the Bakken, and will instead focus on its assets in the Oklahoma STACK/SCOOP play. By doing so, Continental will be able to reduce the losses that it was taking to its revenue as a result of lower oil price realizations, while improving its liquidity at the same time.
Now, the shift of Continental to its assets in the SCOOP play is a smart move on the company's part since wells in an over-pressured window at this asset are capable of increasing production by three times in comparison to wells that are normally-pressured. More specifically, driven by enhanced completions in the SCOOP play, Continental Resources is seeing an increase of 35% in initial production rates for the first 180 days, which is why it makes sense to shift production to this area.
On the back of such robust assets, Continental will not see a huge decline in its production this year despite a 66% cut to the capex. In fact, the company expects its production this year to come in at 200,000 BOE/day, which will be achieved at a capital budget of $920 million. More importantly, at this level of capital expenditure and WTI oil prices of $37/barrel, Continental believes that it will be able to achieve cash flow neutrality.
This is not surprising as Continental has been able to bring down its cash costs by a significant margin of late. As shown in the chart given below, Continental was able to reduce its cash costs by 35% last year, which is why it is now capable of achieving neutral cash flow at low oil prices: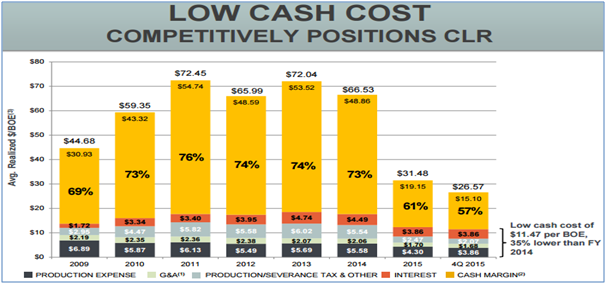 Source: Continental Resources
Moreover, Continental Resources' cash flow will also benefit from the rise in oil prices. This is because the company is of the opinion that for a $5 increase in oil prices, its cash flow will increase by $150 million to $200 million. Now, the good thing is that oil prices seem to have bottomed and the WTI is already trading at almost $40 per barrel. As I had pointed out earlier, Continental will achieve break-even cash flow at $37 per barrel, which indicates that the company is now partially cash flow positive.
Going forward, there is a good chance that oil prices will continue to improve, which will lead to growth in Continental Resources cash flow profile. Let's see why.
Why WTI oil will continue to get better
As mentioned earlier in the article, Continental Resources has slashed its capital expense forecast by a huge margin this year. Now, Continental is not the only shale oil producer to do so. For instance, shale producer Whiting Petroleum (NYSE:WLL) has elected to cut production by a whopping 80%, while Hess (NYSE:HES) has decided to reduce its budget by 40%. Similarly, Oasis Petroleum (NYSE:OAS), another key Bakken producer will operate just two rigs in the play this year as it has cut its capex by more than a third.
On the back of these capex cuts, infrastructure investment in the oil and gas space in the U.S. will decline this year. This will eventually lead to a drop in oil production in the U.S. this year to 8.7 million barrels a day, indicating a drop of 700,000 barrels per day as against last year's production. Meanwhile, the capex cuts will lead to a further drop of 500,000 barrels per day in production next year, which will further lead to a reduction in oil oversupply.
To support the decline in production, oil consumption in the U.S. is expected to rise by 90,000 barrels per day this year, and then increase by a more robust 160,000 barrels per day in 2017. Due to this rise in demand and the corresponding decline in production, the price of WTI crude should continue getting better. This will have a positive impact on Continental Resources' cash flow profile as discussed earlier.
Conclusion
Continental Resources has done tremendously well on the stock market this year and it is quite likely that the trend will continue in the future. Driven by higher oil prices and a robust production profile, the company will continue to deliver more upside going forward. As such, it will be a good idea to remain invested in shares of Continental Resources as it is set to get better in the long run.
Disclosure: I/we have no positions in any stocks mentioned, and no plans to initiate any positions within the next 72 hours.
I wrote this article myself, and it expresses my own opinions. I am not receiving compensation for it (other than from Seeking Alpha). I have no business relationship with any company whose stock is mentioned in this article.