American Tower Corp. (NYSE: AMT) is one of the largest global REITs and a leading independent owner, operator, and developer of multi-tenant communications real estate. It has a portfolio of around 99,000 properties, which includes wireless towers, broadcast towers and distributed Antenna System (DAS) networks.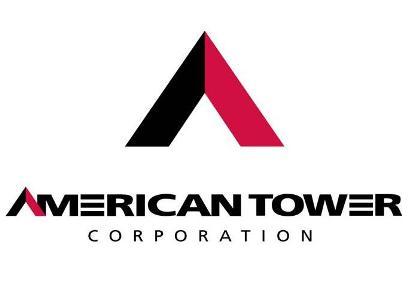 Its tower portfolio includes 40,000 towers in the United States and 59,000 towers in Brazil, Chile, Columbia, Costa Rica, Germany, Ghana, India, Mexico, Nigeria, Peru, South Africa and Uganda. It also has 390 DAS networks operating in mall, casinos, other in-building applications and selected outdoor environment.
The business model is essentially simple. The communications tower is "toll bridge business" for wireless communications as it provides infrastructure for increasing mobile usage. Warren Buffett loves to invest in a toll bridge business such as AMT - the wireless service provider keeps on paying rental payments to the company so long as they want to continue in the business. As such, the company has continued to invest their excess capital, net of dividends into the merger & acquisition opportunities and new builds.
Steady Topline Growth from Broad Base Wireless Growth
Based on the Moody's report, the US telecom sector is expected to grow on the back of growth in mobile video, higher speed networks, availability of equipment installment plans and expansion of the machine-to-machine connections.
These factors will contribute to a positive outlook in the wireless usage among the service providers. In fact, the economic dynamics of the tower industry seems attractive for investors. As a business, tower infrastructure is closed to new competition through zoning restrictions. Moreover, the high operating leverage inherent in the business makes it tough to enter into. These economic dynamics have led to the strong operating performance of tower companies such as AMT. Moreover, the lofty projections for wireless usage is underpinned by lower cost smartphones globally and competitive imperative for wireless operators to continue investing in their networks.
From 2011-2015, total revenues have dramatically increased from $2.4 billion in 2013 to $4.7 billion in 2015 or a compounded annual growth rate of 18%. The robust growth in revenues is driven by the continued wireless carrier infrastructure build-out. In addition, the strong leasing demand stemming from the growth in wireless usage, which resulted in higher capacity driving the double-digit growth.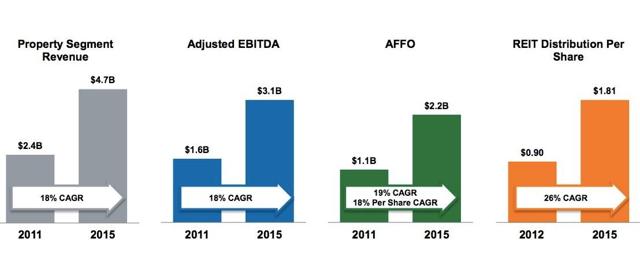 Source: AMT 4Q 2015 Presentation
Consequently, Adjusted EBITDA followed a similar suit increasing from $1.6 billion in 2011 to $3.1 billion in 2015. Moreover, Adjusted Funds from Operations (AFFO) has doubled from $1.1 billion in 2011 to $2.2 billion in 2015.
Management is confident that they will be able to continue growing its cash flows and profitability in the coming years with focus on execution such as accelerating international markets, leverage on the diversification benefits and manage expenses effectively.
Capital Allocation Decisions
On the average, the company requires low amounts of annual capital expenditures to maintain the communication sites. However, the cash flow being channeled to discretionary capital expenditures is geared towards new build-outs on the company in line with consistent demand of the sites.
From 2011 to 2015, capital expenditures have grown from $523 million in 2011 to $729 million in 2015. The main funding source of the capital expenditures has been mostly debt where net debt have surged from $6.9 billion in 2011 to $16.8 billion in 2015. Net leverage ratio has also increased from 2.02 times in 2011 to 5.2 times in 2015.
Going forward, it seems that the company will still continue to spend at least $700 million to $800 million of capital expenditure this year. For instance, it has recently ventured into Tanzania through its latest deal with Bharti Airtel Ltd. Bharti Airtel has sealed an agreement with AMT for the latter to acquire 1,350 of its communication tower in Tanzania. The deal is expected to close in the first half of 2016.
As they have been aggressively expanding their portfolio through acquisitions in India, Latin America and EMEA, expect that they will take on additional debt to fund these expenses if they want to continue hiking their dividends.
Positive Developments Are Priced In
It seems that the market is bullish on the stock. The shares are currently trading at $101.81 per share, which is almost near its 52-week high of $104.12 per share. Institutional investors have added into their position with AMT. On the other hand, several analysts at research houses have placed their "imprimatur" buy rating on the company.
In terms of Enterprise Value/EBITDA, it is noted that AMT appears cheaper compared to their peers. On the other hand, Crown Castle (NYSE:CCI) is more attractive in terms of the PE ratio and dividend yield. The reason for this is that AMT has generated better EBITDA compared to their other peers mainly from the aggressive expansion over the last few years.
It is tempting to agree with institutional players on the overall positive merits of the stock: a company facing significant tailwinds, strong expansionary plans and moderate valuation over its peers. A diligent investor would not fall into this kind of thinking. He or she has to look into the downside first before even considering the downside. As value investors would attest: If you focus on the downside, the upside will take care of itself.
The downside risk is that its aggressive expansion will probably expand its net leverage ratio to say around 6 or 7 times. At present, debt levels relative to its cash flow imply that the company will be able to repay the debt in 5 years.
Conclusion
The problem with having huge debt levels is that it gives the company a small margin for errors and any industry headwinds would put pressure on its financial position. The good news is that management is aware of this situation and reportedly plans to continue de-leveraging over the coming years. Given the recent run-up of the share price over the past year, it is advised to stay on the sidelines. In fact, it is best to see whether the company management is really keen on reducing its debt levels before taking the plunge.
Disclosure: I/we have no positions in any stocks mentioned, and no plans to initiate any positions within the next 72 hours.
Business relationship disclosure: This article was written by a third party and expresses the opinions of the author.