In a recent article, I had discussed why Exxon Mobil (NYSE:XOM) is well-positioned to record a recovery in its upstream business as a recovery in oil pricing and the company's focus on efficiency gains will be a tailwind for the company. However, one important factor that investors should not ignore about Exxon Mobil is its downstream business, which has helped the company offset the weakness in the upstream to some extent and will continue to drive its results in the long run.
So, in this article, we will take a closer look at the downstream business of Exxon Mobil and see why the company is well-placed to make the most of growth in this segment.
Exxon's downstream efficiencies give it an advantage
In the downstream segment, Exxon Mobil is one of the best placed big oil players. In fact, over the past five years, Exxon has recorded the highest return on capital employed in the downstream and chemical business of over 20% when compared to peers. This is shown in the chart below: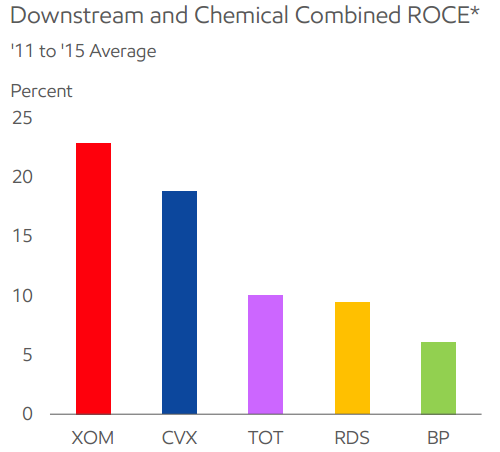 Source: Exxon Mobil
Now, Exxon has managed to keep its ROCE at the top of the industry due to a variety of reasons. For instance, the company's refineries are 70% larger than the average seen in the industry. This allows Exxon to generate more refining products with lower fixed costs, thereby giving it a cost advantage over rivals.
In fact, as a result of its strong refining infrastructure, Exxon was able to record cost savings of $1.5 billion as compared to the industry last year, while the fact that the company expanded its access in the midstream segment has also allowed it to lower feedstock costs. The following chart shows Exxon's advantage over the industry in the refining segment: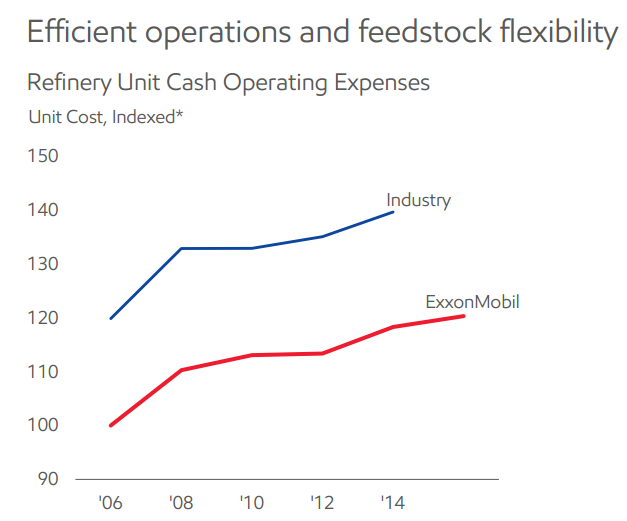 Source: Exxon Mobil
As we can see above, Exxon Mobil has managed to keep cost growth flat over the past year or so in the refining segment, even though the company has increased the production of premium distillates, chemical feedstocks, and lube basestocks. On the other hand, as far as the chemical business is concerned, Exxon has managed to keep costs low on the back of better feedstock supply and achieve higher production. For example, as shown below, Exxon's ethylene production from ethane has been way higher than the industry, which is a good thing since demand is expected to rise.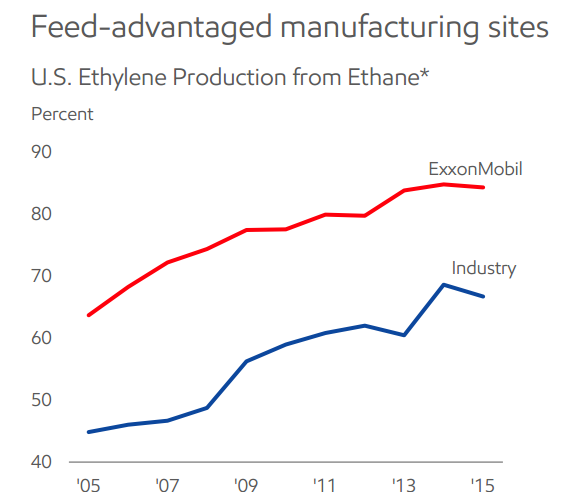 Source: Exxon Mobil
The key reason why Exxon has delivered stronger growth in ethylene production is because the company has access to 30% better feeds as compared to the industry. Additionally, the fact that it has integrated its manufacturing capacity with its refineries has also played a key role in enhancing production.
Therefore, by focusing on high-value production in the downstream business, Exxon Mobil has managed to make up for the loss in the upstream business to some extent. This is shown in the chart given below: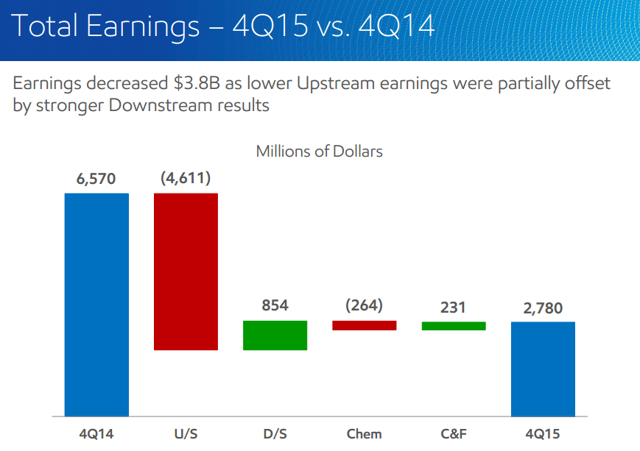 Click to enlarge
Source: Exxon Mobil
The downstream momentum will continue
Going forward, the demand for downstream products will continue improving, which will help Exxon make the most of its strong capacity in the refining and the petrochemical segments. This is because Exxon anticipates petrochemical demand to grow at an annual rate of 4% over the coming 15 years, outpacing overall energy demand.
As a result, Exxon has decided to invest $160 billion across the U.S. to improve its petrochemical infrastructure further, which will allow it to make the most of demand growth in the end market. On the other hand, demand for various refinery products such as gasoline, along with distillate fuel, is anticipated to increase.
As reported by the EIA:
"Gasoline consumption is forecast to increase by 90,000 b/d (1.0%) in 2016, as a forecast 2.1% increase in highway travel because of employment growth and low retail prices. Stronger economic and manufacturing growth in 2017 contributes to distillate fuel consumption growth of 110,000 b/d (2.9%).

HGL consumption is forecast to increase by 20,000 b/d (0.8%) in 2016, as increased ethane consumption more than offsets decreased propane, butanes, and natural gasoline consumption. In 2017, forecast HGL consumption increases by 30,000 b/d (1.4%)."
Similarly, in China, the demand for gasoline is expected to rise substantially in the future. For instance, gasoline consumption in China was up by 7% last year, with the trend expected to continue since this year, Chinese gasoline demand is expected to rise by 200,000 barrels per day. Moreover, from a long-term perspective, China will see gasoline demand growth of 6.2% every year till 2025.
Conclusion
Thus, as we saw above, the prospects of the downstream segment look strong going forward, and Exxon Mobil will be able to make the most of the opportunity available due to its efficient downstream operations. So, it makes sense to remain invested in Exxon Mobil as improvements in both the upstream and the downstream businesses will lead to upside in the long run.
Disclosure: I/we have no positions in any stocks mentioned, and no plans to initiate any positions within the next 72 hours.
I wrote this article myself, and it expresses my own opinions. I am not receiving compensation for it (other than from Seeking Alpha). I have no business relationship with any company whose stock is mentioned in this article.