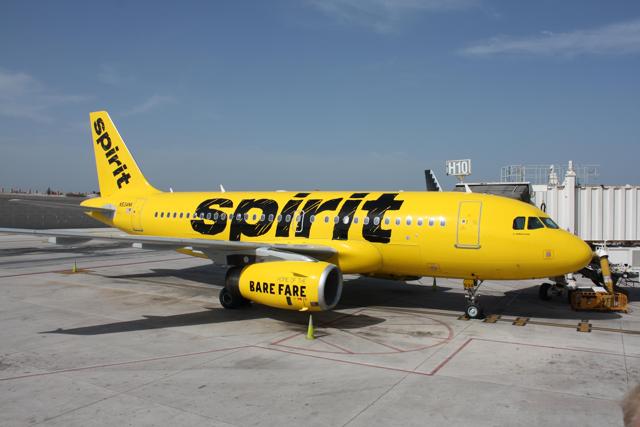 Click to enlarge
Img 1: A Spirit Airlines Aircraft
I have been bullish on Spirit Airlines (NASDAQ:SAVE) for some time and remain so, as I believe it has the most upside of any U.S. airline stock for long term investors. I believe the airline is trading at a bargain and it is a great time for those with no position in the airline to initiate one and for those with a position to add at these price levels as it takes a breather from its rebound.
Pivot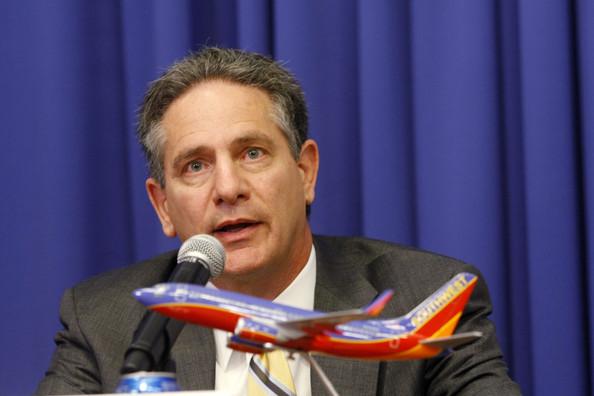 Img 2: Robert Fornaro, the new CEO of Spirit
Under new management Spirit Airlines has decided to pivot its business by cutting back its aggressive growth and refocusing on smaller midsize markets rather than going head to head with larger competitors on some of their core routes.
While many have highlighted the airline's desire to switch orders from the larger A321 aircraft to the smaller A320 to serve smaller markets it also does something else. The A321 is the largest Airbus single aisle aircraft and by up-gauging to this aircraft overtime airlines have been able to spread their operating costs over much larger passenger numbers while incurring only an incremental increase in operating costs. This has allowed other airlines to over time apply downward pressure on operating costs as rising labor costs and other cost increases seek to push up their operating costs. If Spirit had pursued its previous strategy of moving to the A321 as soon as possible it could have led to a period in a few years time were the airline would have had little path to further reduce operating costs. By keeping many more smaller aircraft around for longer it will give Spirit control in future years to choose to up-gauge to the larger A321 thereby applying downward pressure on operating costs when the airline is faced with an event such as large wage increases or a spike in oil.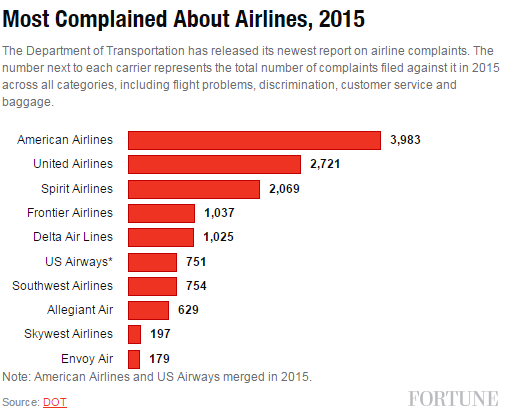 Img 3: U.S. Airline Complaints 2015
Customer service and operations are one area where Spirit lags the competition. The airline has the third highest number of passenger complaints in 2015 despite being 1/12th the size of the most complained about airline, American Airlines (NASDAQ:AAL). In addition Spirit had an on time rate of 68.1% in January 2016, the worst out of all other major U.S. airlines by a large margin. These customer service and operational difficulties may be the result of hyper 30% year over year growth for the past several years. The airline plans to address these issues, and will see several benefits as a result. Improved customer service and on time rates will make the airline a more attractive alternative when airlines with a superior product choose to price match Spirit, and will remove one large risk to the airline. One negative result however of this pivot to focus on operations and customer service will be a reduction in daily aircraft utilization where Spirit previously had the highest utilization in the United States. While being a short term minor negative it will give the airline an easy path in future years to improve operating costs if it needs a boost due to headwinds from rising fuel or labor costs. I believe the resolution of these issues is a net positive for shares of Spirit and will reduce risk while reducing costs incurred from delays and customer service complaints.
Consolidation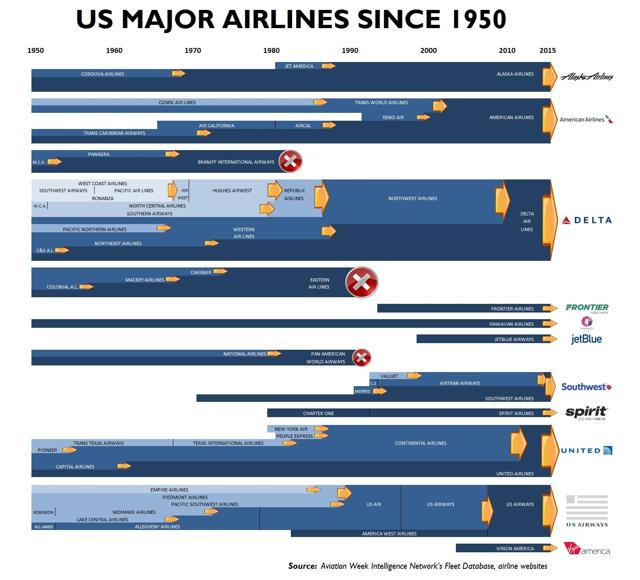 Click to enlarge
Img 4: U.S. airline consolidation since 1950
Consolidation is great for those who invest in the airline industry. The elimination of a number of airlines has led to more rational pricing, and a number of seats in the market that much better aligns with demand rather than airlines dumping seats in the market to gain market share as was common in the past. The improved pricing environment has allowed airlines to earn sustainable profits for the first time in history but it has also done something else. The consolidation has left an opening for airlines like Spirit Airlines.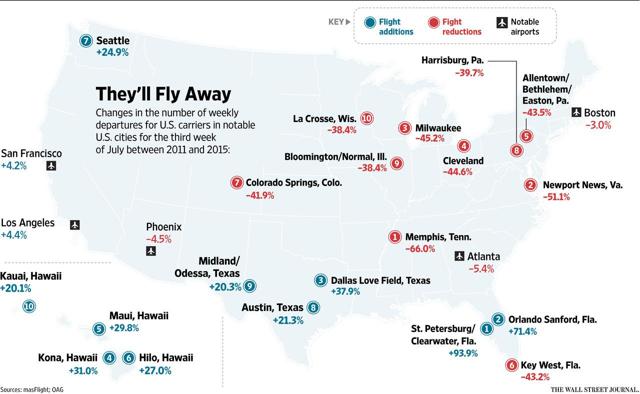 Click to enlarge
Img 5: Change in Weekly airline departures in U.S. Cities
Consolidation has caused many of the major airlines to cut service to smaller less profitable cities and raise air fares. The graphic above displays the result of these cutbacks following consolidation, with Memphis being one of the hardest hit cities following Delta's (NYSE:DAL) merger with Northwest. Airlines like Spirit Airlines have been able to build a niche around this by opening up service to some of these cities and picking up the lower fare passengers who the major airlines for the most part have choose to ignore as they focus on higher margin passenger traffic.
As news emerges this week that additional consolidation is possibly set to take place in the United States, likely with Virgin America (NASDAQ:VA) and JetBlue (NASDAQ:JBLU), I believe it reinforces Spirit Airlines niche as it is one of the biggest indirect beneficiaries from airline consolidation.
Another benefit Spirit may see in the future from consolidation is a Spirit - Frontier merger that I have long predicted will take place. Many analysts have suggested that the recent management changes at Spirit, which is now run by Robert Fornaro the same man who orchestrated the Air Tran - Southwest merger suggest the airline could be preparing for a future merger. There are many benefits and reasoning for such a merger that I explain in my previous article, here. In the short to medium term however I expect Frontier to pursue its own IPO before a merger with Spirit comes to fruition.
Revenue Environment
Air fares have taken a hit in recent months as airlines like American Airlines have used low oil prices to match fares of low cost airlines like Spirit. This has caused a halt to the strong stock performance of Spirit as the airline warned it may see less revenue in 2016 despite its expansion due to a drop in overall air fares. While I am not an expert in the oil and gas field, it would seem like the drop in oil prices has stabilized for the foreseeable future. This along with further airline consolidation near term makes me believe we may have already hit the bottom when it comes to the airline pricing environment.
Growth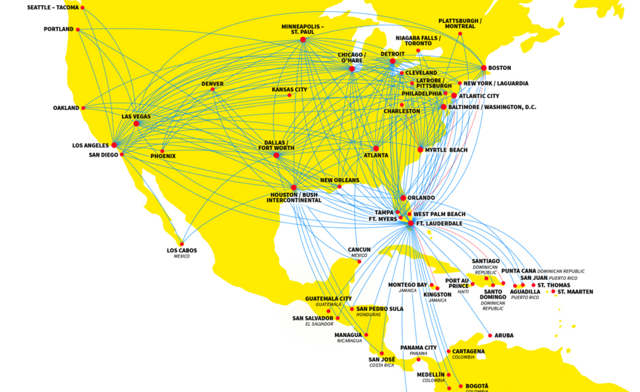 Click to enlarge
Img 6: Spirit Airlines Route Map
Spirit sees over 500 markets that it could serve at its current cost level and earn mid teens margins. While the new leadership at Spirit will not grow the airline at the 30% rate it was growing previously, it seems to be comfortable with a 15-20% year over year growth rate for the foreseeable future. Most of Spirit's routes are profitable from very early on compared to legacy airlines who do not see a return on most new routes until 12-24 months after launch. In addition Spirit has been quick to axe new routes that do not meet their minimum margin requirements. Spirit also has an abundance of opportunities in the Mexican market following the implementation of open skies as I explained in my article here.
Recession Proof
The low cost airline business model benefits from almost being recession proof. CEO Michael O'Leary of European low cost carrier Ryanair (NASDAQ:RYAAY) once said he loved recessions and the numerous benefits they brought to his airline as many passengers downgrade to lower cost airlines and aircraft are available on the cheap.
On the other hand during boom times the low cost airline business model benefits by enabling people to fly who might otherwise have driven or not taken a vacation at all.
The business model has proven to be the most resilient of all airline business models and has thrived during good times and bad with Spirit posting profits when oil was well over $100 and throughout the great recession. I believe that any media hype about a potential upcoming downturn may lead to a knee jerk reaction among investors to sell airline stocks and I believe this would present an additional buying opportunity.
Investor Concerns
Investors have had many concerns about the airline industry as of late. While many pundits believed that a drop in fuel costs would benefit the industry it has done quite the opposite as most U.S. airlines have seen their stock prices fall since the collapse in oil prices.
Part of the reason for this has been the loss in pricing discipline, as airlines steadily increased fares in the years leading up to the drop in oil prices, only to opportunistically drop them due to low oil. While Wall Street criticized this behavior, all the major airlines stayed very profitable despite this and likely avoided further justice department scrutiny for keeping airfares high as oil prices fell. As oil appears to have stabilized at this point and consolidation is in the works once again I believe the worst may be past the airline industry when it comes to pricing.
History has told investors that the airline business has had few periods of success and spent the vast majority of its years making large losses and in bankruptcy. A reluctance among investors to believe that the airline industry has actually changed is one reason airline stocks are being hit hard. I believe that consolidation has led to a U.S. airline industry were the days of dumping capacity to gain market share are well over and common sense has prevailed. My thoughts are reinforced by American Airlines CEO Doug Parker's recent decision to take his pay in American Airlines stock, something he noted would have been unthinkable years ago yet something he is comfortable doing now as he believes the fundamental changes in the U.S. airline industry are here to stay.
One final thing Wall Street and investors were concerned about was Spirit's aggressive growth strategy of 30% year over year, 15 times the normal growth rate of ~2% year over year. Since the CEO change Spirit has cut that growth down to 15-20%, still 7-10x the normal growth rate but a much more manageable rate and something that should appease investors.
Conclusion
For investors looking to the long term I continue to believe the growth potential of the ultra low cost airline model in the United States make Spirit the most compelling long term airline stock. I believe a bottomed pricing environment, and consolidation will continue to benefit Spirit both directly and indirectly and that a pivot under new management will alleviate concerns and benefit the airline long term.
Disclosure: I am/we are long SAVE.
I wrote this article myself, and it expresses my own opinions. I am not receiving compensation for it (other than from Seeking Alpha). I have no business relationship with any company whose stock is mentioned in this article.