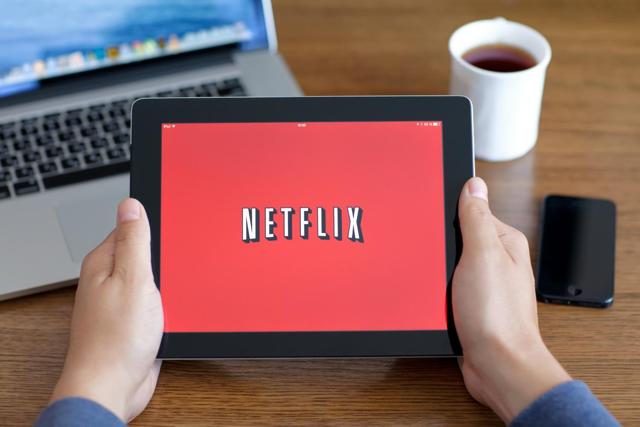 Click to enlarge
Netflix (NASDAQ:NFLX) is one of those companies that has given adaptability a new definition. After starting out as a DVD rental company, they swiftly moved into a video streaming model that boasted a library of thousands of movies, while licensing content from third parties. From there, they started gradually building their own content. Now, even the movie library seems to be shrinking as fast as an arctic glacier in the Bahamas.
And all this has happened as the company kept expanding its footprint all over the world and, although I do have my reservations with respect to how they are going to bring localized content suitable to the different cultures and demographics spread all over the world, Netflix seems to be on a mission to keep improving and experimenting with all their might.
In this article, I cover some subtle trends that have developed over the last few years. These are clear signs that Netflix is arresting control over its home market in brilliant ways. They are also validations that the company will be able to replicate - in measure - this same success in overseas markets.
Essentially, I've broken them down into three indicators, each of which shows one facet of what is happening with Netflix.
Indicator 1: Surveys by Deloitte and Business Insider
"According to Deloitte's 10th Digital Democracy Survey of more than 2,200 U.S. consumers, 70% of respondents binge watch an average of five episodes in one sitting, with 35% of millennials doing so on a weekly basis. Viewers are also beginning to fully embrace streaming video, with 46% of Americans subscribing to at least one streaming video service and young millennials, ages 14 to 25, consuming more online video content than live television."
This is just a small, random sample, but it is representative of the average video streamer in the United States. In that respect, the insight gained from this survey is priceless because it shows several things:
First, video streaming is on the rise compared to televised content. Second, nearly half the population is on at least one streaming subscription service. Third, the intrusiveness of video advertising is eliminated with a streaming service - at a premium, of course, but the option is there.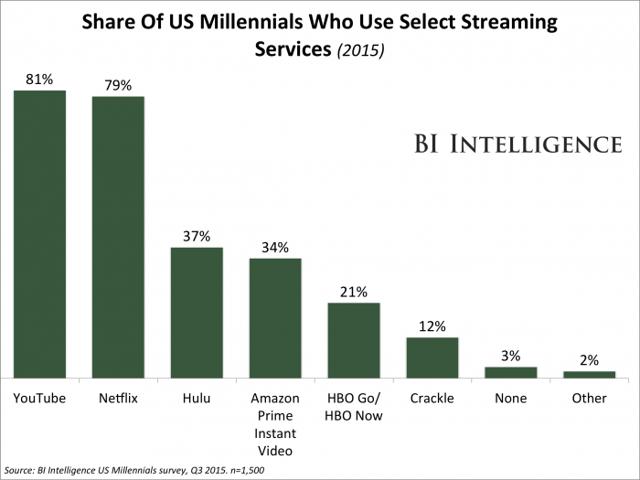 Click to enlarge
Source: Business Insider
Fourth - and probably the most important one - is that the Business Insider survey shows that 81% of the respondents are already streaming YouTube videos and, in my opinion, each one of them is a potential Netflix customer.
The Deloitte survey also reveals some interesting statistics on video advertising. Video ads are, in fact, one of the fastest growing segments in the online ads space. Yet, Deloitte shows that more than 25% of Americans use some sort of ad blocking software. From the survey itself, it was seen that 66% of respondents actually preferred streaming services because they weren't bothered by ads.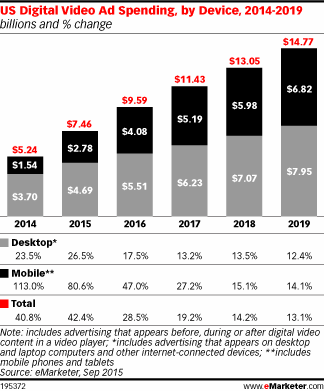 Source: eMarketer
Obviously, the growth in video ads isn't going to respond negatively to streaming services. Most bottom-end paid streaming options retain video ad content, and even YouTube Red excludes paid content from the ad-free experience it provides Red subscribers.
The point I'm making is that YouTube is the king of ad-supported streaming content, while Netflix dominates paid streaming. Both segments are growing equally fast and there's room for both these players to grow at a healthy pace. If this trend continues, together, they can push everyone else into the fringes and have the lion's share of their respective segments.
I specifically note this because it would seem that video advertising was lower down the food chain than premium video content and, hence, would be affected by premium ad-free streaming, which is not necessarily the case.
Indicator 2: Shrinking Licensed Content Vs. Growing Original Content
Netflix is not interested in just licensing content anymore. They are after original programming; or at the very least, they want a global license. It's all or nothing.
This transition has been happening slowly and so much behind the scenes that it's easy to miss it. Netflix used their movie library as a bait to get customers in; and once they were growing by sizable numbers, the company used the money to create original content - something that they own forever.
What's happening now is that it seems they want to keep growing original content and push everything else down.
But I don't think they're going to go the distance with this. First of all, people want to see popular content at leisure after it has aired for the first time on TV. Many would pay a premium just for that, and that's what they did when paid streaming first became available. They want to watch episodes they missed (when they first went live) on demand - and they want it on any device of their choosing.
So what are they doing by shrinking their movie library and focusing on original content?
I think they're posturing, as much as they are pursuing a relatively low-risk strategy to outwit major production houses.
When Comcast essentially pulled the rug out from under them by gaining rights to the first season of House of Cards, Comcast was sending them the message: "Don't mess with us."
This is Netflix's answer to that, in my opinion. They want to send back an equally clear message that they can run their service primarily through the power of original content - and this time, they're not stopping at regional or limited rights.
The "public" reason they're giving is that original content gives them more value dollar for dollar, but that doesn't explain why they would give up pursuing rights to thousands of movies so quickly.
In this article from Variety.com, Netflix Chief Content Officer Ted Sarandos says this:
"We don't have regional buying teams anymore"
That's a clear indication that they're not willing to bow down to the whims of big production houses any more. They either want global licensing or they're willing to walk away from the deal.
As for the question of "how fast is their movie library shrinking", here's the answer: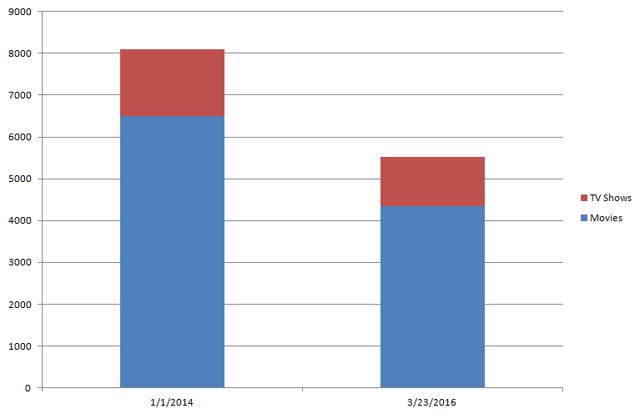 Click to enlarge
"The statistics are simple and remarkable: in January of 2014, Netflix offered its US-based users a selection of 6,494 movies and 1,609 TV shows, for a total of 8,103 titles. As of March 23, 2016, they offer just 4,335 movies and 1,197 TV shows - 5,532 titles in total. That's 2,571 fewer titles. In other words, Netflix's catalog has shrunk 31.7% in less than two and a half years!"
Source: Allflicks
Indicator 3: Downstream Data Points to Netflix's Strength
If I hadn't seen the data for myself, I would not have believed it. After all, I spend a lot of time on YouTube and I know how much time my son spends as well - and he's all of 8 years old! Most of us do that.
But Netflix seems to be running away with downstream traffic in North America (downstream traffic in internet terms refers to people streaming content down to their devices, as opposed to uploading content.)
YouTube has far more users than Netflix, so how could this be? The only explanation possible is viewing time. YouTube has a huge number of visitors that spend maybe a few minutes to an hour a day watching short videos. Netflix, on the other hand, has a smaller number of people often watching - as the survey indicated - up to 5 episodes at a time. And if they're watching daily episodes of several series, it adds up.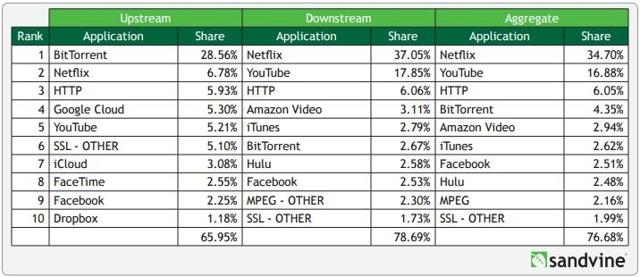 Click to enlarge
Source: XStream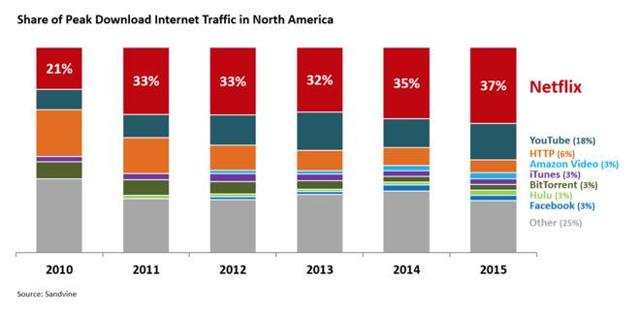 Click to enlarge
Source: Apple Insider
Of the three indicators I mentioned, I believe this is the crucial one that shows how Netflix is growing engagement in a market that is getting saturated by the quarter. In Netflix's Growing International Losses, I wrote in detail about how their stock price is closely related to quarterly subscriber growth rate. As growth rate slows, they need more engagement from their mature markets.
And this is exactly what's happening right now. Engagement is growing, the industry is growing and viewer habits are aligned in their favor.
Investor-speak: The Prognosis Remains The Same
In the previous article that I linked above, I spoke about the challenges they will have to face with localized content for various markets. Their decision to strongly focus on original content or global licensing of third party content is bound to exacerbate this problem.
For now, they've found a stopgap measure that will help popularize their service in the 190 countries they operate in - dubbed content. Their marquee original, Daredevil, aired simultaneously in all those countries this past week, and may signal a shift in the way they handle international markets initially.
That, however, will be like trying to convert everyone across the world to the same religion - but allow them to worship in their own language. I don't see that as a viable long-term hook for keeping people signed up. They're going to want truly local content - popular series that air on domestic cable networks, local language movies, and so on. They need this if they want to achieve anything more than superficial penetration in many markets.
The one thing that's definitely going for them is their recommendation algorithm. It sorts out "garbage" data that most would consider highly relevant - like geography, for example. Netflix believes that people are different, but not in ways that we would normally think.
Netflix has accurately identified that unifying thread, and this will help them secure their positions in an international market that looks like a United Nations member headcount.
For now, this is what they seem to be doing:
Strengthen their home market with original content over piecemeal licensed content.
Secure their initial international subscribers with globally available English content, also dubbed for the local audience.
Replicate home market success with original or licensed local language content in one or a few regions at a time.
Be that as it may, unless that filters down to the bottom line, it doesn't count - not even when accompanied by such aggressive top line and subscriber growth. And that's not something we're seeing yet.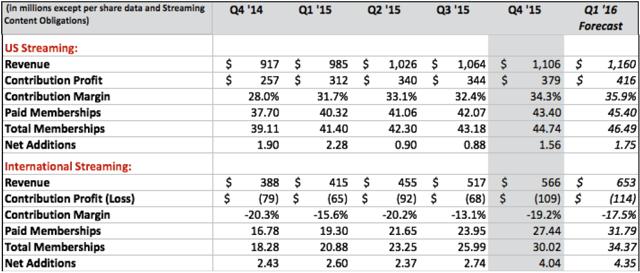 Click to enlarge
Source: Seeking Alpha
What's the impact of that on stock price? As I mentioned in my previous article, the best time to get in on NFLX is when you see soft numbers on subscriber growth, which is bound to happen as they get closer to U.S. saturation. You can wait until their P/S ratio drops to a more acceptable level, but with a long runway for international subscriber growth with no signs of flagging, you may need to wait a while.
I invite you to follow me as I track the leading edge of new strategies and initiatives from the world's top companies in technology, consumer goods, services and more.
Disclosure: I/we have no positions in any stocks mentioned, and no plans to initiate any positions within the next 72 hours.
I wrote this article myself, and it expresses my own opinions. I am not receiving compensation for it (other than from Seeking Alpha). I have no business relationship with any company whose stock is mentioned in this article.