As we previewed in this article, Lululemon (NASDAQ:LULU) reported stellar Q4 results that topped estimates and shares are up almost 10% in trading today as a result. Guidance was in-line with what we expected for sales growth and margin recovery in Fy16, so we maintain a $71 fair value on shares of LULU (see our model in our first article). We are rapidly approaching this fair value, and we believe now is an appropriate time to do some profit-taking for investors who bought pre-Q4 ER.
Revenues came in at $704.3 million, far above the consensus estimate of $693 million and slightly above our estimate of $700 million. This strong beat was driven partly by a 5% increase in store-comps, but mostly by a 28% Y/Y increase in DTC sales. That is greatly accelerated from last quarter's DTC growth rate of 16%, and laps 17% DTC growth in 4Q14. As we mentioned in our earnings preview, DTC growth is crucial to margin expansion because the DTC business has much higher operating margins than the brick-and-mortar business. We fully expect LULU to maintain strong DTC sales momentum and for this to cause noticeable net operating margin expansion over the next several years.
Gross profit margins came in at 50.3%, slightly better than the 49-50% guide but still compressed 120 basis points Y/Y. On the flip side of this compressed gross margin, the company successfully cleared inventory during the quarter, bringing inventory levels down from $357.8 million in 3Q15 to $284 million in 4Q15. Inventories are still up 36% Y/Y, and this inventory growth rate still outpaces the Fy16 sales growth of 15%, but management said it believes inventory and sales levels are now in-sync. Q1 should be the last quarter with inventory overhang issues. Moreover, the company outlined an initiative to improve margins by shifting from air freight to ocean freight as well as planning orders better to ensure fewer cancellations. Given this update, we are comfortable with our model for a few percentage points of operating margin expansion over the next several years.
In sum, the company appears to have regained its footing in Q4. Sales came in better than expected, margins came in better than expected, and the inventory problem is almost in the rear-view window. There were enough positives in the report to warrant a 10% rise in share-price the day of the ER, but we think this post-ER quote around $67 lacks favorable risk-reward asymmetry. We only see 5-6% upside from the current quote to fair value, and that doesn't guarantee investors a comfortable enough margin of safety.
Qualitatively, we are tempered by the sales growth relative to the company's fitness apparel peers. LULU reported revenue growth of 17% in the quarter to $704.3 million. While this is stellar growth, it pales in comparison to UA and Skechers (SKX) growth rates. UA grew revenues by 31% during the Holiday quarter to $1.17 billion, while SKX reported 27% revenue growth for the quarter to $722.7 million. These companies are of similar sales volume but are posting significantly higher sales growth rates.
The story is the same on a forward looking basis. LULU is guiding for roughly 12% revenue growth this fiscal year, while UA sees revenues soaring 25%. Though SKX does not provide guidance, they did say that January sales were up 35% Y/Y. UA is being awarded a richer valuation because of its strong growth, but LULU still looks expensive relative to SKX, a company with similar sales volume but stronger growth.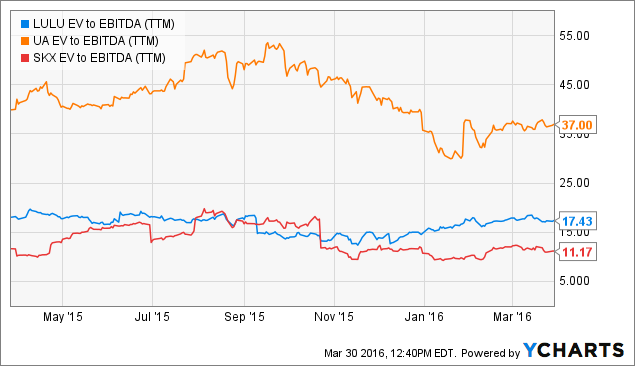 LULU EV to EBITDA (NYSE:TTM) data by YCharts
We think LULU is a strong growth company with several years of double-digit sales and earnings growth ahead of it, but we also feel the valuation is now mostly infused with those expectations. We do not think there is compelling upside from this standpoint to warrant holding or buying more at this rich of a valuation.
Disclosure: I/we have no positions in any stocks mentioned, and no plans to initiate any positions within the next 72 hours.
I wrote this article myself, and it expresses my own opinions. I am not receiving compensation for it (other than from Seeking Alpha). I have no business relationship with any company whose stock is mentioned in this article.