It has been over a year since we published our first article on Advanced Drainage Systems (NYSE:WMS), arguing that it was a commoditized, misunderstood company with incredibly bullish estimates and a glaring red flag in the rapidity of the insider sell-out.
A lot can happen in twelve months, and most of it has happened to Advanced Drainage - several guidance misses, ongoing analyst confusion, an enormous screw-up with respect to accounting restatements and executive level changes; most of the predictable boxes are ticked. To save going over old ground, we point you to a recent article by Jeremy Raper, which has a handy timeline of the company's battles to restate its prior year figures - which had been too aggressively recognizing profit - and to get the numbers up-to-date, so investors actually knew how the company was performing.
Since Jeremy's article, we have been blessed with two conference calls. The conference call last month (February) was one of the most bizarre we have had the perplexity of listening to. The company essentially gave investors no new information on the ongoing restatement - having just missed its (again extended) deadline, trying instead to assure the community that it was 'working hard' to resolve its issues. No time for Q&A was given. The conference on the 30th of March was more interesting - the company, having managed to finally restate its numbers for prior years, also managed to update guidance for fiscal 2016. Unsurprisingly, it cut guidance significantly - it would not hit its own heavily massaged adjusted EBITDA forecast of $190-$215 million, instead targeting $180-$190 million. To say sell-side analysts had dropped the ball would be quite some understatement - consensus forecasts as of mid-March were for adjusted EBITDA of $225 million.
We have been skeptical of sell-side forecasts on this name since its IPO, but when it missed guidance last year, we made one thing very clear - it was kicking a lot of balls into next year's court. The company repeatedly highlighted poor weather as a cause of bad sales in Q3 of 2015, saying it was pushing them into Q4, and then missed again in Q4 - saying sales had once again been deferred. Analysts gave them the benefit of the doubt then, trusting WMS would see the sales come through in 2016. It now transpires that it has not.
All of that aside, one of the ongoing fundamental problems we have with the company is with its non-GAAP numbers. Adjusted EBITDA's reconciliation into actual cash flows that the company can use is abysmal. And - even better - the business has managed to turn a complete blow-up, the accounting restatement, into something the analysts will doubtless spin as a positive.
Why?
Well, one of the issues WMS had to fix with its accounting was its treatment of leases. It was improperly recognizing a number of transport leases as operating leases, when it should have been finance leases. From a cash point of view, this change makes absolutely no difference - it is just a movement on the income statement. But in the numbers, what was an item in the operating expense line (where operating leases are recorded) is now split and put into two pre-existing buckets - depreciation and finance expense.
And you'll never guess where these numbers show up in the group's adjusted EBITDA number: yes, you got it - nowhere! $10 million of cost suddenly vanishes in a puff of smoke. The cash cost is the same - the company still has to pay the same people for the same leases - but now it handily bypasses the number WMS guides on and the number it implicitly suggests investors should use to evaluate its performance.
Isn't non-GAAP wonderful? To be clear, this is just one issue with Advanced Drainage's 'adjusted' numbers… but it does give us a great example of exactly the problem with relying on the company's chosen metric. Adjusted EBITDA will not end up putting food on shareholders' tables. Cash will, and cash generation in ADS is as dire as it has ever been. It demonstrably does not represent any measure of actual profit the group generates.
Now, lest we be accused of being biased, we'll be fair: the conference call wasn't all bad. The company did sound upbeat on input costs; capacity in polyethylene is coming on stream, which should help to keep costs low as the company benefits from low resin prices predominantly caused by the plummeting cost of natural gas. Its transportation fleet uses over seven million gallons of fuel each year, which also serves as a tailwind on the cost side.
But what worries us is that benefit strikes us as transitory at best. The company operates in a commoditized industry; it will not be able to hold onto improving margins for long, as local competitors - who also have this benefit - start to price more sharply. Input costs always end up being passed through in a business like this, as evidenced by the company's relatively resilient performance in times of rising input costs.
On the other hand, the increasing costs in the business are significant and long lasting. During the call the CFO repeatedly highlighted the headwind from increased SG&A costs next year. The company has hired several senior accountants to help get the books together and identified material deficiencies they still need to fix. This will not be a cheap fix; the accounting function in the group was obviously woefully deficient. Aside from what we know will be very significant consultancy costs this year, and some trickling into next year, this SG&A cost increase will not be a temporary issue.
We see short-term benefits, but long-term negatives.
The company still leaves a sour taste in our mouths. It now transpires that the very quick sell-down the PE house executed was done on what now appear to be bogus numbers. To be absolutely clear, I am not alleging any wrongdoing by anyone, but the market was sold a dud. On top of that, we discovered with the 10-K yesterday that the firm received a subpoena from the SEC pursuant to a formal order of investigation almost four months ago. Four months - and yet the owners of the company only find out now, and with scant additional information.
One might have some questions about management culture given all we have discussed. Fortunately, we get a small insight into that, also from the 10-K: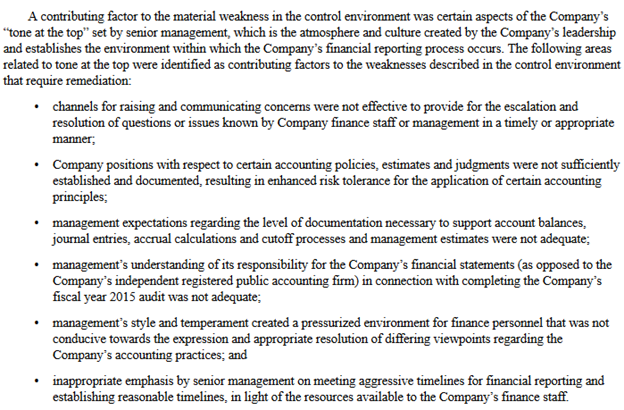 We continue to have no idea why this should trade at a multiple in line with peers, let alone a premium. It is at a crazy multiple of cash flow and of actual net profits. Fundamentally, with all the question marks hanging over Advanced Drainage, we wonder whether it is worth any more than simply the replacement cost of its assets which - even if you assume one must replace assets at gross cost and not written down value - is somewhere around half of the current price.
Consider this: you could recreate Advanced Drainage, except with shiny new factories, dies, molds, headquarters, computers, a less damaging company culture and no SEC investigation - at less than half the current price.
Certainly seems more tempting than investing in the common stock.
We see $11 as a fairer price for the common equity. At that price we are closer to 10x our bullish cash-flow estimate in the current, positive environment. For a commoditized cyclical with hair, that seems plenty generous.
Disclosure: I am/we are short WMS.
I wrote this article myself, and it expresses my own opinions. I am not receiving compensation for it (other than from Seeking Alpha). I have no business relationship with any company whose stock is mentioned in this article.