It has been a difficult year for Capstone Turbine (NASDAQ:CPST) on the stock market as weak oil prices have put pressure on the business. In fact, in the last reported quarter, Capstone had seen a tremendous drop of over 28% in the top line, while its loss came in at $0.34 per share. Though the loss was less than expected, it cannot be denied that the company is mired in deep trouble due to low oil prices that have led to spending cuts by oil and gas companies, therefore leading to lower orders for its turbines.
However, Capstone is making changes to its business strategy that could help the company improve its financial performance in the future. Let's see what strategies Capstone is adopting.
Shifting focus toward a more sustainable business model
Capstone Turbine is shifting its focus from the oil and gas business toward energy efficiency. This is a good move as the company has experienced a drop of 37% in oil and gas-based CHP and CCHP applications as investments in the industry have declined. However, on the other hand, Capstone has witnessed growth in demand for renewable energy and other applications, as revenue from this segment has increased by 8% in the first nine months of the current financial year.
This is the reason why Capstone Turbine has seen an increase in revenue share from the energy efficiency business this year, which now accounts for 55% of the overall business. This is shown in the chart given below: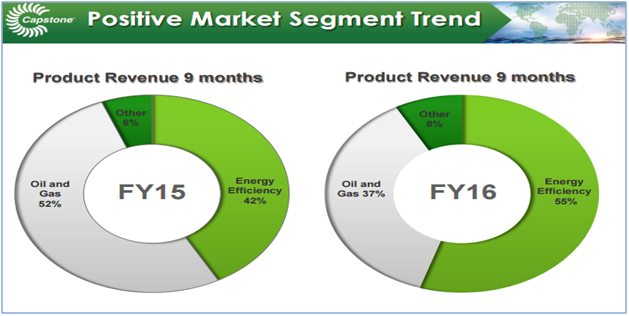 Source: Capstone Turbine
The good thing is that the increasing traction for Capstone's energy efficiency products has helped it improve its financial performance on a sequential basis. This is because the company has seen a rise in sales of its energy-efficiency platform products such as the C30, the C65, and the C200 platforms. As a result, Capstone saw its revenue increase almost 20% on a sequential basis in the last quarter. Looking ahead, it is likely that this trend will continue as Capstone is increasing its focus on this segment.
Better times ahead
In December last year, Capstone launched its C1000 signature product series. On the back of this C1000 signature product series, Capstone has been able to increase the addressable size of its business in different verticals such as combined heat and power, or CHP, and energy efficiency.
In addition, Capstone Turbine has diversified its offerings by focusing more on markets related to energy efficiency, including renewable energy, critical power supply, transportation and marine. The most important part is that these markets carry potential market opportunities worth $440 million, $340 million, $250 million, $90 million, and $100 million, respectively.
Moreover, Capstone is already making good use of the end-market opportunity as its bookings in the last reported quarter increased to $12.3 million, a sequential increase of over 46%. Going forward, Capstone is focused on increasing its reach as it is looking to increase its base of tier 1 suppliers, while outsourcing and consolidating its manufacturing units so that it can focus on marketing. In fact, it plans to add 100 new distributors globally in the future, which will play a key role in enhancing its sales.
Reducing costs will help improve margins
Apart from focusing on ways to increase the top line, Capstone is also looking to reduce costs so that it can achieve break-even EBITDA. The company has been able to do this by outsourcing manufacturing, which led to a drop of 28% in production, labor, and overhead expenses last quarter. Driven by these cost reductions, Capstone was able to improve its gross margin to 19% in the third quarter as compared to 11% in the second quarter.
As the company is now looking to increase sales of its C1000 series products, while reducing R&D spending and direct costs concurrently, it believes that it will be able to generate around $2.2 million in annual cash savings. This will allow the company to reduce its EBITDA break-even requirements, thereby allowing it to generate EBITDA at a faster pace.
In fact, Capstone believes that its cost reduction efforts will help it reduce the EBITDA break-even level to $30 million at 25% gross margin instead of $40 million at 25% gross margin that was estimated earlier. This means the company will achieve its EBITDA breakeven sooner than expected, as shown below: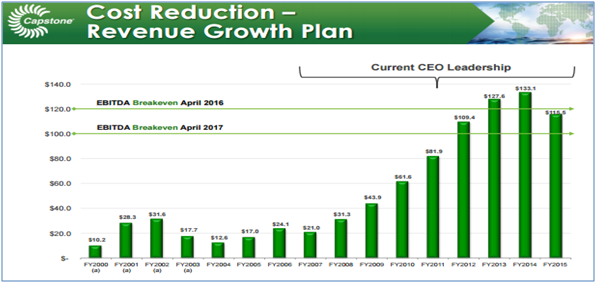 Source: Capstone Turbine
Conclusion
Capstone Turbine might have struggled so far this year. However, the company's recent efforts to change the business model have borne fruit and are helping it make a comeback of sorts. Therefore, it will be a good idea to take advantage of the drop in Capstone's share price as it can continue getting better in the long run.
Disclosure: I/we have no positions in any stocks mentioned, and no plans to initiate any positions within the next 72 hours.
I wrote this article myself, and it expresses my own opinions. I am not receiving compensation for it (other than from Seeking Alpha). I have no business relationship with any company whose stock is mentioned in this article.
Editor's Note: This article covers one or more stocks trading at less than $1 per share and/or with less than a $100 million market cap. Please be aware of the risks associated with these stocks.