A part of my trading strategy is never being too much net long or net short. Most of the time I am about 10-20% net long. Most of my trades are intra sector ratio spreads. In other words, I trade companies directly against each other. I've written a few articles discussing such trades like O'Reilly Auto Parts (NASDAQ:ORLY) versus Ford (NYSE:F) or D.R. Horton (NYSE:DHI) versus the S&P Homebuilders ETF (NYSEARCA:XHB).
I increasingly do trades like this to eliminate market risk. Both crashes and rallies have no effect when it comes to my portfolio returns. My portfolio has almost no correlation with the 'market' and is mostly moves my secular trends and differences between companies.
In this article I want to share my thoughts on Expedia (NASDAQ:EXPE) and tell you why I think this company is interesting for the long run and can be traded versus its peers.
Expedia started as a division of Microsoft and was spun off in 1999. Two years later the company was bought by TicketMaster which changed its name to USA Networks. USA Networks, which had changed its name to InterActiveCorp, spun off its travel part in 2005.
Nowadays Expedia is worth over 16 billion USD and services travelers in over 75 countries.
Sales & Income
Expedia's sales have been growing consistently if we ignore the only dip in 2005. Even the big recession of 2008 couldn't stop the rapid growth.
This strength is provided by two factors. First of all: Expedia is a young company focused on growing as fast as possible. Secondly we see secular growth in the travel business. This is almost entirely due to the use of internet and the possibilities it gives customers and companies. Everything is done online. Buying clothes, shoes, cars, toys and even food. In other words: consumer spending is happening online.
Expedia is doing everything right. They provide the best online services and are able to benefit from this secular trend.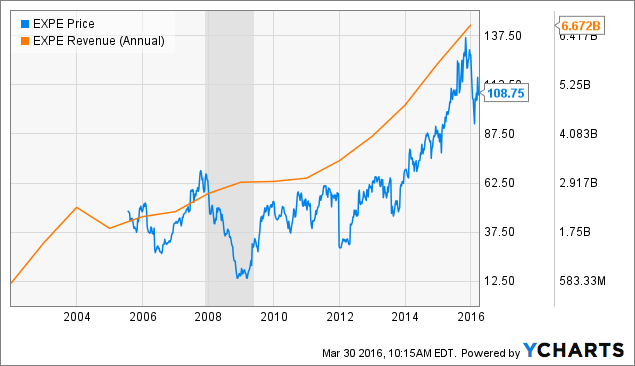 Unlike Expedia's earnings we witnessed crashing net income during the financial crisis and some contraction between 2012-2013. The net income dip after 2012 is due to high SG&A expenses and operating costs.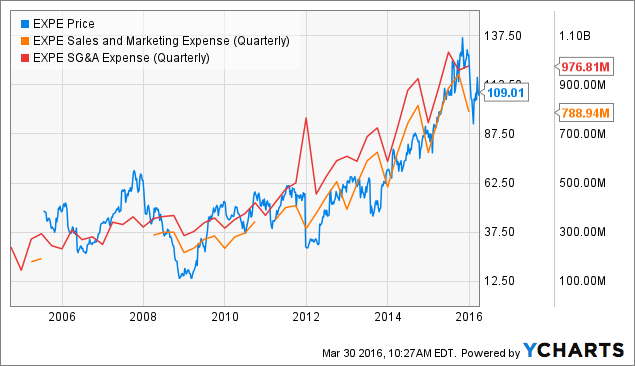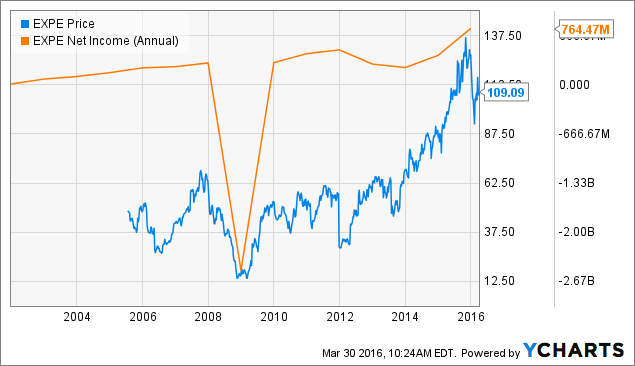 Expedia was making 79% of all sales in the USA back in 2005. As of 2015 this percentage has decreased to 56%. Many costs connected to this growing strategy have put some pressure on net income.
Add to this Expedia's amazing CAGR (compounded annual growth rate) performance. Room nights grow 25.3% on average (every year(!)), gross bookings add 22% while EBITDA soars 13.2%.
Valuation & Growth Outlook
Expedia is trading at 18.8 times earnings. 12 points below the 30 times earnings of the lodging industry. However, almost all companies of the lodging industry are hotel chains and part of Expedia's business model. Therefore I think being below the industry valuation is not a big problem.
Expedia's growth expectations are sky high. Even after the amazing performance during the past ten years.
Growth Expectations
2016 - 44.6%
2017 - 41.5%
2018 - 27.7%
5 year average - 25%
If we add growth to Expedia's price to earnings ratio we get a PEG ratio of 0.80.
The thing I like most about Expedia is its growth strategy. The company is optimizing its mobile services because one in four rooms is booked via a mobile device. Moreover, 40% of online traffic comes from mobile devices.
Not only is Expedia optimizing online services for customers but also for the hotels that use these devices. Expedia makes it extremely easy for Hotels to use these services and attract customers.
Add to that the fact that Expedia not only does a lot of advertising but makes a lot of money from third party advertising. Expedia's advertising & media business growths almost 66% on average every single year.
Expedia's growth is strengthened even further by acquisitions. By buying HomeAway in 2015 the company added 1.24 million lodging alternatives to its existing basket of 270.000 alternatives. The picture below shows Expedia's acquisition history.

Click to enlarge
Source: Expedia Inc. February 2016 Investor Presentation
I think Expedia's stock can rise much higher than the current price around 110 USD. I bought the stock at the end of 2014 and shorted the SPDR Industrial Select Sector ETF (NYSEARCA:XLI) to hedge my position.
I wrote a few articles about growth slowing and added this trade to my portfolio to be long secular growth and short the slowing economy.
Disclosure: I am/we are long EXPE.
I wrote this article myself, and it expresses my own opinions. I am not receiving compensation for it (other than from Seeking Alpha). I have no business relationship with any company whose stock is mentioned in this article.
Additional disclosure: The long position EXPE has been hedged by shorting XLI