Back in November, the $160B "Pfallergan" mega-deal was announced. Allergan's (NYSE:AGN) shareholders were slated to get 11.3 shares of the combined company (Pfizer plc, located in Ireland), and Pfizer's (NYSE:PFE) shareholders were going to get one share.
But - being that this is a high-profile tax-inversion (at a critical part of the U.S. political cycle) - there were perceived deal risks. Those risks have kept the merger arbitrage spread pretty wide. At the moment, AGN trades at $274.63 when a value of ~$340 is implied.
That's a pretty darn substantial 24% spread on a deal that's supposed to close within a few months.
You would think...
That this high-profile, high-earning trade would be an appealing gamble for hedge fund managers everywhere. Strangely, it hasn't appeared that way - that is, until a few days ago.
To give you an idea of what we mean, here's a chart of PFE from our platform: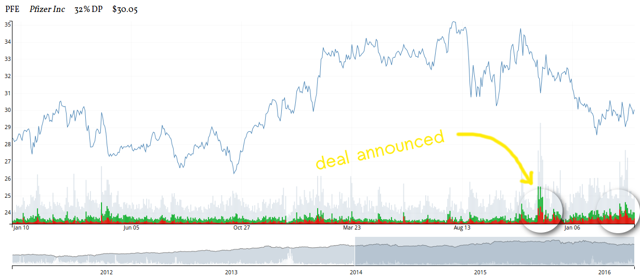 Click to enlarge
The chart shows us, in red, whenever dark pool short selling occurs. As you can see, a fairly substantial amount of shorting took place in the days surrounding the deal announcement. These are probably owners of AGN who want to hedge out their newfound price correlation with PFE - quite understandable.
But, by the end of November, over a week after the announcement, only 65.5M shares of PFE were held short - not much more than normal. Even then, the arbitrage spread was ~20%, so why weren't people buying AGN and shorting PFE to capture that huge spread? Where were the usual arbitrageurs?
Apparently, the deal was still perceived as too risky.
Four months later...
Look at what's happened to PFE short interest (NASDAQ):
| | |
| --- | --- |
| 11/13/15 | 49,413,749 |
| 11/30/15 | 65,518,847 |
| 12/15/15 | 85,657,779 |
| 12/31/15 | 123,454,015 |
| 1/15/16 | 123,230,765 |
| 1/29/16 | 140,119,006 |
| 2/12/16 | 151,005,541 |
| 3/1/16 | 172,536,755 |
| 3/15/16 | 322,673,739 |
Up by about 400%. And if you return to the dark pool chart above, you'll see the same trend. Slowly but surely, the smart-money shorting has accelerated, bringing us to 322M shares short by the Ides of March.
If we take all of this recent shorting to mean that merger arbitrageurs have been opening new, fully hedged positions, that implies that over $8B (~8% of AGN's market cap) is now looking to capture that big deal arbitrage spread.
They've arrived.
Where four months ago, the deal was perceived as too risky, it appears that, now, the possibility of 24% gain in a few months is more than fair compensation for the risk involved.
In keeping with this observation, we would expect to see short interest in PFE continue to increase and the deal's arb spread starting to close in the near term.
So, if you were thinking of going long AGN at any point, consider now as a good opportunity.
---
Not a fan of merger arbitrage? That's fine. SqueezeMetrics is about giving you better information - not telling you what to do with it.
Still confused about dark pools and the smart money that uses them? Read this.
Follow us for more unusual angles on the market.
Disclosure: I/we have no positions in any stocks mentioned, and no plans to initiate any positions within the next 72 hours.
I wrote this article myself, and it expresses my own opinions. I am not receiving compensation for it (other than from Seeking Alpha). I have no business relationship with any company whose stock is mentioned in this article.