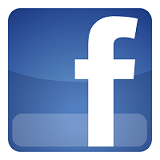 When judging a company, I try to get an opinion on the company's management. Because of the way Mark Zuckerberg has been able to structure his company (maintaining majority voting power), that is particularly critical for Facebook (NASDAQ:FB). When I first bought Facebook stock, I was high on Mark Zuckerberg but that feeling has only gotten stronger since. He has been able to constantly improve on both not only his management but also his ability to communicate it making it easier for me.
Zuckerberg has been very clear in explaining the Facebook "formula":
"First, you build a great consumer experience that helps people share in a new way that's really important. Then after that you can start to introduce organic ways that people can interact with businesses…And then only once you have that ramped up to a good scale, can you really start dialing up advertising having that feel good and be a good part of your experience with good content because all those public figures and businesses are already participating in the platform at scale…

Once we have those ecosystems built out, we will build businesses around them. And that's how we think about stuff and we'll do that in all of our products and the different things that we do going forward."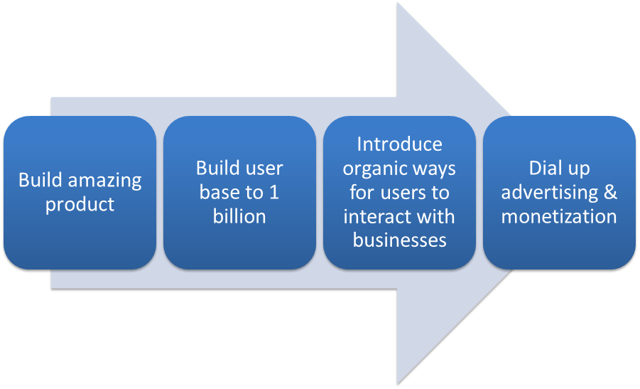 Click to enlarge
That seems logical, but it is much easier said than done. The difference is that Facebook has displayed its patience and willingness to keep its long-term vision, even when things get tough. You might remember the pressure and heavy criticism that Zuckerberg was under after the IPO, when critics and analysts started doubting Facebook's ability to make money, suggesting its users would move to mobile platforms. The temptation (which many were unable to resist) would have been to start filling its mobile site with banner ads as everyone else did. Facebook resisted that temptation and built what is now the top mobile business in the world through its newsfeed.
So Where Does Facebook Stand Now?
If you were to look at Facebook, you will see 4 core businesses right now:
Core Facebook (social network)
Instagram
WhatsApp
Messenger
All 4 are growing tremendously but only 1 (Core Facebook) is at the last phase of the formula Zuckerberg described. Even that property is still growing at impressive rates in terms of users, time spent and monetization. I don't see that slowing down with Facebook clearly focused on gaining access to markets like China, the social effects and a continually improving experience such as the launch of reactions. One clear way to see the increase in activity is the % of DAU/MAU that has been increasing.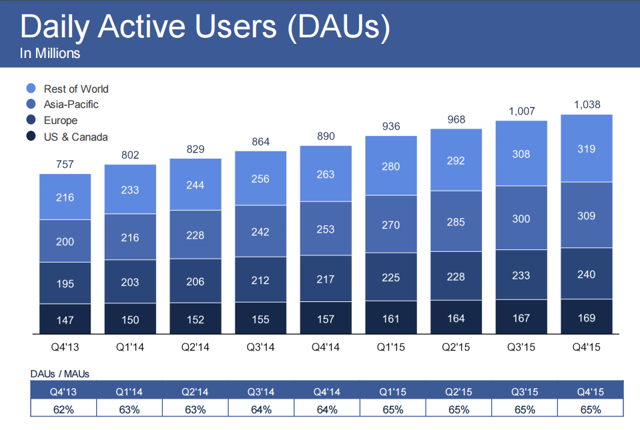 Click to enlarge
In terms of monetization, internet spending is set to continue its rapid increase and Facebook and Google are the two dominant players that are taking the lion share of that.
Instagram Now At 4th Step
While there is a tremendous amount to be left in the first 3 steps, Instagram has reached the point where Facebook is comfortable pushing its monetization. Estimates have wide ranges with The Information citing $1-2B in 2016 and Credit Suisse having a $3B estimate for this year but what is clear is that the product is experiencing incredible growth. I fully expect that number to continue growing very quickly in the coming years following the same trajectory that we saw with core Facebook a few years ago. Facebook not only has an incredible (and still improving) product, but also has all of the data and experience from building its core Facebook business.
Messaging
Opinions about the future of Facebook will range quite a bit, but I think at this point, the bull or bear case will largely be made by the future of Facebook's messaging businesses. With Facebook Messenger and WhatsApp, Facebook has 2 of the very top messaging services.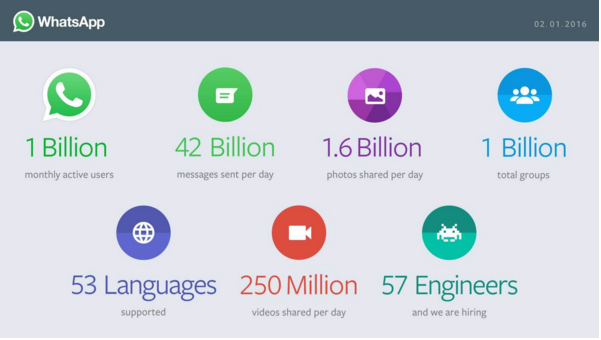 Messaging already represents close to 10% of time spent on mobile: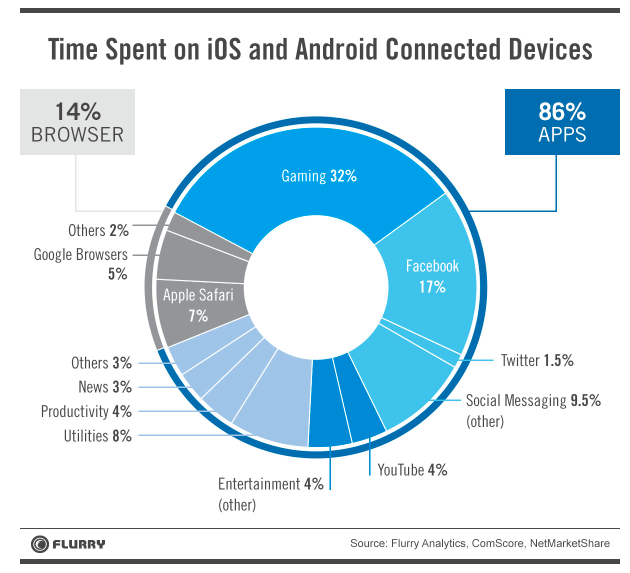 Credit: Adweek
I strongly believe that this will end up translating into serious money. Analysts keep asking what the plan is, but Zuckerberg is quick to bring them back to Facebook's formula. The focus is not on monetization and in fact has not even reached the point where it truly focuses on user to business interaction. I do believe that is coming in the next 1-2 years and I'm very encouraged to see that Facebook understands it is building an ecosystem here. The goal is not to build every single aspect of the infrastructure but rather provide an environment where other businesses can thrive. Here is his answer on Facebook building its own payment solution (which I had advocated for in the past):
"On payments, the basic strategy that we have is to make it especially in products like Messenger that where the business interaction maybe a bit more transactional, to take all the friction out of making the transactions that you need. So, we don't view ourselves as a payments business, that's not the type of company that we are. We'll partner with everyone who does payment…our view is that the less friction, the better the user experience, the more people can easily interact with businesses that they care about. And ultimately for our business that will drive up the amount that businesses are willing to pay to advertise to send people into those interactions because they perform well." - Mark Zuckerberg - 2015Q4 earnings call
The example that is always brought up by believers in the messaging business is the sector in Asia with Wechat (among others) being able to build a very healthy business on top of its messaging service. A16zexplained the business incredibly well here. I do not see a reason why this would not happen. Business to user interactions, the introduction of smart bots and many other solutions will provide ample opportunities to generate money.
Too Good To Be True?
Take a look at this chart for Facebook stock: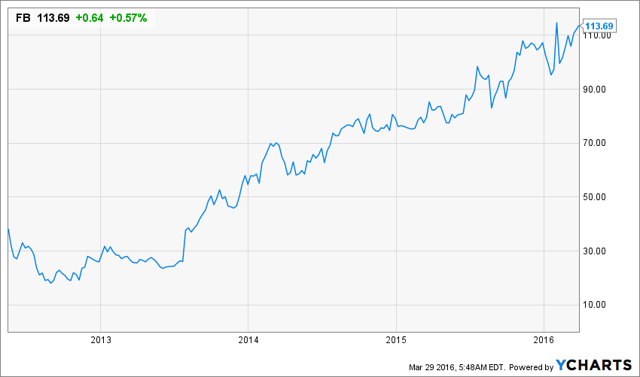 Click to enlarge
Credit: YCharts
How much higher can it go? I don't think it was an error that growth actually accelerated in its latest quarter, as Instagram starts to generate significant revenues. That is likely also going to happen when both messaging services reach the final stage of the Facebook formula.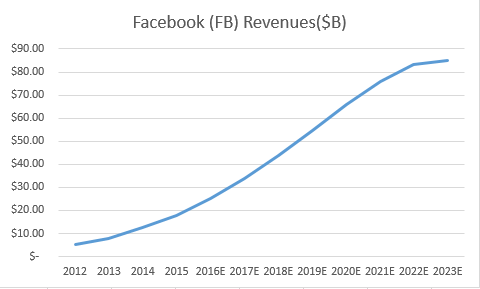 If Facebook is making $25B in revenues this year, almost exclusively from core Facebook and has 3 other products (and several others in the works) that have comparable upside, it's generating $70-100B of annual revenues in the next 5-10 years. Facebook also has upside in products such as video with live being gradually launched and already over 100 million hours of video being watched daily, local, Facebook work, ticketing, Instant Articles, not to mention Oculus Rift, the leading virtual reality play that is much more difficult to value in terms of potential opportunities but if we agree that VR/AR are going to be tremendous opportunities, owning the leading play could end up being a huge opportunity. It's still very early (Oculus is shipping its first consumer right about now) so it's more of a story that I will follow than a reason to buy for now.
Disclosure: I am/we are long FB.
I wrote this article myself, and it expresses my own opinions. I am not receiving compensation for it (other than from Seeking Alpha). I have no business relationship with any company whose stock is mentioned in this article.