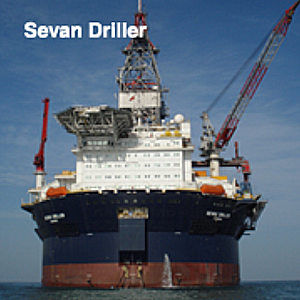 This article is an update to my preceding article on Seadrill (NYSE:SDRL) published on Oct. 11, 2015.
In my preceding article I talked about what Petrobras intended to do with Sevan Drilling. I wrote on Oct. 11, 2015:
Further renegotiation talks with Petrobras produced a discounted dayrate for the West Orion with a dayrate down to $385K/d from $592K/d with an 24-month extension from July 2016 to July 2018 per Upstreamonline.com, the deal is linked to an immediate cancellation of the Sevan Driller:

West Orion

6th-BE

2010

592 385

Mobilization fee of $39.5 m paid over the contract

+5% bonus

7/16

Extended to 7/18

[Petrobras] Brazil

Sevan Driller

X

Sevan 50.11%

6th-BE

2009

417

6/16

Immediate cancelation linked to the extension of the West Orion

[Petrobras]

Brazil

Sevan Brasil

X

Sevan 50.11%

6th-BE

2012

391

265 (?) just est.

7/18

Extension potential in exchange for the cancellation of the Sevan Driller, maybe one-year?

[Petrobras]

Brazil

Petrobras is offering an extended period and lower rates for the Sevan Brasil but it is not known yet?
Today, Mars 30, 2016, Offshoreenergytoday published the following:
According to the company's statement on Wednesday, Sevan Drilling amended contracts for the Sevan Driller and Sevan Brasil with Petrobras and secured short-term employment for Sevan Driller with Shell in Brazil, starting in the second quarter 2016.

In its fourth quarter earnings Release in February, the company reported it was in commercial negotiations with Petrobras regarding the contracts for Sevan Driller and Sevan Brasil. The Sevan Driller contract was suspended effective December 1, 2015 while the negotiations were ongoing. Sevan Drilling reduced manning and operating costs as a result of the suspension.

The offshore driller said on Wednesday that Petrobras now executed an early termination of the Sevan Driller contract and reduction of the contract dayrate on the Sevan Brasil.

The Sevan Brasil contract dayrate has been reduced to $250,000 per day effective February 26, 2016 through the remaining term of the contract, ending July 2018 and a portion of the dayrate continues to be denominated in Brasilian Reals.

The Sevan Driller contract was mutually agreed to be cancelled effective from December 1, 2015. The rig was under a six-year contract with Petrobras that started in 2010.

Subsequent to the effective cancellation of the contract for the Sevan Driller, the unit has been awarded a well intervention contract by Shell in Brazil for 60 days with two 30 day options starting in the second quarter of 2016, adding approximately $11 million in revenue backlog. Daily operating cost is expected to be significantly lower as the rig will perform non-drilling activities for Shell, the rig owner said.

As of February 26, 2016, the company's total contracted revenue backlog is now estimated at $509 million, including the extension of the Sevan Louisiana contract amended in November 2014.
In short, what was finally agreed?
1 - The Sevan Driller has been terminated earlier by Petrobras effective Feb. 26, 2016.
6th-BE

2009

X

Sevan 50.11%

411

-

184

6/16

12/1/15 - 1/7/16

7/1/16 - 9/1/16

Early termination effective 12/1/2015

Idle time

Well intervention contract for 60-day with 2x 30-day option

[Petrobras]

Brazil

[Shell]

Brazil
The shell contract represents $11 million in backlog or $184k/d, drilling operating costs are significantly lower for this type of work without drilling.
The earlier termination of the Sevan Driller represents a backlog loss of $86 million.
2 - The Sevan Brasil gets a day rate reduction from $391k/d to $250k/d as of Feb. 26, 2016 until July 2018.
Sevan Brasil

X

Sevan 50.11%

6th-BE

2012

388

250

7/18

New day rate effective Feb.26, 2016

[Petrobras]

Brazil
This is approximately 895-day remaining from 2/26/16 to 7/15/18 or a backlog loss of $124 million.
3 - The West Orion contract is kept unchanged at the same day rate but will not get the two-year contract extension initially indicated at a $385k/d instead of the $586k/d actually paid. The contract will roll off in July 2016.
Conclusion:
Sevan Drilling is giving up $210 million in backlog with Petrobras and get $11 million in new backlog with Shell. A net backlog loss of $199 million. This is quite an ultimatum that Petrobras imposed to Sevan Drilling.
The company determined on balance that this was the preferred alternative to potentially having both contracts terminated and exposing the company to a protracted legal challenge with an uncertain outcome. As a result, the company was able to preserve $220 million of contracted revenue backlog for the Sevan Brasil contract and to allow the Sevan Driller to obtain alternative employment,"

Sevan Drilling said.
I remind all that SA published my article, on March 23, 2016, about a "blend & Extend" agreement with Petrobras for the Seadrill West Tellus, which seems now an excellent deal compared to what happened here.
Petrobras has been awarded an 18-month contract extension for the drillship West Tellus, commencing in April 2018 and ending October 2019.

This contract extension is called a "blend and extend" deal where SDRL secured an extension, but agreed to reduce the day rate from $467k/d to $300k/d.

The net effect of this agreement is a $32 million increase in backlog.
Seadrill owns 50.11% of Sevan Drilling. Seadrill backlog is now $4.9 billion.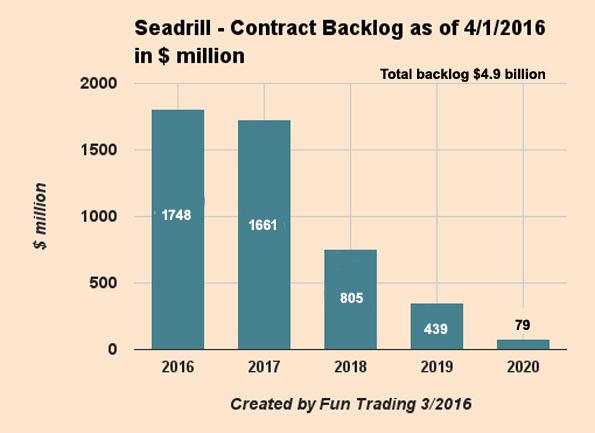 On a final note, Paragon Offshore (OTCPK:PGNPQ) is still negotiating with Petrobras for the DPDS3 about a disputed of 370-day in backlog representing $142 million. I commented on this subject in another SA article on March 26, 2016.
This news is not a good omen for Paragon Offshore, I am afraid. M. Lee Ahlström indicated to me recently:
As of December 31, 2015 , the Paragon DPDS3 drilling contract constitutes $225 million of our contract drilling services backlog, which includes $142 million being contested by Petrobras.
Disclosure: I am/we are long SDRL.
I wrote this article myself, and it expresses my own opinions. I am not receiving compensation for it (other than from Seeking Alpha). I have no business relationship with any company whose stock is mentioned in this article.
Editor's Note: This article covers one or more stocks trading at less than $1 per share and/or with less than a $100 million market cap. Please be aware of the risks associated with these stocks.