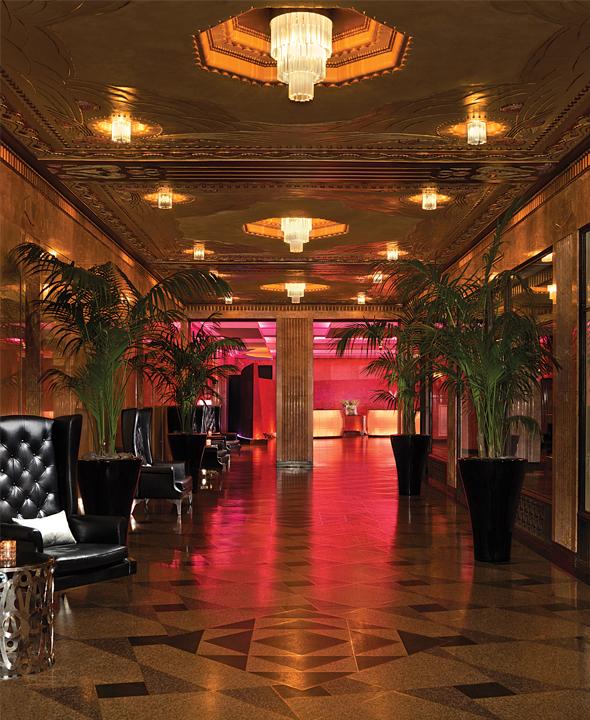 While the Ashford Hospitality Trust (NYSE: AHT) name isn't exactly a household one, some of the 132 properties the public real estate investment trust owns may be intimately familiar, as its upper-scale, full-service hotels spanning the United States from the Pacific to the Atlantic region operate under premium brands such as Marriott, Hilton, Starwood, Hyatt, Intercontinental, and others such as Sheraton and Ritz-Carlton.
The lodging provider is cheap by every conceivable basis -- valued at 65.7% of net asset value (NAV), 63.7% of book value, 69% of tangible book value, and only approximately 5.5x trailing adjusted funds from operations (AFFO).
| Measure | Figure |
| --- | --- |
| Net Asset Value | $836.05 |
| Book Value | $863.33 |
| Market Value | $564.26 |
$Millions
*As of 3/29/2016
Additionally, Ashford puts up a formidable showing against its closest peers: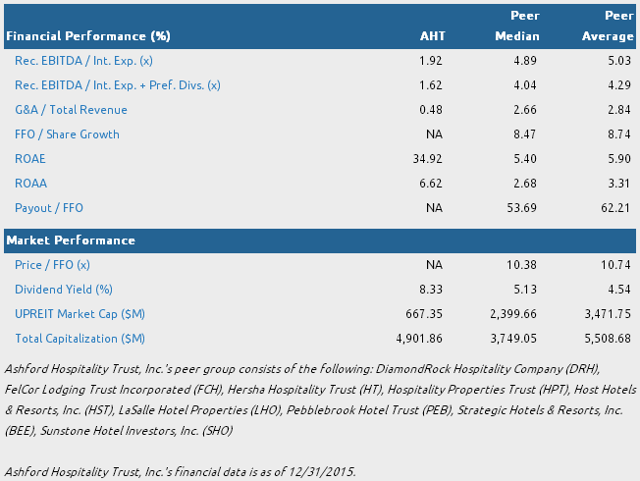 While also posting improvements year-over-year on nearly every key performance measure:

Source: Ashford Hospitality Trust Q4 & Year-End 2015 Results
So why the considerable divergence between market and approximate intrinsic value?
High cost of capital
As of September 30, 2015 Ashford's total indebtedness was $3.69 billion, carrying a median interest rate of 5.61% with over 60% being floating rate.
In total, the REIT refinanced over $907.6 million in obligations in fiscal year 2015, this having the effect of extending the majority of its debt maturities past fiscal 2018 and beyond. While a welcome pressure relieving strategy in the short-term to stay in full compliance with all of its various debt covenants -- which it has -- these re-financings not only added to the total debt load, increasing it from $1.95 billion a year ago, but were also made in large part at floating interest rates of LIBOR plus a fixed rate, which could pose some risk moving forward should further Federal Open Market Committee rate hikes take place as have been hinted.
Ashford also falls well short of the safety standards for any investment, as its interest coverage ratio of 0.68 falls well below the 3.0-5.0 minimum of a standard investment issue.
Complicated capital structure
Ashford has outstanding not one, not two, but three classes of cumulative preferred shares bearing an average dividend yield of 8.77%.
Such a multi-class share structure is par for the course for REITs and financial institutions as it is a traditional means of raising equity capital, but for individual investors who may not be as privy to staggered share constructs, the inherent complexity is yet another reason to remain on the sidelines.
Related-party transactions
Something that every investor wants to see kept to an absolute minimum, Ashford unfortunately possesses plenty of -- related-party transactions.
Its Chairman & CEO Monty Bennett and Chairman Emeritus Archie Bennett are prime beneficiaries of a management contract that Ashford has in place with Remington Lodging -- owned by the Bennetts, to oversee day-to-day operations of the REIT, provide corporate administrative services such as accounting, and fulfill other functions at the cost of some 3.7% of annual revenue.
The Bennett family effectively controls the company with an 11.1% ownership stake between Monty and Archie as no other executive officer or director currently owns more than 1.8%. That said, The Vanguard Group and its specialized funds are the largest institutional or individual shareholders of the business, owning a combined 19.2% of Ashford.
Surprisingly, or perhaps not so much so given the fact that Vanguard is the world's second-largest asset manager after all and their equity stake in Ashford is minuscule in the grand scheme of things for them, they do not have any board representation.
On capital expenditures
Ashford's total capital expenditures (Capex) for the past year equate to $175.1 million.
When capex is adjusted accordingly to reflect only "improvements and additions made to hotel properties" averaging $130.51 million over the past three years, Ashford still spends about 84% of annual AFFO on capex.
In conclusion, Ashford presents a time-honored dilemma among intelligent investors. Although cheap on both a relative and absolute basis, the quantitative side lacks in several important basic measures of safety, which should almost automatically dis-qualify the REIT from serious investment consideration. The qualitative end also leaves much to be desired, despite management demonstrating a good long-term track record: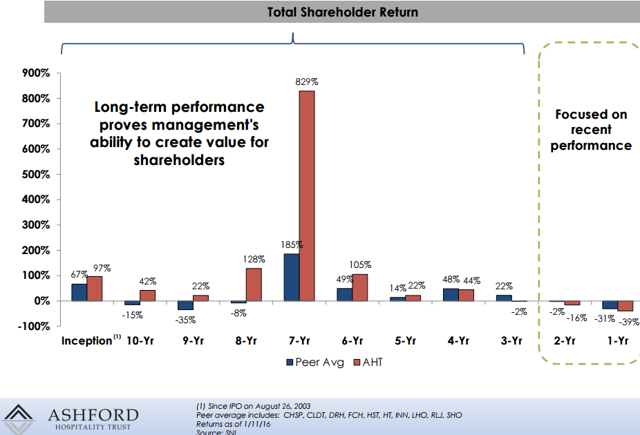 Source: Ashford Hospitality Trust Investor Presentation-Jan. 2016
With that said, should Ashford management be opportunistic in continuing to buy back shares at the presently prevailing market price, which is well below private market value?

Ashford aims to improve the quality of its assets by simplifying its strategy to an all upper-scale property portfolio via a sale of its select-service hotels. In mid-2015, the company announced a plan to commence the process to list for sale a portfolio of approximately 24 select-service hotels, either as a whole or piecemeal, and re-invest the proceeds into higher cash-flow generating properties, thereby shoring up its fundamental debt coverage ratios.
Should such efforts bear fruit over the next 12-24 months, investors should take a long second look at the company. Until then, it's not a bad idea to keep Ashford front and center on your watch list.
Disclosure: I/we have no positions in any stocks mentioned, and no plans to initiate any positions within the next 72 hours.
I wrote this article myself, and it expresses my own opinions. I am not receiving compensation for it (other than from Seeking Alpha). I have no business relationship with any company whose stock is mentioned in this article.