What's Happening At Progress?
As per Google Finance:
Progress Software Corporation (NASDAQ:PRGS) is a global software company that simplifies the development, deployment and management of business applications. The company's products provide solutions for rapid application development, broad data integration and efficient data analysis.
The company will report its Q1 2016 earnings after the bell today. It last reported in mid-January, and as per SA, it disclosed that it was exploring a sale with a small group of buyout firms. The surprise move comes shortly after a revenue miss but strong FY16 revenue guidance.
Reuters also confirmed that the company was exploring a sale. Shares are currently trading slightly above $25, about 10% before the report emerged in January and -6% below the peak of the excitement: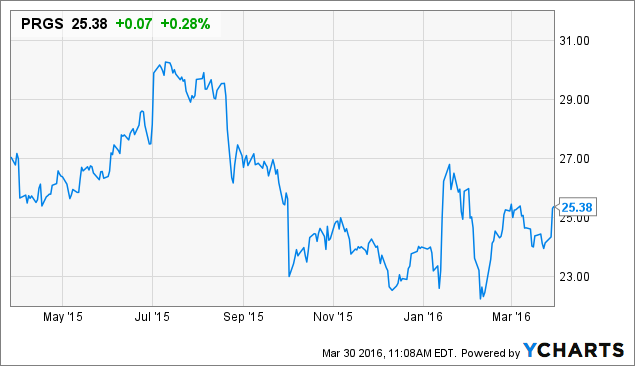 PRGS data by YCharts
Who Is This Stealthy Activist?
Praesidium Investment Management, a $1bn activist hedge fund, appears to be working with management behind the scenes. The firm owns 9.8% of the Progress' outstanding shares as of December 31, 2015, making it the largest shareholder.
Praesidium focuses on technology companies. Approximately two thirds of its 13F portfolio is comprised of tech firms. Progress Software was the second largest position in the portfolio with a weight of 11%, after largest position Accenture (NYSE:ACN).
The firm first took a stake in Progress in 2011 and this has been topping up since then.
Sale Progress
It has been over two months since initial news of a sale being explored, with no new information emerging since then. That said, we believe the chances of a sale are still high for the following reasons:
1. Activist's Past Tracks
The activist has been involved on a string of similar sales in recent years, as shown below:

Click to enlarge
This includes TIBCO in Q3 2014, Informatica and Kolfax in Q2 2015. The typical timeframe from initial investment to a sale appears to be approximately < 2 years, with Kolfax being particularly short and stealthy. There were no news prior to Kolfax announcing a deal with Lexmark.
Note: The red statistics in the table represents today's date, current share price (not the final sale price) and current enterprise value.
2. Smaller Firm To Swallow
With an enterprise value of just $1.19bn, Progress Software is a much smaller company to swallow than past candidates, should a buyer be found. The Informatica buyout was one of the largest LBOs last year. The company's EV was 5 times the size of Progress.
Perhaps a more comparable buyout is one relating to Kolfax in 2015, which fetched a staggering 50% premium.
3. Failed Turnaround Effort
In 2012, Progress Software was the target of Starboard Value, another activist hedge fund. In a letter in January 2012, Starboard argued that the company was significantly undervalued. At the time shares were trading at ~$20, not far below current levels.
Starboard eventually bailed out of the investment in April 2012, dropping its proxy context. Progress' management decided to pursue with a turnaround plan. Shares have since then progressed nowhere, an indication that the plan has stalled. This means alternative avenues need to be explored to generate shareholder value.
For Starboard's initial letter, see here.
4. Lousy Investment?
It has been nearly five years since Praesidium's initial investment in Progress, making this one of their longer investments.
Since taking an initial stake in Q2 2011, shares in Progress have traded sideways and delivered a negative cumulative return, while the S&P 500 has surged ahead: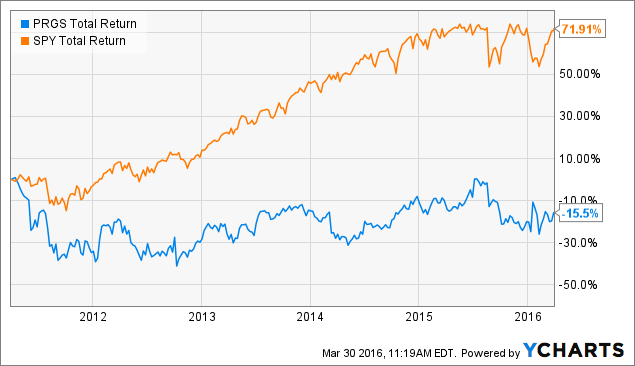 PRGS Total Return Price data by YCharts
The fact that Praesidium is still holding onto its stake after all these years is a vote of confidence in the company, despite its flagging share price. Or the manager may simply be confident in its ability to engineer a near-term exit strategy.
According to our estimates, we believe Praesidium established its position at an average price of $21.15, with most of the shares acquired between 2011-2012. That is a mediocre +20% cumulative return over four years, well shy of the 20%-plus "annualized" return managers typically seek for individual investments.

Click to enlarge
Summary Thoughts
Based on the factors above, we are optimistic that a sale for Progress Software is on the horizon, although the timing is uncertain. Investors should look for clues on the earnings call scheduled for 5.00PM ET.
Disclosure: I am/we are long PRGS.
I wrote this article myself, and it expresses my own opinions. I am not receiving compensation for it (other than from Seeking Alpha). I have no business relationship with any company whose stock is mentioned in this article.