Lockheed Martin (NYSE:LMT), the largest defense company, is showing a very strong stock performance since 2012, soaring by more than 50%. As of 03/24/2016, the stock outperformed both the market and the Aerospace & Defense industry Yoy. Due to its specific sector, the stock is not as fragile as the market during economic slowdown or market selloff. Indeed, the main customers of LMT are the U.S. governments and foreign governments in need to and willing to increase their military expenditures. Given the recent changes in its product portfolio, its position within the market, its cash management strategy, its huge investments in innovation and emerging technologies, and the current and expected future geopolitical situation, the stock seems ready to continue with its strong growth to reach the $240-$250 range within the end of the year.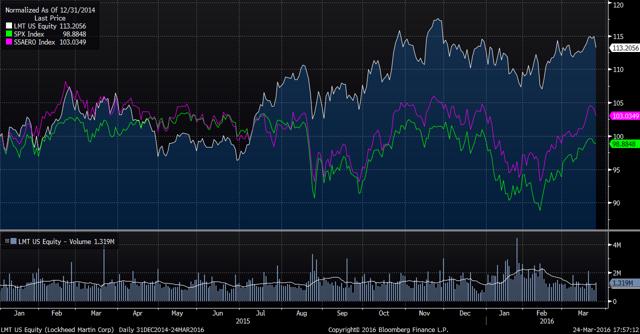 Click to enlarge
THE U.S. PRESIDENTIAL ELECTION
Let us first tackle the U.S. presidential election. According to the most recent pools, the election will be between the Republican candidate Donald Trump, and the Democratic candidate Hillary Clinton. Here, we know for sure that if the future president of the U.S.A is republican, the defense budget is likely to soar near 2010 level. In other words, the defense budget will rise towards the $700 billion level and probably beyond. But the real question is: what if the next president is a democrat. Both Hilary Clinton and Bernie Sanders do not want to see a rise in the military expenditures, but will they have the power to cut the budget? The answer is most likely no. The Obama administration has already done several cuts, but it now reached a point where they are forced to increase the budget. Even with a current will from the White House to stop the defense budget rise, the future forecast from the Department of Defense see a moderate growth to reach $600 billion by 2020. Given the recent rise in global threats, the recent terrorist attacks in major Western capitals (Paris and Brussels), the rise in military expenditures of countries like China and Russia, the recent long-range missiles tests from Iran and North Korea, and the rise of the Islamic State in many countries would force the defense budget either to skyrocket or to grow at a moderate pace.
SIKORSKY and LEIDOS
Since June 2015, Lockheed Martin have taken two important strategic actions to modify its portfolio. First, Lockheed Martin completed the acquisition of Sikorsky on November, 6. Sikorsky is a military and commercial rotary-wing aircraft manufacturer leader. The acquisition cost consisted of $9 billion funded with new debt issuances, commercial paper and cash on hand. As described in the lattest annual report, the company used $6 billion of proceeds borrowed under a 364-day revolving credit facility, $2 billion of cash, and $1 billion from the issuance of commercial paper. In Q4 2015, LMT repaid all of its credit facility outstanding borrowings with the issuance of $7 billion fixed-interest-rate long term notes with maturity ranging from 3 years to 30 years, and interest rates ranging from 1.85% to 4.70%. We can see LMT used the current monetary policy at its advantage as it secured low interest rates. Furthermore, it generated a $1.9 billion Net Present Value of cash tax benefit.

Sikorsky responds to the strategy of expanding LMT business. According to its 2015 annual report, LMT is already seeing accelerated customers interest in both military and search and rescue opportunities emerging in the Middle East, Asia, and Eastern Europe. The acquisition of Sikorsky already added $16 billion in backlog to reach almost $100 billion in fiscal year 2015.
The fact LMT acquired Sikorsky will create more value than United Technologies (NYSE:UTX), which is the previous owner of Sikorsky. Since it is working for 40 years with Sikorsky, whose product portfolio aligns with LMT's own portfolio, opportunities of synergies and cycle time reduction will be created. In other words, LMT will be able to create economies of scale, increase efficiency and reduce overall costs. will be able to use its expertise in doing business with governments to negotiate better contracts for Sikorsky, and to improve cash generation for both companies. Finally the acquisition of Sikorsky will create innovation opportunities, which is one of the core value of . The rotary wing area is in great demand and wants to continue to invest in research and development. The market reaction following the acquisition announcement was positive. The stock went up from $190 on 07/07/2015 to $221 on 11/06/2015, when the acquisition was completed. The stock rose by 9% during the three weeks following the announcement in June.
The second strategic action put in place over the last fiscal year was the spin-off of government Information Systems & Global Solutions (IT&GS) business by separating and combining it with Leidos in a tax-free Reverse Morris Trust transaction. That merger will make Leidos the largest government services provider in the U.S, leaving the company to focus more on complex military hardware. Leidos will finance the merger with $3.2 billion in equity of the new combined company and with $1.8 billion in special cash dividend to LMT. As a result, shareholders will hold 50.5% of the new company's shares. Even if it has sold its IT&GS business, LMT has kept Mission IT and services, Energy Solutions and Space Services that will be consolidated in other sectors. The new combined friem will create a more diversified firm positioned for growth, while unlocking value for LMT shareholders. The special cash dividend amount will be used to repay debt, and pay dividends or repurchase stocks. The spin-off will also be beneficial to LMT financials as the trend in revenue and margins started to decline due to an increasingly competitive environment, a continued downturn in federal agencies' IT budgets, and the fragmentation of large contracts into smaller ones awarded primarily on the basis of price. The new combined firm will become by far the largest and most developed government services provider in the marketplace, and so better prepared to face a growing competitions.
PORTFOLIO DIVERSIFICATION
The very wide range of products the company is offering to the world's governments and to commercial customers makes the LMT stock one of the most diversified, covering the entire Aerospace & Defense industry. The major business segment is Aeronautics. It accounted for 34% of total sales and the U.S. governments accounted for 72% of the segment sales in 2015. The F-35 is the program generating the most in sales. Its demand is expected to increase at a fast pace over the next years given the growing demand from foreign governments and the USAF inventory objective of 2,443 aircrafts (or around $240 billion in sales). Other products also include the F-22 Raptor, the most advanced and lethal stealth fighters currently engaged in American operations in the Middle East, the F-16 Fighting Falcon, which is a proven and reliable "low-cost" jet fighters, and the C-130 Hercules transport aircraft in service since 1954.
LMT is also engaged in Information Systems & Global Solutions (IS&GS), Missile Systems and Training (MST), and Space Systems. LMT started to manufacture the Littoral Combat Ship, entering the Navy shipbuilding market primarily composed of General Dynamics (NYSE:GD), and Huntington Ingalls Industries (NYSE:HII), without competing with them directly. The company is at the forefront of Space exploration with several contracts awarded by the NASA concerning the Orion program. The Terminal High Altitude Area Defense (THAAD), which is the only anti-ballistic-missile defense system with a 100% success rate is in great demand by foreign countries (Saudi Arabia, UAE, South Korea, Baltic States…).
FINANCIALS
Over the past ten years, even with several defense budget cuts, LMT succeeded to get a slow but positive growth in product sales. On the other hand the service revenue growth was much better, becoming more and more important to the company. It was primarily driven by sustainment activities on aircrafts.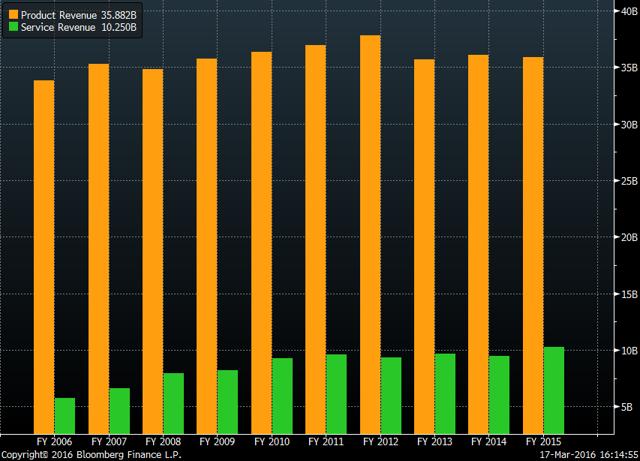 Click to enlarge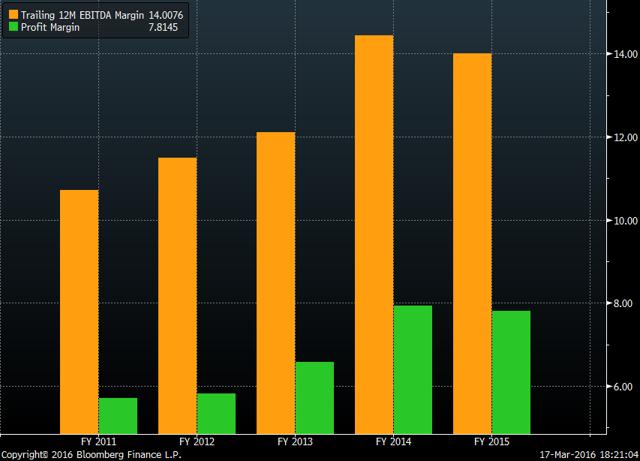 Click to enlarge
Over the past five years, the overall efficiency improved. Its EBITDA margin reached 14% in 2015, the net profit margin reached 7.5%. Such margins improved due to performance improvements. The F-35 costs decreased by almost 57% since the first aircraft completion. On 03/08/2016, LMT announced it seeks to lay off up to 1,000 workers, which will reduce Aeronautics' expenses.
Furthermore, LMT is often generating better earnings and operating margin than analysts' estimates. 62.5%, 75% and 100% of its actual revenue, EBITDA, and EPS respectively exceeded analysts' estimates over the past five earnings call (source: Bloomberg).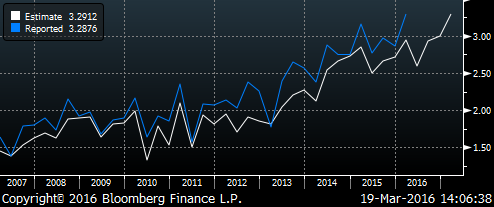 Over the past five years, the invested capital of LMT expended. NPPE slightly increased until 2014, and then increased by 14% in 2015 due to new offices abroad to improve the foreign activities, and to the acquisition of Sikorsky. Retained earnings constantly improved following the earnings' trend. Long-term debt went up by $8 billion to reach $14.3 billion in 2015. The new debt was used to finance the Sikorsky acquisition, and it decreased the overall cost of capital as LMT negotiated very good interest rates. It now represents around 29% of assets, but the D/E ratio is still very low at 0.13, well lower than the 0.21 industry average.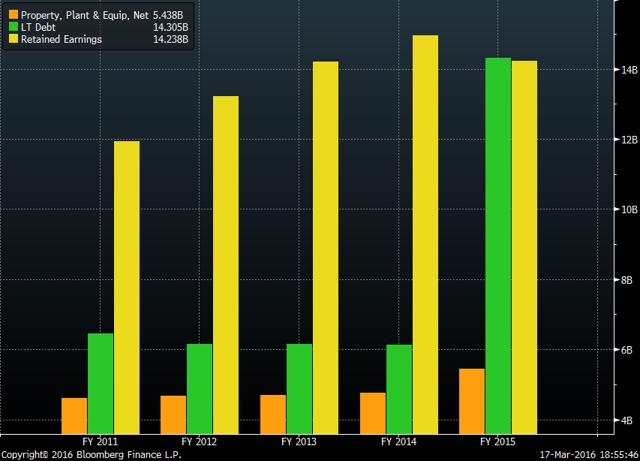 Click to enlarge
LMT is very efficient in generating cash and returning it to shareholders. Over five years, capital expenditures slightly diminished, but cash flow from operations, free cash flow, and unlevered free cash flow all improved. In 2015, the company generated $5.1 billion from operations for the first time ever with $939 million in capital expenditures. The company generated $4.162 billion and $2.766 billion in free cash flow and unlevered free cash flow respectively. As a result, LMT returned $1.9 billion to shareholders (2015 payout ratio and dividend yield at 52% and 3.05% respectively, which are well higher than the industry average), and repurchased $3.1 billion worth of shares. The company repurchased for $1.9 billion and $1.8 billion of shares in 2014 and 2013 respectively. On 09/24/2015, the Board of Directors approved another $3.0 billion increase to its large share repurchase program.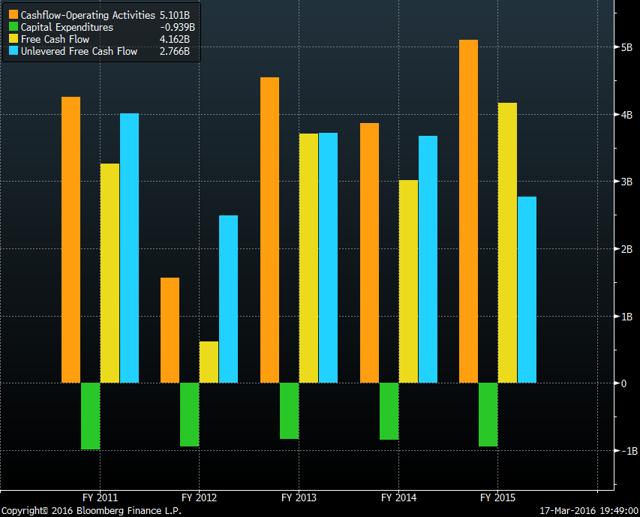 Click to enlarge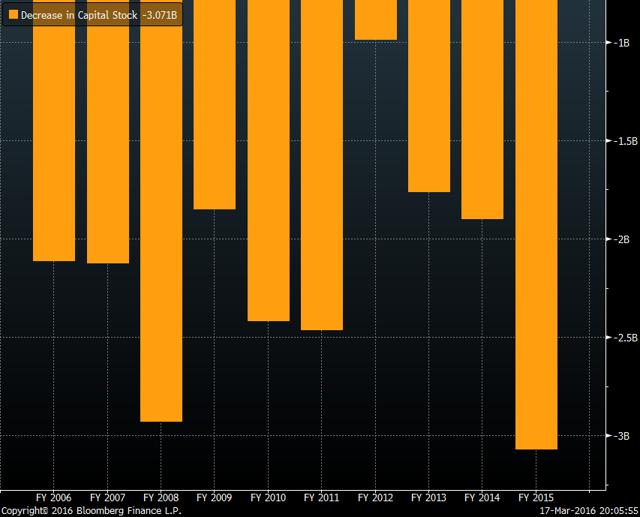 Click to enlarge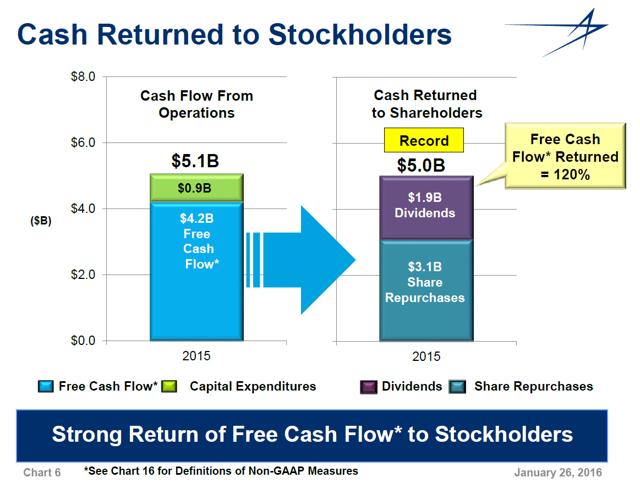 COMPETITORS
When compared to competitors, the company appeared to be one of the top performer. The sales growth Yoy is in line with the median of all the competitors. The 14.62% EBITDA margin is above the 12.92% industry median. And the 12.40% operating margin is at the top of the industry range with a median at 8.39%. Its net income margin is even more than 2% higher than the competitors' mean at 8.11%. Even when focusing on defense companies only, LMT is still part of the top performer. Its growth is in line with the industry, but both its EBITDA and operating margin are at the top of the industry range, and well higher than the industry mean at 14.62% and 12.40% respectively.


Click to enlarge
INNOVATION
One of the most important, but sometimes underestimated, competitive advantage of is its engagement is innovation. This part is very important for the future growth of the company as it will enlarge its product portfolio, improve its efficiency, increase its growth for both military and commercial customers, and may even create new markets.
The company is currently working on Directed Energy. It has started successful trials of its laser weapons on the field that can create a huge demand from military customers. The company is also at the forefront of autonomy/robotics technology. It developed a large portfolio of air, ground, and undersea autonomous vehicles able to intervene to help firefighters or rescue teams in their operations for example.
On 02/29/2016, NASA awarded LMT a $20 million contract to develop a design for a new supersonic passenger jet. NASA selected for its expertise in this area as LMT engineers were already working on new supersonic aircraft designs. On 03/16/2016, CEO and Chairman Marillyn Hewson stated that the company has made significant progress on hypersonic program and was producing an aerodynamic configuration that could reach Mach 6. The U.S. Department of Defense wants to deploy a "prompt global strike" capability that would enable it to hit targets worldwide within an hour with conventional or nuclear warheads.
The company is currently testing hybrid airships of various sizes that are able to access virtually anywhere in a wide range of weather conditions, without requiring forward infrastructure or manpower. Such airships can open the path to a new transportation business. LMT hybrid airships can deliver cargo to remote areas with no proper infrastructure or hard weather. It can range from oil & gas exploration, or mining projects to remote villages in need of supplies. According to a declaration of Bob Boyd, Hybrid Air Systems program manager, this new type of aircraft is already getting a lot of interest and can create a new market.
Another major under-development project that can create a huge source of revenue in the future is the fusion energy. On 10/15/2014, LMT told reporters it had made a technological breakthrough in developing a power source based on the nuclear fusion, and that it will be able to produce the first reactors around 2024. The reactor could fit on the back of a large truck and so can be used to power any kind of warships or aircrafts. Such technology could become a huge market for LMT, as projections show there will be a 40% to 50% increase in energy use over the next generation.
RECOMMENDATION
Investing in the Aerospace & Defense industry should show future growth given current geopolitical situations, and the tremendous innovation potential of the sector. LMT is among the top performer of the industry, often beating analysts' estimates and competitors. The company, with its wide, strong and growing portfolio, is covering plenty of business segments for both military and commercial customers. Its Sikorsky acquisition and its spin-off of IT&GS will improve efficiency and sales, and unlock value to shareholders. By running a proforma (by discounting unlevered free cash flow) to get the intrinsic value and the one-year forecast, the stock price appeared to be undervalued and offer a 93% probability to rise within a year (based on a Monte Carlo simulation). By taking into account the under-development projects, the stock could even skyrocket. The hybrid airships, new supersonic commercial planes, and the fusion reactors could open the doors to new markets, where LMT would lead the competition. Even without new products, it will continue to be at the forefront of manufacturing military assets, with increasing revenue from foreign and U.S. governments in need to sustain their armies, and willing to expend their armed forces. With excellent cash generation, LMT will continue to return much more cash to shareholders than any competitors. Lots of events can positively impact the stock price, whereas the only events able to negatively impact the stock price would only have a temporary effect like bad earnings or contracts awarded to competitors and would only create buying opportunities. I would recommend to buy the stock while it is below $225 for the long-run and eventually to increase the position during future market downturn, bad earnings, or any kind of event that may create opportunities to buy.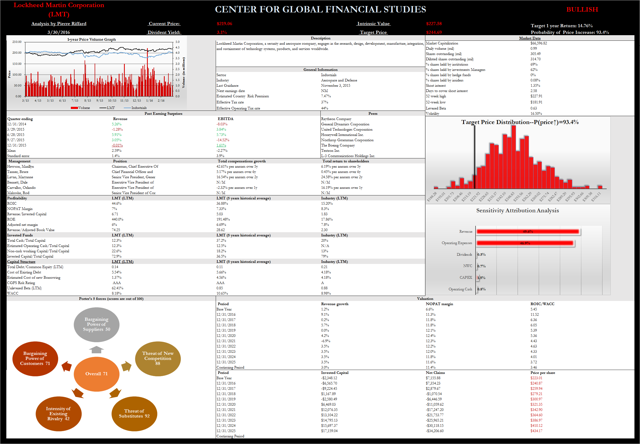 Click to enlarge
Disclosure: I/we have no positions in any stocks mentioned, and no plans to initiate any positions within the next 72 hours.
I wrote this article myself, and it expresses my own opinions. I am not receiving compensation for it. I have no business relationship with any company whose stock is mentioned in this article.