Image Source: Supernus
Supernus' (NASDAQ:SUPN) share price continues to reflect the overall weakness in the sector, but the fundamentals are stronger than ever. Trokendi and Oxtellar prescriptions have continued their upward trajectory and the company has guided for strong revenue growth in 2016. Supernus' valuation is similar to pharmaceutical companies with lower growth prospects and/or without meaningful pipelines, which I believe is wrong. The company is on the cusp of achieving significant operating leverage and the pipeline candidates are progressing nicely as well. I remain bullish on Supernus and believe that it is significantly undervalued at current levels.
Trokendi and Oxtellar continue to perform well; Trokendi's label expansion to positively affect prescription growth in 2H 2016
Trokendi and Oxtellar prescription growth were strong in Q4. The company ended the year with $144 million in net sales and guided for 2016 net sales in the range of $200 million to $210 million - an increase of 38% to 45% and operating income in the $28 million to $35 million, representing a Y/Y increase of 58% to 98%. The operating income guidance is lower than I expected, but the main culprit is the R&D expense guidance of $55 million to $65 million compared to around $29 million in 2015. The increased spending is related to the late-stage development of SPN-810 and SPN-812.
Trokendi's prescription growth might get a boost later this year. The FDA accepted the sNDA for label expansion - treatment in adults for prophylaxis of migraine headache. The potential launch of the migraine indication is another expense burden for 2016, but should result in significant operating leverage in 2017 and beyond. Physicians are already using Trokendi off-label for migraine, but if approved, the company will be allowed aggressively promote the new indication and I expect to see a positive effect on prescriptions in the second half of 2016. I also think that management's guidance might turn out to be conservative if Trokendi receives approval for migraine.
Pipeline has a larger market opportunity than the marketed portfolio
Supernus expects to start dosing patients in the phase 3 trial of SPN-810, ('810 for convenience) during Q1 and expects to have results by mid-2017. Here are a few comments from the Q4 2015 call that I found very interesting:
The market is huge regarding impulsive aggression... Specifically in the ADHD space, where we found prevalence as high as 32% of ADHD patients have impulsive aggression. And there is nothing out there to treat impulsive aggression that is ruled by the FDA that is clinically studied to treat that condition. SPN-810 would be the first product approved in that space… Areas like autism, bipolar, prevalence in autism - 40%, 45% of patients have impulsive aggression… Patients in schizophrenia have impulsive aggression, PTSD, Alzheimer's and so forth. So, this is a huge, wide opportunity for us with pioneering the whole field. SPN-810 profile is a much, much better tolerability and safety and efficacy we saw in our Phase 2b trial was really very, very strong efficacy.
The ADHD market is expected to grow 3% a year over the next few years and should reach 75.6 million prescriptions a year by 2019, which should be the time of '810's launch. Given the prevalence of impulsive aggression, the number of prescriptions in 2019 should be between 4.3 million and 6.1 million. A penetration rate in the 15% to 20% range translates to annual prescriptions in the 650,000 to 1.2 million range. The company expects '810's pricing to be within the range of the current products on the market - $14 to $24 per day per patient. This translates to gross sales potential for ADHD between $400 million and $700 million and between $400 million and $500 million for bipolar and autism. The total range is $800 million to $1.2 billion (or $550 million to $850 million in net sales assuming a 30% gross to net discount) and does not include the opportunities in Schizophrenia and Alzheimer's.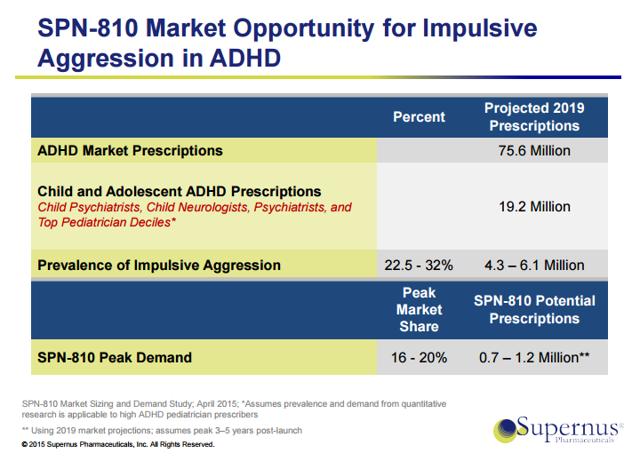 Source: Supernus investor presentation
The company also has high hopes for SPN-812 ('812 for convenience). Patient dosing in the phase 2b trial has started and data is expected to be available in early 2017. Management noted on the Q4 2015 call that "recent data from our SAD and MAD study reinforce our belief that SPN-812 as a marvel non-stimulant has the potential for being dosed at doses high enough to compare favorably with stimulant medications for efficacy while also showing a favorable tolerability and safety profile." The market for '812 is smaller than the one for '810 (around 8% of total ADHD prescriptions are for non-stimulants). '812 has the potential to address all four segments of the non-stimulant market, unlike the currently approved products.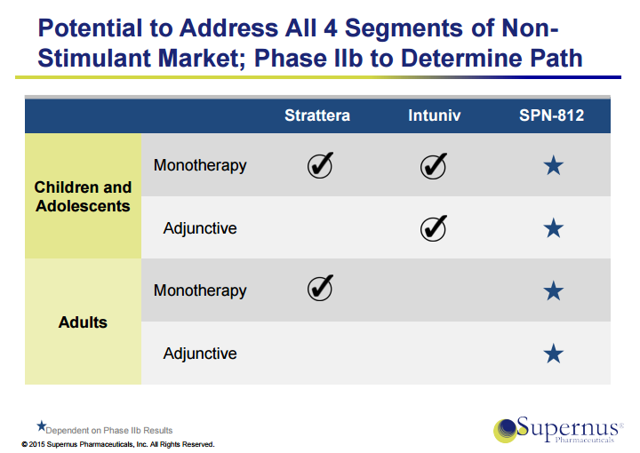 Source: Supernus investor presentation
The total addressable market is around $2.5 billion and a penetration rate of 10% to 20% translates into annual sales in the $250 million to $500 million range.
The market is neglecting the growth potential of the marketed products and assigns little/no value to the pipeline
I believe that the market is neglecting the company's growth prospects. Supernus' forward 2016 valuation (based on the EV/sales ratio) is in line with other pharmaceutical companies that do not have a meaningful pipeline and the growth prospects of some of these companies are lower than Supernus'. Supernus expects to spend around 30% of its 2016 revenues on R&D, and its pipeline product could generate double the peak sales of the marketed products, while, for example, Depomed (NASDAQ:DEPO) and Horizon Pharma (NASDAQ:HZNP) will spend less than 10% of their revenues on R&D this year. Supernus is also in much better financial shape than these pharma companies, since it has no debt and should have close to $150 million in cash by the end of 2016. At this point, I believe that Supernus is undervalued based on its marketed portfolio and that the pipeline is essentially a free call option.

Source: Yahoo! Finance, Supernus, Endo, Mallinckrodt, Horizon (2015 debt/EBITDA ratios adjusted for Crealta acquisition), and Depomed financial reports
My model for the marketed portfolio assumes peak sales in the $400 million to $500 million range and the price target is between $20 and $29. The discount rate is 15% and I expect sales to peak by 2020.
| | | |
| --- | --- | --- |
| | Low estimate | High estimate |
| Marketed portfolio peak sales | 400 | 500 |
| Net Income | 120 | 175 |
| Multiple | 15 | 15 |
| Future value | 1800 | 2625 |
| Shares outstanding | 52 | 52 |
| Future EPS | 2.31 | 3.37 |
| Discount factor | 0.572 | 0.572 |
| Present value | 1029.16 | 1500.85 |
| Value Per Share | 19.79 | 28.86 |
For the pipeline, I am estimating peak sales in the $500 million to $1 billion range by 2024 (assuming a launch in 2019), a 15% discount rate and a 60% probability of approval. The current value per share of the pipeline is between $8 and $17.
SUPN
Low estimate
High estimate
Pipeline peak sales
500
1000
Net Income
150
300
Multiple
15
15
Probability of approval
60%
60%
Future value
1350
2700
Shares outstanding
52
52
Future EPS
2.88
5.77
Discount factor
0.327
0.327
Present value
441.32
882.63
Value Per Share
8.49
16.97
This brings my base case price target to $28 per share, which is slightly above the analyst mean target of $26.5 and is below the highest target of $37. The bullish case price target is $45.
Risks
Generic threats remain the main risk for Supernus. Oxtellar and Trokendi have five and six patents respectively and no patent expires earlier than 2027, but this has not prevented ANDA filers. There were initially three filers on Trokendi - Actavis, Zydus and Par. The company settled with Par for 2025 and the litigation with Actavis and Zydus is ongoing and Supernus has a 30-month stay that prevents generic entries until Q1 and Q2 2017. Supernus prevailed in the case against Actavis for Oxtellar in early February. Judge Rumb of the U.S. District Court for the District of New Jersey ruled that Actavis infringed on two patents and that Oxtellar's patents are valid. The company "believes strongly" in its IP and is confident that it will defend its products going forward. Both the settlement for Trokendi and the win against Actavis for Oxtellar are indicative of future success against other filers.
The biotech bear market may keep the stock depressed for a longer than expected period of time and it has negatively affected the company's quest for M&A targets. The cash on hand is not enough for a decent-size acquisition and the use of equity would not be a prudent decision at this point. Raising debt for acquisitions has also become harder for biotech and pharma companies in recent months, and higher interest rates are realistic at this point.
Conclusion
The biotech bear market has kept Supernus' share price from reaching new highs this year. I believe that the company is significantly undervalued at current levels and that the risk/reward ratio is skewed to the long side. Supernus' valuation is similar to pharma companies without meaningful R&D spending and the growth prospects of the pipeline products actually exceed the growth prospects of most of the companies I mentioned in this article. The pipeline is potentially more valuable than the marketed portfolio and the company may also expand its marketed product portfolio via M&A in the following quarters.
Disclosure: I am/we are long SUPN, HZNP, DEPO.
I wrote this article myself, and it expresses my own opinions. I am not receiving compensation for it (other than from Seeking Alpha). I have no business relationship with any company whose stock is mentioned in this article.
Additional disclosure: This article reflects the author's personal opinion and should not be regarded as a buy or sell recommendation or investment advice in any way.