Many investors disregard bonds as boring. And what could be more boring than U.S. Treasuries? For this reason, many investors simply bypass the Treasury market for the thrill and excitement of stocks. But not all Treasuries act like a series EE saving bond. Sure, some Treasuries are as steady as they get. But others offer a great deal of excitement and price movement in their own right. In fact, some Treasuries have been stellar performers relative to stocks over the past decade and have done so by traveling a much less stressful path. The Treasury market offers investors great opportunity in its own right. The key today is finding a way to get in on the action at a good price.
Bonds: Stock Market Beat Down
Unlike the U.S. stock market, which has had its share of bumps in the road since the start of the new millennium, the U.S. Treasury market has been a consistently strong performer for more than three decades now. And nowhere has the performance been more impressively strong than at the long end of the U.S. Treasury curve.
Highlighting this strong performance, the following is a price chart of the S&P 500 Index (NYSEARCA:SPY) versus long-term U.S. Treasuries as measured by the iShares Barclays 20+ Year Treasury Bond Fund (NYSEARCA:TLT) dating back to the start of the financial crisis in July 2007. For all that has been made about the strength of the recovery in stocks since March 2009, one could have simply bypassed all of this trouble and owned long-term U.S. Treasuries throughout the entirety of the financial crisis period and its aftermath and have done nearly twice as well.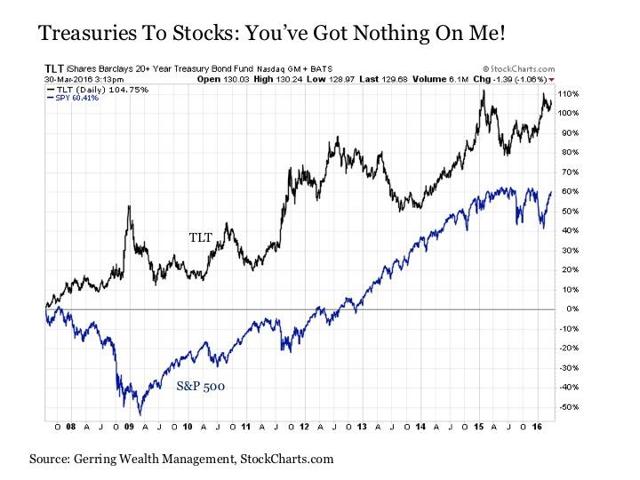 Click to enlarge
Investors didn't even need to take on so much duration to lead the stock market over this entire time period. The following is the S&P 500 Index versus TLT's shorter duration brother in the 7-10-Year Treasury Bond Fund (NYSEARCA:IEF). All these years later and a basic intermediate-term U.S. Treasury is leading the sexy stock market. Not too shabby for supposedly being so boring.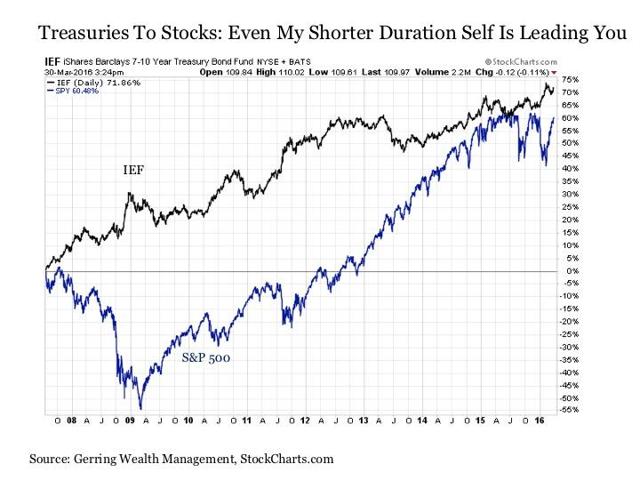 Click to enlarge
Adding to the appeal of U.S. Treasuries from a portfolio construction standpoint, they have the added appeal from a diversification standpoint of the ability to rise when stocks are rising, but rise a lot more when stocks are falling. Thus, they are a great complement to a stock-heavy portfolio.
Getting In On The Action
So the right types of U.S. Treasuries have the ability to offer stock-like returns or better over time. But is now too late to get in on the action? After all, haven't U.S. Treasury yields on the 10-year fallen from double-digits several decades ago to less than 2% today (as bond yields fall, prices rise)? Indeed, we are likely in the later innings of what has been a remarkable bull market run in U.S. Treasury bonds. But given the fact that we remain mired in a global economic environment of chronically weak growth and persistent deflationary pressures with central banks that remain excessively accommodating, U.S. Treasuries likely have further room to move to the upside in the coming years before it's all said and done.
Highlighting this further upside potential is the following point. While 10-year U.S. Treasury yields are currently at 1.83%, the 10-year government bond yields for their major global sovereign counterparts are as follows: Japan at -0.10% (yikes), Germany at 0.15%, France at 0.48% and the United Kingdom at 1.43%. Even more dubious economies like Italy and Spain have 10-year government bond yields of 1.21% and 1.42%, respectively. In this global context, U.S. Treasuries look like a relative bargain.
So how does one get in on the action? A good strategy is to focus on the yields associated with the 10-year and 30-year U.S. Treasuries, as they tend to respond at particular levels that signal potential entry points.
Let's begin with the 10-Year U.S. Treasury. Over the past years, yields have fluctuated between five separate zones between 1.40% and 3.00%. And when 10-Year U.S. Treasury yields rise up into the key inflection points that separate these zones, they often rally higher. For example, 10-Year U.S. Treasury yields recently rose to touch the 2.0% yield inflection point ten trading days ago. Since that time, 10-Year U.S. Treasuries have been in rally mode.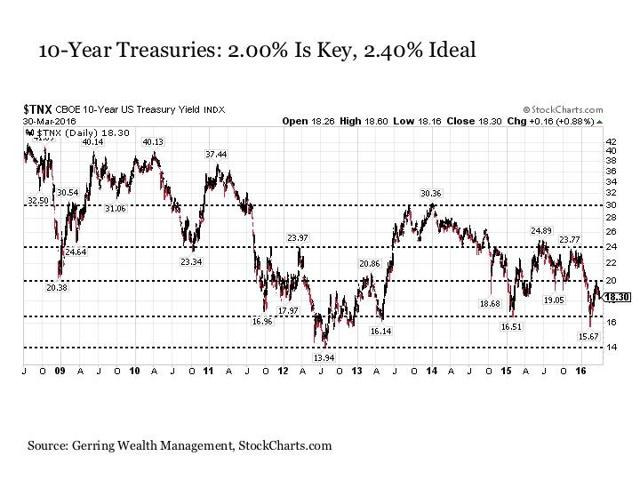 Click to enlarge
Viewing 10-Year U.S. Treasuries from a broader view, the 2.0% yield level represents a potential entry point for the IEF. And if yields were to rise up into the next inflection point at 2.40%, this would provide a particularly attractive buying opportunity.
The same principles apply to the higher octane 30-Year U.S. Treasury. These longer duration bonds have moved in and out of six zones between 2.25% and 4.00%. And just like their 10-Year counterparts, 30-Year U.S. Treasury bond yields recently rose into a zone inflection point at 2.75% in early March before rallying back to the upside.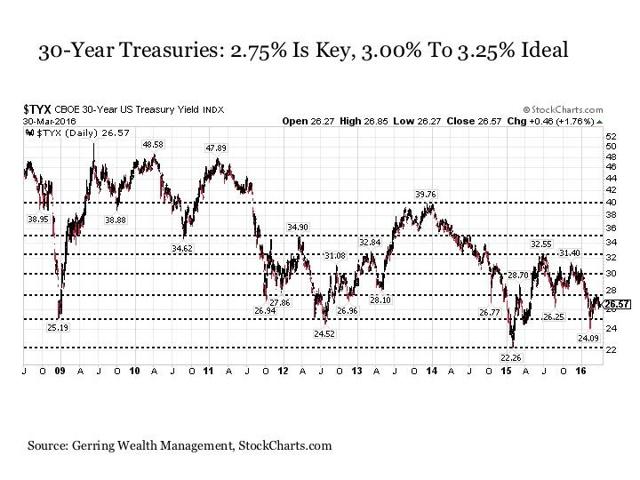 Click to enlarge
Thus, a return to 2.75% on the 30-Year U.S. Treasury yield would present a potential entry point for the TLT, while a further rise to the 3.00% to 3.25% range would be considered more ideal.
The Bottom Line
U.S. Treasuries offer an ideal complement to a stock portfolio, as they provide both total return potential as well as true diversification benefits. And while U.S. Treasuries continue to deliver strong performance, incrementally adding to allocations when yields reach various inflection points over time can provide a good signal for entry points over time.
Disclosure: This article is for information purposes only. There are risks involved with investing including loss of principal. Gerring Capital Partners makes no explicit or implicit guarantee with respect to performance or the outcome of any investment or projections made. There is no guarantee that the goals of the strategies discussed by Gerring Capital Partners will be met.
Disclosure: I am/we are long TLT, IEF.
I wrote this article myself, and it expresses my own opinions. I am not receiving compensation for it (other than from Seeking Alpha). I have no business relationship with any company whose stock is mentioned in this article.