AT&T (NYSE:T) is underperforming the market today, as are utilities more broadly. It's on a macro issue or beta-driver that I believe will be undone before long. The nascent risk-on race for stocks is being fueled by a favorable media and market interpretation of Fed Chair Yellen's speech Tuesday. If it continues, it could start to pull capital from safe-haven sectors like utilities (and telecom) in order to put it to work in riskier areas. However, this leg of the rally is based on a fairytale, in my opinion, fueled by faulty Fed expectations and economic softness, driven not by substance but by a negative feedback loop (read this). As March data reaches the wire next month, I expect its strength will paint a different picture that will change the Fed Chair's tune once again, serving AT&T again. So, any weakness we see in AT&T and its telecommunications and utility brethren near term should be bought in my view, as any lost capital will come back quickly. That should be limited for AT&T anyway, given the stock's dividend payout and near-term dividend record date, which holders will at least wait for.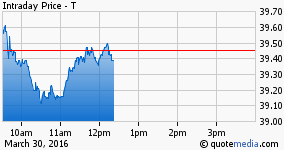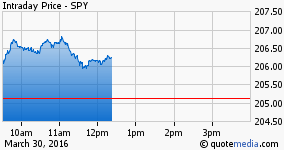 Today's chart of AT&T's shares shows underperformance versus the S&P 500 (NYSEARCA:SPY). It reflects the risk-on fervor that has gripped the market since Fed Chair Yellen's soft-toned speech yesterday. The market and media have interpreted the Fed boss's message as dovish, and that has investors chasing riskier stocks. At roughly 2:00 PM EDT, the SPDR S&P 500 was up by about a half of a percentage point while the Utilities Select Sector SPDR ETF (NYSEARCA:XLU) was down fractionally, and T was about unchanged. That trend could continue for a bit, but I believe investors will find soft footing at any higher levels, and capital will return rather quickly to safer stocks, and my favorite among them, AT&T.
The Important Macro Factor Discussed
The Federal Reserve Chair's speech matters to AT&T's holders in an inverse manner than it does to the broader market. That is because the high-yielding telecom with its reliable earnings stream offers investors a safe haven against market-dragging Fed monetary tightening. In my opinion, Fed Chair Yellen's speech yesterday was more about justifying the Fed's inaction this month than it was dictating its path for the June meeting. Recent musings of key Fed members have contrasted with Chair Yellen's tone, with some Fed members even calling for a more aggressive interest rate trajectory. But none of that matters today, for the media and market have determined Fed Chair Yellen's words to be as a good enough guide to buy risky assets, putting capital allocated to T at risk.
The reason I think the Fed Chair's soft language will change is because I see it based on faulty ground. Chair Yellen has likely been influenced by the latest soft data on consumer spending and existing home sales for February, both of which I believe were influenced by the same temporary restraint. It is my view that a negative feedback loop is plaguing data being reported now for the month of February, along with revisions for January. Let's recall that China disturbances and other concerns led to stock market volatility in January and into mid-February. In my view and based on data, the selloff of the market into mid-February was serious enough to influence the spending patterns of Americans, and I believe stop them from big ticket purchases of homes and some discretionary spending.
It is notable that economic data for March that has been reported so far has been more positive, not coincidentally at the same time the stock market has recovered. For instance, consumer confidence was just reported higher in March, and weekly data for jobless claims and mortgage activity continue to show recent strength. Thus, I believe that when March data is reported more fully, it will clearly expose the negative feedback loop as the cause of the early year softness. Once that happens, the Fed can again gear up for monetary tightening. It is that tightening that leads capital into steady earnings stream producers that payout hefty cash returns, like AT&T.
While expected to grow at an approximate 5% pace over the next five years and while returning another 5% or so via dividends, the stock does not look expensive to me even at 13.9X 2016 consensus EPS estimates. I view a premium to return acceptable here given the reliability of returns from AT&T under this year's broader market uncertainty. And over the near term, the stock may hold steadier than peers, given that its dividend record date is a little over a week away. Thus, I suggest investors use any weakness in T's shares to buy the stock, and use the 4.9% dividend yield to console yourself for any weakness that may weigh temporarily on the faulty Fed base I have discussed. As I favor AT&T for 2016, I plan to cover it more closely and continue to discuss in more detail some other specific factors that I believe favor it this year. As a result, I invite T's holders to follow my financial column here at Seeking Alpha.
Disclosure: I/we have no positions in any stocks mentioned, and no plans to initiate any positions within the next 72 hours.
I wrote this article myself, and it expresses my own opinions. I am not receiving compensation for it (other than from Seeking Alpha). I have no business relationship with any company whose stock is mentioned in this article.