The U.S. petroleum industry is coming out of the spring refinery maintenance season. Last week, crude inputs to refineries rose by 414,000 b/d to average 16.2 million barrels per day. Over the past four weeks, crude inputs were 3.2% higher than over the same weeks last year.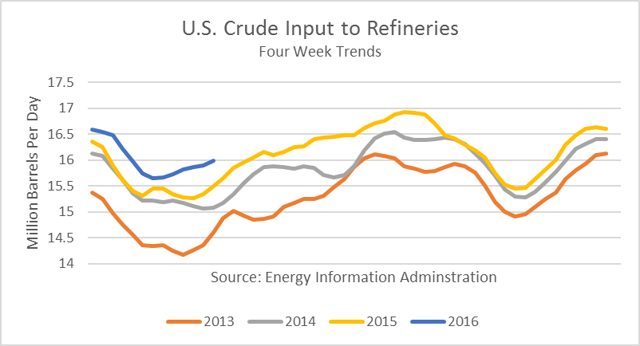 Click to enlarge
As crude inputs rise in the weeks ahead, higher demand for crude at refineries will likely cause oil stocks to level off, then draw. Therefore, last week's record high of 535 million barrels is getting near its peak for this season.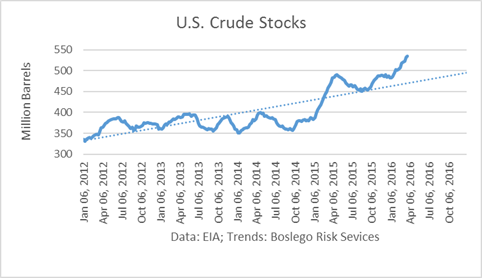 What normally happens is that higher refinery runs lead to higher production of petroleum products, and product stocks rise. In the past two years, petroleum stocks built by one-half million to over one million barrels per day in the spring. Over the past four weeks, product stocks had been drawing by about 250,000 b/d.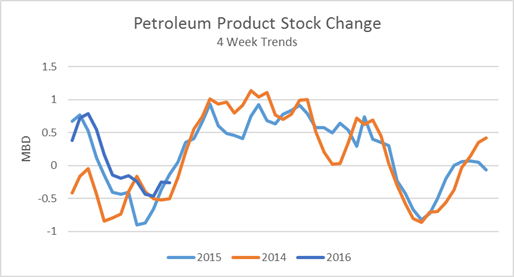 What may be different this spring is that the product stock build may be much smaller. The difference is higher U.S. product demand, coupled with higher product exports.
Recent trends in product demand have resulted in a gain of over 400,000 b/d, up 2.2% vs. a year ago. I have to emphasize that this is demand from primary storage, not end-user consumption. I also caution that the EIA's weekly demand calculations are subject to error.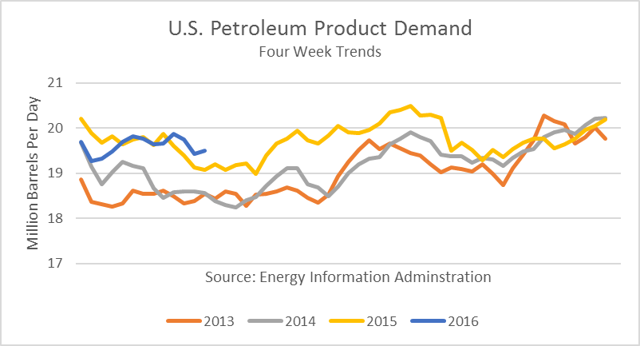 Click to enlarge
The main reason for the gain has been stronger gasoline demand. In the past four weeks, demand has been 5.0% higher than last year, a sizable gain.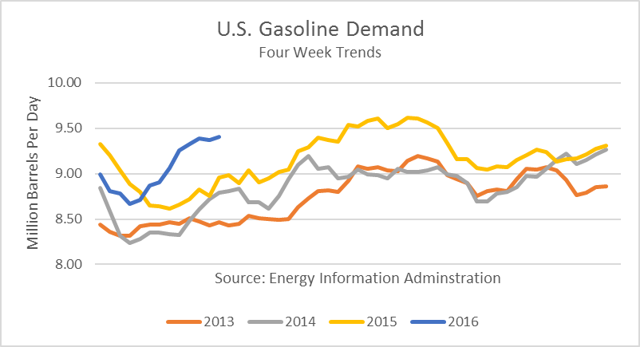 Click to enlarge
In addition, product exports have continued to rise. Taking the past four weeks as an example, exports have been estimated at more than 500,000 b/d higher han a year ago. I also note that these estimates are from an EIA model that is subject to error.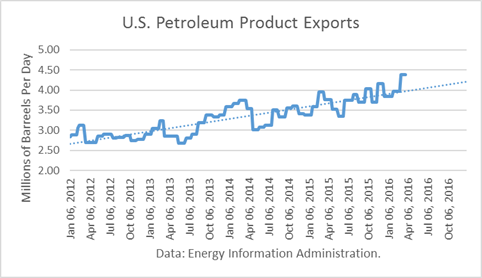 If trends in both demand and exports remain as strong as they have been, it's hard to see how petroleum stocks will rise nearly as fast as they did during the past two years.
Conclusions
If the relative strength in petroleum product demand and exports continues, we could see a smaller product stock build in the weeks ahead than in the past couple of years. As a result, the size of the product surplus will begin to decrease.
Disclosure: I/we have no positions in any stocks mentioned, and no plans to initiate any positions within the next 72 hours.
I wrote this article myself, and it expresses my own opinions. I am not receiving compensation for it (other than from Seeking Alpha). I have no business relationship with any company whose stock is mentioned in this article.