In some of my previous articles I covered the deferred costs on the Dreamliner program and the program accounting practice that Boeing (NYSE:BA) uses. Reason for this extensive coverage is because I think the coming year(s) will be of utmost importance for the Dreamliner program. In one article I had a look at how deferred costs developed up until Q4 2015. In another article I had a look at what cash Boeing needs to generate on the remaining units in the accounting block to decrease the deferred production to zero.
In this article I will have a look at what Boeing expects for 2016 and what implications this has for the numbers and figures I came up with in my previous articles.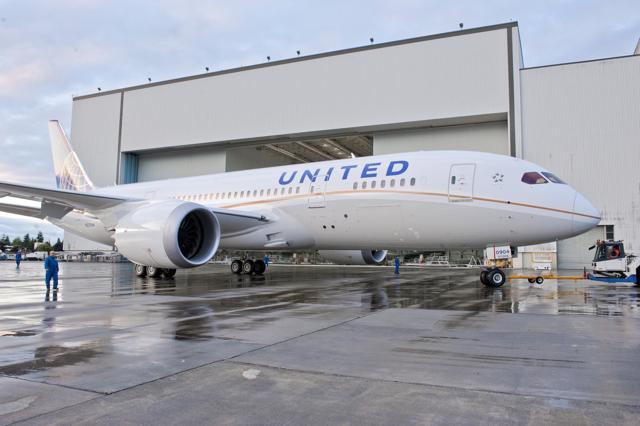 Click to enlarge
Development deferred costs 2016
From Boeing's earnings call transcript a few useful pieces of information can be deducted, namely:
The program became cash positive
Deferred costs are likely to grow at the same rate in Q1 2016 as it did during Q4 2015
Year-over-year the deferred balance is likely to be flat
Especially from the latter 2 statements some useful information can be derived.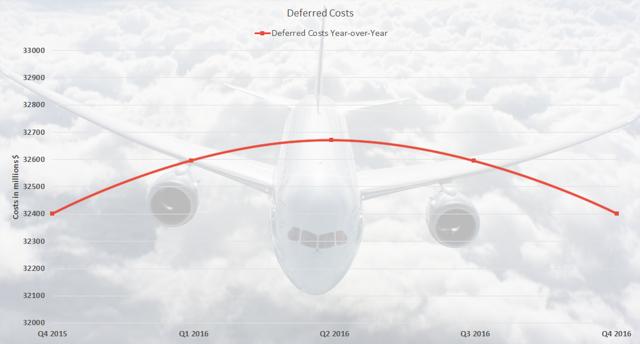 Click to enlarge
Figure 1: Expected development deferred costs in 2016 (Source: www.AeroAnalysis.net)
Using Boeing's statement about the deferred costs in Q1 and the year-over-year costs, the curve from Figure 1 can be constructed. I expect that Boeing will be able to deliver 30 airframes in Q1, just like it did in Q1 2015. This means that the deferred costs per airframe are expected to be $6.7 mln, slightly worse than in Q4 2015. This primarily is caused by naturally low deliveries in the first quarter.
It is important to note that Boeing expects deferred production to decrease once the 12 per month production rate is reached, this shows how important this milestone is in the process to cut costs.
For the second quarter, assuming a total of 35 deliveries, the cost per unit will be $2.0 mln. This is a 70% cost reduction. Under the assumption that 787 deliveries will be flat year-over-year (growth of deliveries less than 5%), I expect Boeing to deliver 75 airframes in the second half of 2016. For Q3 this means a positive cash of $1.8 mln per unit, for Q4 this will be in the range of $5.4 mln per unit.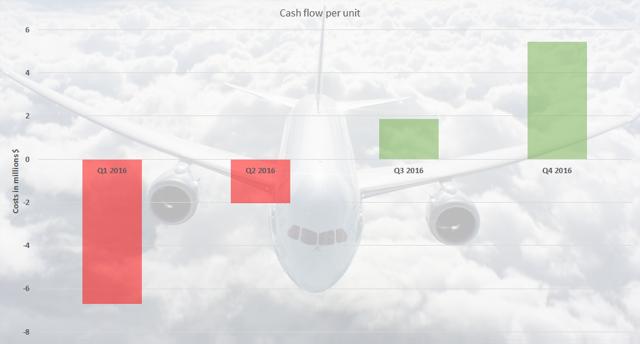 Click to enlarge
Figure 2: Expected cash flow per unit in 2016 (Source: AeroAnalysis.net)
Although going positive on cash flow is important it is even more important to keep the requirement in mind: On average Boeing needs to generate about $41 mln dollars of positive cash flow (instead of the $35 mln that I calculated earlier), starting from 2017. This is 7-8 times the cash flow that Boeing is expected to generate in Q4 2016. This clearly shows how big the task is that lies ahead for Boeing.
Additionally, it has to be noted that cash flow improvement in the years 2017 until 2018/2019 primarily has to be realized by cutting costs and increasing overall efficiency.
Conclusion
Boeing is on track to reach 12 per month production by mid-2016
First steps towards bringing deferred costs to zero will be made in the second half of 2016
Required average cash flow is 8 times higher than what I expect Boeing to generate on a per unit basis in Q4 2016
While the accounting block is big, there seems to be little margin for error. One way to give itself some more breathing space is by increasing the accounting block, but this will likely create a shock wave for Boeing shares. Other ways to actively reduce costs is by trying to ramp up production earlier than by decade-end or try cutting on expensive materials where possible.
Disclosure: I am/we are long BA.
I wrote this article myself, and it expresses my own opinions. I am not receiving compensation for it (other than from Seeking Alpha). I have no business relationship with any company whose stock is mentioned in this article.