Bank of America (NYSE: BAC) sold off Tuesday, likely due to the media and market interpretation of Fed Chair Yellen's speech. It has been portrayed as extremely dovish, which portends a poor interest rate outlook for the bank and its net interest margin. It's a factor that could weigh against the stock long-term if it were to persist. Luckily, I believe the Fed perspective and the tone of its Fed Chair will turn in BAC's favor over the next two months as her cause of concern is cleared up. So, I'm suggesting investors buy BAC on any weakness caused by a seemingly softer Fed perspective. It is a fairytale.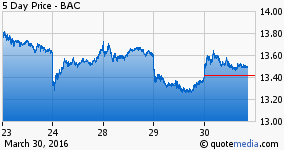 5-Day Chart of BAC at Seeking Alpha
Bank of America shares dropped meaningfully Tuesday, at the start of trading due to the weakness in oil prices, but through the rest of the day due to the speech of Fed Chair Janet Yellen. It was interpreted by media and market to be important and dovish. The S&P 500 Index jumped 0.9%, a stark contrast to BAC's 1.5% decline on the day. Because of Yellen's tone, some pundits with television exposure speculated the Federal Reserve might not raise interest rates this year by even the two hikes projected in the FOMC's just released forecasts. However, the public appearances of several Fed members recently would beg to differ, and I would as well for another reason.
The Fed's concerns have been born of economic uncertainty, especially since the Federal Open Market Committee (FOMC) meeting, with consumer spending just reported inching up just 0.1% and with January spending revised down four-tenths of a percentage point to 0.1% growth as well. Existing Home Sales were reported last week down 7.1% in February. If the economy is truly faltering, then the Fed would have to pause on its rate hike plans. That is bad news for Bank of America and its hopes for expanding net interest margins; and it would be bad for the analysts' estimates with those expectations baked in as well.
But don't fear the big bad Fed, as the perspective is skewed I believe by a misunderstanding about what is behind the weak economic data of February. In my report, The Negative Feedback Loop, I argue that there was one broad reaching issue that could be behind a lull in big ticket purchases for homes and slack in discretionary spending, given the low level of unemployment. That one factor was the stock market volatility of the start of the year, and the fear such volatility can put into the hearts of men. I think stock market volatility initiated a negative feedback loop that impacted economic data in February, which is now weighing on the Fed.
But, the stock market has recovered since mid-February, and more recent economic indicators reflect that fact also. Consumer Confidence, for instance, was just reported stronger in March. Weekly data, including for jobless claims and for mortgage activity show improvement of late. The latest mortgage application data shows 2% week-to-week growth and 21% year-over-year growth for mortgage applications for home purchases. That would certainly seem to dispel the concern that arose around the existing home sale slip for February, and it should be a message we see told again and again in March data, given the stock market's recovery through March.
As a result, I expect the Fed's tone will change as well, and rate hikes will be back on the table, with the first coming in June. That will restore strength to BAC shares, and given the stock's deep discount to tangible book value, it should make a substantial difference. I believe once confidence in a tightening Fed's rate outlook is restored, BAC shares should be restored to its highs near the $18 level, where they were before 2016 started. That is 33% higher than today's price.
Disclosure: I/we have no positions in any stocks mentioned, and no plans to initiate any positions within the next 72 hours.
I wrote this article myself, and it expresses my own opinions. I am not receiving compensation for it (other than from Seeking Alpha). I have no business relationship with any company whose stock is mentioned in this article.