Highlights:
Last week, Oi S.A. (NYSE:OiBR) reported Q4 2015 results.
The good news: in spite of a challenging macroeconomic scenario, Oi achieved the mid range of its 2015 routine EBITDA guidance and improved it operational cash flow by R$ 1.6 billion (1 Brazilian Real equals roughly US$ 0.28).
The bad news: revenues declined for the year, several key operating metrics seem to be deteriorating, FCF remains negative in spite of strong costs and CapEx cutting, and finally management discontinued guidance for 2016 - leaving investors in the dark not only about the company's restructuring efforts, which is somehow understandable, but also about its operational targets.
A quick look at some key metrics
As we anticipated, we noticed that some key operating metrics deteriorated throughout the year. Let's have a look at some of them.
In 2015 Oi succeeded in keeping CapEx under strict control and in a relatively narrow range - R$ 950 million to R$ 1.072 million per quarter, compared to R$ 1.056 million to R$ 1.431 million in 2014. It may be objected that reducing investments, in this business, is not necessarily a good sign for the long term, but we praise the successful cost control effort done by the company. Looking at Q4 2014 and Q4 2015, however, it looks like the company has reached a level of CapEx that won't easily allow for further savings.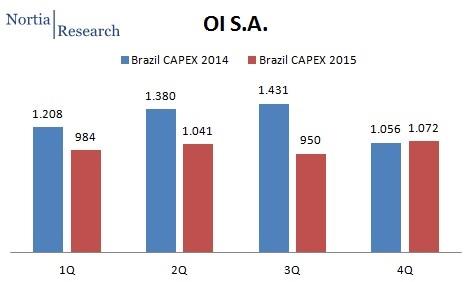 Source: author, company's data
Routine EBITDA improved on a Y/Y comparison each quarter, as underlined in this chart: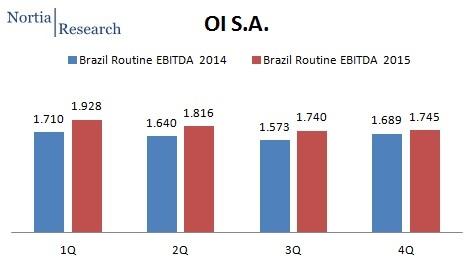 Source: author, company's data
However, if we look at the same numbers and try to get a trajectory, we will notice that the improvement is now declining into a single digit number: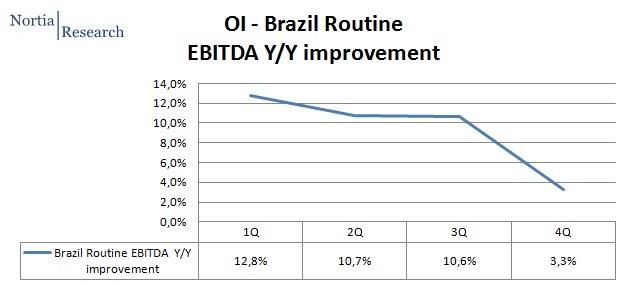 Source: author, company's data
Operating cash flow is also showing a declining trend into Q4 2015: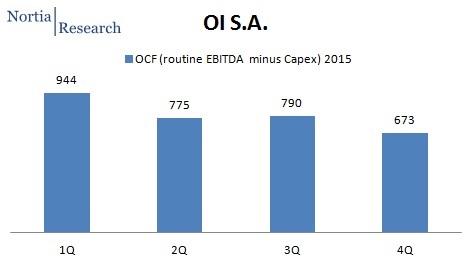 Source: author, company's data
As a result of these declining metrics and due to Oi's negative free cash flow, net debt is the only metric that shows a steady growth trajectory throughout 2015: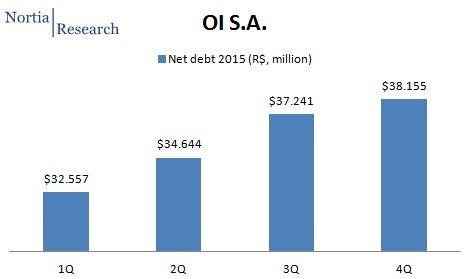 Source: author, company's data
No color about the company's plan for a debt restructuring, and no guidance for 2016
During the conference call, Oi's CEO explained that management had decided not to provide guidance for 2016, due to Brazil's macroeconomic climate:
Bayard De Paoli Gontijo, Oi S.A. - CEO

Before moving on, I would like to pOint out that we decided not to give any guidance for 2016.

With all the volatility and instability of the market and the Brazilian economy, we believe that it's important to have more flexibility at this pOint in order to manage the business and take quick actions in the best interest of our stakeholders.
Two months and a half into Q1 2016, we believe that management should already have a decent idea of how the company is performing, at least for this quarter.
The decision to stop proving guidance may also be interpreted by the market as an indirect confirmation of declining operating metrics into 2016, that would add up to Oi's difficult debt situation, so making the company's turnaround even more unlikely.
While we understand very well that management may not be in a position that allows to comment about its plans for a future debt restructuring, we see the decision to stop proving guidance, too, as a tactical mistake that may only leave the door open to negative speculations.
Disclosure: I/we have no positions in any stocks mentioned, and no plans to initiate any positions within the next 72 hours.
I wrote this article myself, and it expresses my own opinions. I am not receiving compensation for it (other than from Seeking Alpha). I have no business relationship with any company whose stock is mentioned in this article.
Editor's Note: This article covers one or more stocks trading at less than $1 per share and/or with less than a $100 million market cap. Please be aware of the risks associated with these stocks.