Just yesterday 3M (NYSE:MMM) came out with its investor day for 2016. Like all multinational companies from the US, 3M's results have been negatively impacted by a very strong US Dollar.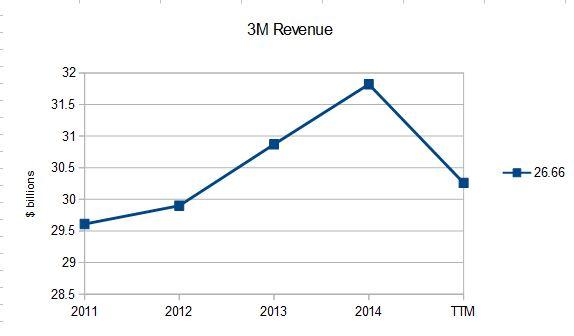 As you can see above, 3M's revenue has basically gone nowhere for five years. Bottom line numbers have fared a little better. Have a look.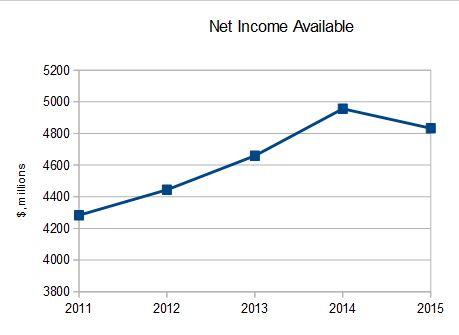 The difference between performance in net income and revenue can be explained in employee productivity increases and cost management. As an industrial conglomerate and a fairly cyclical company, 3M has benefited from a recovering global economy, but has been held down by a rising US Dollar.
In its annual investor meeting, management announced an ambitious five-year plan by which the company hopes to achieve 8%-11% EPS growth and 2%-5% organic sales growth per year, along with a 20% return on invested capital. In addition, 3M raised its dividend 8%, and declared that dividend on February 10th. Those are some ambitious targets. This article looks at 3M's five-year plan, and also its dividend policy going forward.
Five-year plan
3M's five-year plan involves a significant acceleration of both the top and bottom line. The plan sets a high bar, but I believe it is doable for a few reasons. First is currency. As long as the US Dollar doesn't keep rising, the downward pressure on 3M's financials will abate. In effect, 3M is lapping its old comparisons, and so I believe that currency fluctuation will not mean as much in the next few years as it has in the previous.
3M is made up of five industries: Industrials, safety and communications, electronics and energy, consumer, and finally health. With the exceptions of healthcare and consumer, all of 3M's businesses are cyclical.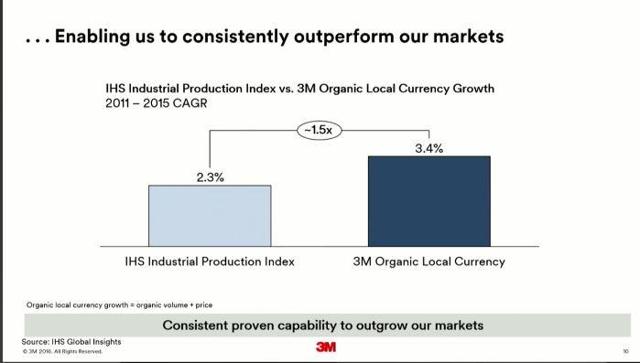 Click to enlarge
Courtesy of 3M Investor Relations.
That cyclicality is quantifiable. For the past four years, 3M has grown organic revenue at a rate of 1.5 times the industrial production index. (It's also worth mentioning that 3M's margins are in the top decile of its peers.)
Over the next five years 3M expects to grow industrial sales by 2%-4% per year, safety and graphics by 2%-5%, electronics and energy by 0%-4%, consumer by 3%-5% and healthcare by 4%-6%. This is indeed an achievable goal, but only if the Industrial Production Index remains solidly positive. That means that if there is a recession over the next five years, 3M would have a difficult time achieving its ambitious goal.
Regarding dividends
3M has grown its dividend each year for decades, and the company is one of the "Dividend Aristocrats." Over the last ten years 3M has averaged 9.3% dividend growth, compounded.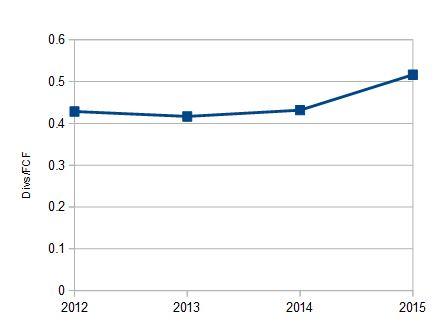 The dividend has risen vis-a-vis free cash flow over the past five years, but not by too much. Not apparent in this chart is the fact that free cash flow has increased from $4 billion per year to $5 billion. When you look at cash flow, there's good reason to believe that 3M will continue raising its dividend by at least the mid single-digits.
Is 3M a buy?
Since 3M is highly exposed to industrial indices, and therefore also to the trajectory of the global economy, it's best to buy 3M either on the trough of the business cycle or the curve of the business cycle. Frankly, I don't believe we are in either of those phases of the business cycle right now, so I believe caution is warranted, not least because shares have already gone a lot higher through 2013 and 2014.
About half of 3M's income still originates in the US. As long as the US doesn't enter a recession in the next five years. I do believe that 3M will achieve its five-year plan. Five years is a long time, though, and a lot can happen between now and then. Overall, I remain cautious on 3M.
Disclosure: I/we have no positions in any stocks mentioned, and no plans to initiate any positions within the next 72 hours.
I wrote this article myself, and it expresses my own opinions. I am not receiving compensation for it (other than from Seeking Alpha). I have no business relationship with any company whose stock is mentioned in this article.