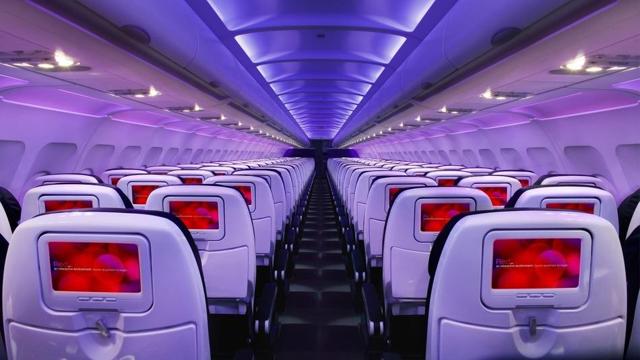 Click to enlarge
Img 1: A Virgin America Aircraft
While much of the news recently since the announcement that Virgin America (NASDAQ:VA) was seeking a buyer for all or part of the company surrounded JetBlue and Alaska Airlines, there is one major possibility investors are missing that could ensure the survival of the Virgin America brand, airline and stock as we know it.
JetBlue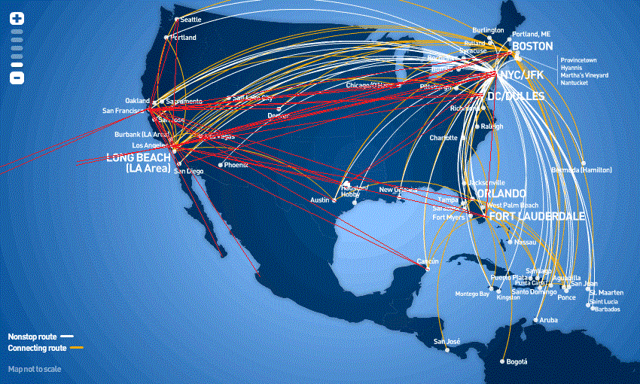 Click to enlarge
Img 2: A combined JetBlue - Virgin America route network
I do firmly believe a JetBlue merger makes the most sense, as I described in my previous article, here. The two airlines would have a similar higher end product, the same fleet and would be complimentary to each other. While JetBlue is weak in the West, Virgin America has little presence in the East Coast. The two airlines would be a powerful combination that could better take on the legacy U.S airlines while also winning more corporate contracts due to their stronger network. The financial cost however could throw off such a transaction if bidding were to occur as JetBlue works to strengthen its balance sheet and drive down leverage.
Hainan Group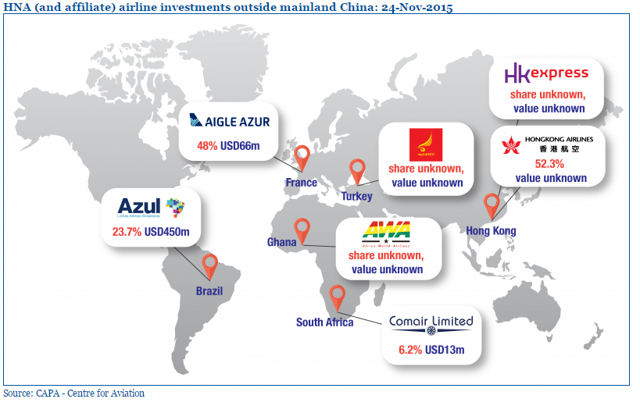 Click to enlarge
Img 3: Hainan Airline equity stakes worldwide
While the Wall Street Journal stated that both Alaska and JetBlue were reportedly submitting bids for Virgin America, it also quietly mentioned an unnamed Asian airline was also looking at the airline. This unnamed Asian buyer is highly likely to be the Hainan group, a consortium that includes Hainan airlines and has made no secret of its desire to purchase strategic airline stakes around the world.
A stake from Hainan would be a win-win for both Hainan and Virgin America and would likely see the stock continue to trade with the Virgin America name and airline staying intact.
Hainan Airlines has been trying hard to become a larger player in the China - USA market but has been having a hard time due to the one airline, one route policy in place by the Chinese government that means for example, Beijing to Los Angeles can only be flown by one Chinese airline. These more lucrative routes are given to large state controlled Chinese airlines, leaving the smaller, less profitable secondary markets for airlines like Hainan.
Hainan also suffers from lack of a U.S partner to feed its flights. It does have a limited relationship with American Airlines, however this does not go further than codesharing a few routes. As a foreign entity, Hainan would only be allowed to purchase a 25% stake in Virgin America, however it could team up with U.S private equity firms or a U.S airline in such a scenario to purchase the rest. George Soros was an early investor in Hainan airlines and still owns a stake, making his private equity fund a possible buyer in a partnership with Hainan. Virgin America also did note that the sale in discussion could result in only part of the airline being sold so it is entirely possible that Hainan could choose to purchase a 25% stake on its own and the rest of the airline would continue to exist as it does today and be publicly traded. This could make sense as it was said that it was Cyrus Capital who has a 24% stake that was looking to try and exit its position.
The future of Virgin America in that case could include trans pacific routes as Hainan would likely encourage Virgin America to launch routes that it cannot, like Los Angeles to Beijing for instance so that the two companies would have good coverage between the United States and China. While this would likely be years away in the meanwhile Hainan could launch routes like Chengdu, Shenzhen, Xian, Hangzhou, etc to San Francisco which would allow for one stop service to everywhere else Virgin America flies to at San Francisco, from San Diego to Fort Lauderdale and beyond. Such a partnership would be very strong for both Virgin America and for Hainan. As China's only 5 star airline, the Hainan product would also match up nicely with the higher end offering that Virgin America offers.
One only needs to look at the current Anbang/Mariott situation to see how a similar scenario play out here. If the Hainan group decides that a stake in Virgin America would be vital to their future success in the United States, then we may see the company willing to pay a steep premium for Virgin America. As it stands right now, Virgin America is priced very high for any airline buyer since the company has few assets, leases most of its aircraft rather than owns them, and has had difficulty making substantial profits outside of the current low fuel environment. While a buyer like JetBlue may make more logical sense, if it came down to bidding, an airline like JetBlue with comparatively fewer financial resources who needs to keep its finances in check may be forced to back out. It was reported that the Hainan group has a $60 billion line of credit making such a deal small change for them to pursue, even if the Virgin America stock price was to rise substantially. For Hainan, a group that intends to be one of the largest 50 companies in the word by 2030, a one time large payment for a stake in a U.S airline may be very worth it as the company seeks a stronger position in the lucrative U.S market.
Conclusion
I do not believe that a Hainan stake in Virgin America is currently the most likely, however if it comes down to a bidding war I do not believe JetBlue or Alaska would pursue highly priced Virgin America much further. If such a situation were to occur I believe it would make Virgin America a buy as it would bring substantial long term benefits to the airline. As it stands now however, I believe that the best stock to buy to take advantage of the upcoming Virgin America deal is JetBlue, as I outlined in my article, here.
Disclosure: I/we have no positions in any stocks mentioned, but may initiate a long position in VA over the next 72 hours.
I wrote this article myself, and it expresses my own opinions. I am not receiving compensation for it (other than from Seeking Alpha). I have no business relationship with any company whose stock is mentioned in this article.