At long last, we have our March Ian's Million Fund (IMF) buys. For those unfamiliar with the concept of this real-time portfolio, please see my introductory article:
From Zero To A Million: Introducing My Live Portfolio
I waited until March 28 to deploy this month's money, because, frankly, I was hoping for a bit of a dip to pick stocks up on. Instead, we got a market that basically went higher the whole month without respite. Given the rules of the IMF; I have to deploy $1,000 or more new dollars of capital each month. I am forced to buy the best stocks on offer, even in a frothy market.
To those who would question my approach, I'd note that I'm essentially dollar cost averaging (DCA), except that I'm doing so into a quasi-index fund of my own creation, rather than buying an index like the S&P 500 (NYSEARCA:SPY) with its various shortcomings.
Looking For Value In A Pricey Market
This was a very difficult month for buying a basket of attractively-priced stocks. I only ended up buying 13 stocks for this month's Motif, well under the number I purchased in previous months. When the market is in a correction, it's easier to diversify without lowering your standards on quality. When markets are frothy, however, my watchlist of potential buys gets a lot shorter.
That said, I did manage to buy some stocks I'm happy with, and overall, I still am fairly confident this grouping of stocks will outperform the S&P 500 over the longer term from today's prices.
March's theme is all things British. If you read my Briefings, you know that I'm closely watching the Brexit referendum that would possibly pull the United Kingdom out of the European Union. This potential move has caused the British pound (NYSEARCA:FXB) in particular to get hit hard on the currency market. The British pound has traded around 1.40 in recent weeks; a 7 year low.
For investors not based in Britain, this offers us a nice opportunity to go shopping for quality British companies. Britain is a particularly nice environment for United States-based investors, as we can receive dividends without any withholding tax bite, and additionally there are relatively few cultural differences that would hinder our understanding of their companies.
Generally, if you're looking to add foreign exposure to your portfolio (and you should be!) Canada and the United Kingdom are the two easiest options for American investors.
What I Bought In March
Here's the direction transaction list of what I bought for the month: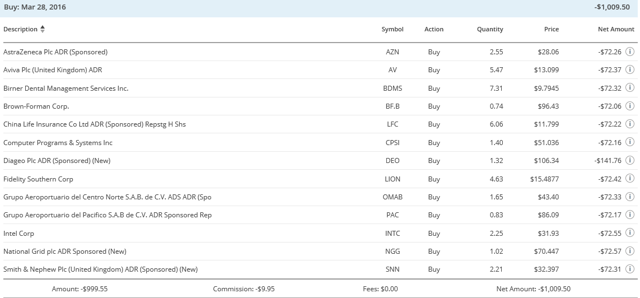 Click to enlarge
Starting things off, given the generally slim pickings this month, I took the liberty of purchasing a double shot of Diageo (NYSE:DEO).
Diageo is my third-largest holding overall in my main retirement accounts and any price under $110 is, in my view, a great level to buy. I bought it for the IMF in January. Due to a short-lived price spike, it just missed my buylist for February. But with the dip back to $106, Diageo is back to being my favorite actionable idea for dividend growth investors.
Alcohol companies are among the world's most profitable businesses to invest in. The profit margins are almost incomprehensibly high. You get a solid starting yield and the business is nearly recession-proof. With the double-weighting for March, Diageo is now the IMF's top holding. I fully expect to see this stock north of $120/share once the British pound normalizes.
The gap in valuation between Diageo and other alcohol companies is wide enough to drive a truck through. That said, I also bought more Brown-Forman (NYSE:BF.B), because it is only moderately overvalued following the recent earnings-driven sell-off. Brown-Forman is an even-better run business than Diageo; it's one of the single best run machines on a public exchange. Their management of the Jack Daniels brand has been legendary.
I struggle to justify paying the current valuation ratio - we're at 31x earnings and 20x EV/EBITDA after all. But I have little doubt that it will outperform the S&P 500 going forward even from today's lofty price, thus making it a reasonable use of cash in an expensive market. There simply aren't many companies with 40% ROEs and such a durable line of products.
Moving back across the pond, the IMF picks up its first electric utility. National Grid (NYSE:NGG) is a behemoth British energy utility, with a more than $50 billion market cap. The stock is priced accurately, I would say, though once you factor in for the fact that the British pound will go back up in the future, it is slightly more interesting than US-listed utilities at present.
The IMF had, aside from Johnson & Johnson (NYSE:JNJ), virtually no healthcare exposure. The United Kingdom was kind enough to offer up two more entries to the portfolio in the sector. I've been loathe to touch pharma with all the political headwinds.
However, given global demographics, it's something you pretty much have to own to at least some extent. Thus, the AstraZeneca (NYSE:AZN) buy at a 52-week low in a market where almost no quality companies are at the lows.
Also in the same general sector, we have Smith & Nephew (NYSE:SNN). I'll simply refer readers to fellow SA author Dividend Drive's solid article on the company, since I haven't expended much brainpower on it myself.
Finally in Britain, I picked up insurer Aviva (NYSE:AV). The company appears to trade a modest discount to fair value, likely due to a carried-over bad reputation related to errors in the past. Regardless, downside seems modest from present levels and the company pays a generous dividend.
Jumping from east to south, the IMF made two purchases in Mexico this month. Both were airport holding companies. As regular readers know, I have an obsession with airports and when there isn't anything else around to buy at a good price, I'll give into temptation and buy more of the Mexican airport operators.
The long-term dynamics of the industry are simply incredible. Mexico has a booming middle class, budget airlines are causing massive growth in the domestic travel sector and the weak Mexican Peso is a boost for international tourists considering Mexico. The Mexican airport operators are routinely putting up 10-15% passenger growth figures year over year.
I picked up a new position in Grupo Aeroportuario del Centro Norte (NASDAQ:OMAB) along with adding to the pre-existing position in Grupo Aeroportuario del Pacifico (NYSE:PAC). I'll discuss the differences in the various Mexican airport operators in future articles.
While these companies look (very) expensive on an earnings basis, if you consider them as a yield play, they fare comparatively well. You get starting 3-4 percent yields, and since these are quasi-REITs that pay out virtually all of earnings as dividends, your dividend yields (ex-currency fluctuation) are going to rise at double-digit rates for many years to come. You could realistically be looking at 8%+ yields on cost on these companies 10 years out.
Switching gears, it's important to remember that the goal of the IMF is to run as a quasi-index fund. As such, it is naturally going to own many of the stocks in the S&P 500 simply because they are good companies that I was able to acquire at a fair price. By owning them outright, instead of through an index fund, I don't have to pay an annual management fee for the next 50 years for the privilege of ownership.
I bought Intel (NASDAQ:INTC) because I really couldn't find much that was more attractive this month in the US mega-cap space, and I have no reason to underweight Intel versus the generic S&P 500. It's highly profitable, pays a fine yield and appears to have competent management.
This is admittedly faint praise, but it's about the best I could I muster. Unless Intel got a lot cheaper, it's never going to show up in my main retirement portfolio nor be a large position in the IMF. But I don't mind buying a small bit when I can't find any other large-caps that are a better value.
We have two holdover buys from February that remained at roughly the same price as last month. Generally, I'm keen to keep buying companies unless the price dramatically rises. As it turns out, just about everything I bought in February shot up. Fidelity Southern (NASDAQ:LION), and China Life Insurance (NYSE:LFC) didn't, however, so I bought more of both.
Finally, we have our two small or nanocap companies for the month that are probably off most people's radars. One of these is Computer Programs & Systems (NASDAQ:CPSI) and the other is Birner Dental Management (NASDAQ:BDMS). I aim to explain my logic for both of these in full-length articles soon, time permitting.
Disclosure: I am/we are long ALL THE INDIVIDUAL STOCKS MENTIONED.
I wrote this article myself, and it expresses my own opinions. I am not receiving compensation for it (other than from Seeking Alpha). I have no business relationship with any company whose stock is mentioned in this article.