Verizon Communications (NYSE:VZ) is one of the world's leading providers of high-growth communications services. Verizon companies are the largest providers of wireline and wireless communications in the United States. Verizon is also the world's largest provider of print and on-line directory information. On January 21, 2016, the company reported fourth quarter earnings of $0.89 per share which beat analyst estimates by $0.01. In the past year the company's stock is up 10.6% and is beating the S&P 500, which has lost 1% in the same time frame.
I bought the stock for the steady dividend portion of my portfolio and recently the company announced that it is shutting down TV apps due to lack of interest. It is with this bit of news I feel that it is important to evaluate the company on a fundamental, financial, and technical basis to see if it's worth adding additional shares to my portfolio.
Fundamentals
The company currently trades at a trailing 12-month P/E ratio of 12.37, which is inexpensively priced, but I mainly like to purchase a stock based on where the company is going in the future as opposed to what it has done in the past. On that note, the 1-year forward-looking P/E ratio of 13.33 is currently inexpensively priced for the future in terms of the right here, right now. The forward P/E value that is higher than the trailing twelve month P/E value tells us the story of earnings contraction in the next year. However, next year's estimated earnings are $4.06 per share while the trailing twelve month earnings per share were $4.37, I never like that. Next year's estimated earnings are $4.06 per share and I'd consider the stock inexpensive until about $61. The 1-year PEG ratio (7.36), which measures the ratio of the price you're currently paying for the trailing 12-month earnings on the stock while dividing it by the earnings growth of the company for a specified amount of time (I like looking at a 1-year horizon), tells me that the company is expensively priced based on a 1-year EPS growth rate of 1.68%. Below is a table of how the fundamentals fared each time I've written about the stock.
| | | | | | | |
| --- | --- | --- | --- | --- | --- | --- |
| Article Date | Price ($) | TTM P/E | Fwd P/E | EPS Next Yr. ($) | PEG | EPS Next Yr. (%) |
| 24Oct16 | 49.10 | 10.24 | 12.47 | 3.87 | 1.09 | 9.39 |
| 20Mar16 | 54.28 | 12.37 | 13.33 | 4.06 | 7.36 | 1.68 |
Financials
On a financial basis, the things I look for are the dividend payouts, return on assets, equity and investment. The company pays a dividend of 4.18% with a payout ratio of 52% of trailing 12-month earnings while sporting return on assets, equity and investment values of 7.4%, 142.1%, and 18.3%, respectively, which are all respectable values.
The really high return on equity value (142.1%) is an important financial metric for purposes of comparing the profitability, which is generated with the money shareholders have invested in the company to that of other companies in the same industry. The company ranks second highest in this category among the domestic telecom services industries (out of 18 total companies).
Because I believe the market may get a bit choppy here and would like a safety play, I believe the 4.18% yield of this company is good enough alone for me to take shelter in for the time being. The company has been increasing its dividends for the past eleven years at a 5-year dividend growth rate of 3%. Below is a table of how the financials fared each time I've written about the stock.
| | | | | | |
| --- | --- | --- | --- | --- | --- |
| Article Date | Yield (%) | Payout TTM (%) | ROA (%) | ROE (%) | ROI (%) |
| 24Oct16 | 4.56 | 47 | 6.2 | 61.0 | 19.8 |
| 20Mar16 | 4.18 | 52 | 7.4 | 142.1 | 18.3 |
Technicals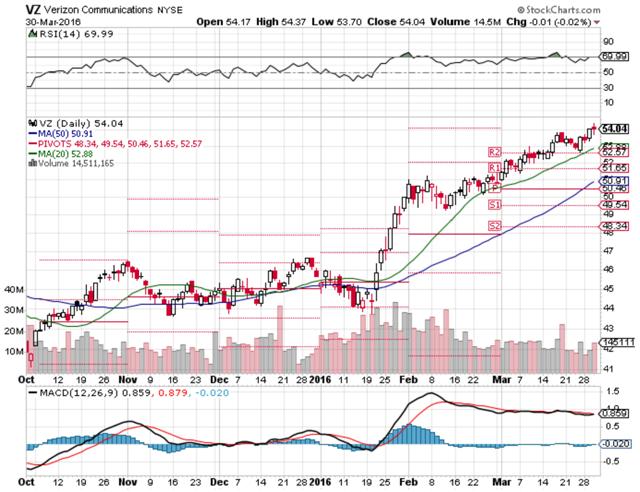 Click to enlargeLooking first at the relative strength index chart [RSI] at the top, I see the stock in overbought territory with a current value of 69.99 relative to the rest of the market. I will look at the moving average convergence-divergence [MACD] chart next. I see that the black line is even the red line with the divergence bars not moving in height which tells me bearish and bullish momentum are fighting against one another in the name. As for the stock price itself ($54.04), I'm looking at$54 to act as resistance and$52.57 t o act as support for a risk/reward ratio which plays out to be-2.7% to 0%.
Wrap Up
Fundamentally I believe the company to be inexpensively valued now on next year's earnings estimates and overvalued on earnings growth expectations with the caveat that next year's earnings estimates are going to be lower than the trailing twelve months. Financially the company pays a phenomenal dividend and has a great return on equity. On a technical basis the risk/reward ratio shows me there is more risk than reward right now.
Because the risk reward looks risky right now I've actually written a covered call at $54 because I actually don't believe it will remain this high . I like the name and will be holding it for the long-term but I don't mind giving it up for a bit of income.
Disclaimer: This article is in no way a recommendation to buy or sell any stock mentioned. This article is meant to serve as a journal for myself as to the rationale of why I bought/sold this stock when I look back on it in the future. These are only my personal opinions and you should do your own homework. Only you are responsible for what you trade and happy investing!
Disclosure: I am/we are long VZ.
I wrote this article myself, and it expresses my own opinions. I am not receiving compensation for it (other than from Seeking Alpha). I have no business relationship with any company whose stock is mentioned in this article.