Introduction
I last wrote about Kinder Morgan (NYSE:KMI) a month ago in an article describing why Kinder Morgan represented a good investment for Warren Buffett. Since then, the oil markets have changed significantly, and the company has continued changing its investment thesis from one centered around rapid debt fueled growth. As a result, Kinder Morgan's slogan has changed to "Run For Shareholders, By Shareholders" showing this continued commitment to shareholder growth.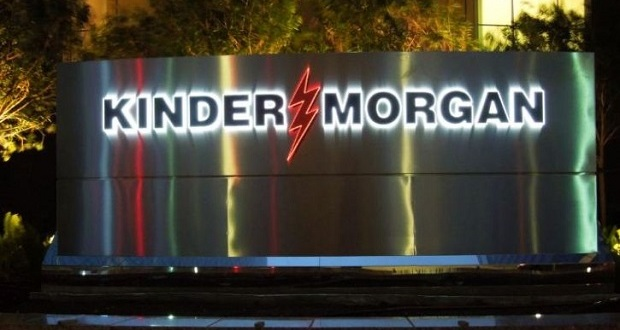 Kinder Morgan Logo - CDN Bakken
Kinder Morgan's latest investor presentation explains how the company is working towards achieving this goal. The goal of this article is to explain how Kinder Morgan has progressed towards accomplishing this goal and why the company remains a strong investment.
Asset Footprint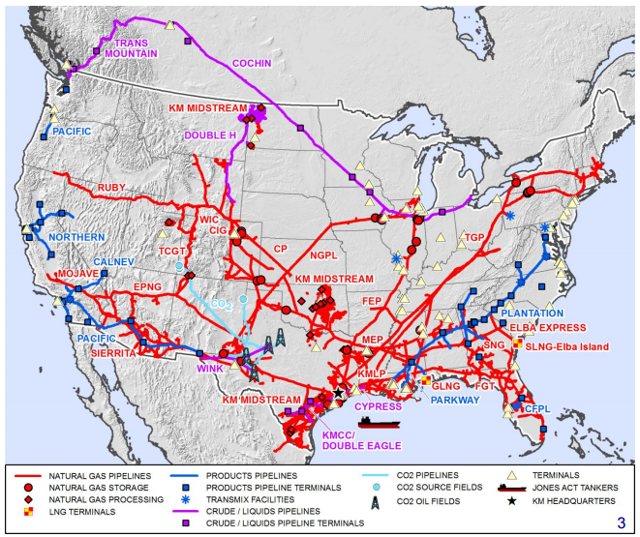 Click to enlarge
Kinder Morgan Asset Footprint - Kinder Morgan Investor Presentation
Let us first start by talking about Kinder Morgan's asset footprint. Kinder Morgan has an impressive asset footprint primarily centered in the United States. As a result, the company has benefited heavily from an increased demand for oil and natural gas in recent years - especially since 2008.
The company has also been focused on turning increasingly towards natural gas pipelines from oil pipelines. As electric cars become more popular in the United States, as evidenced by the rise of Tesla (NASDAQ:TSLA), the demand for oil will decrease. However, the demand for natural gas will continue to increase as environmentally-unsafe coal plants are phased out of usage.
The company is the largest independent transporter of petroleum products in North America and transfers 2.1 million barrels per day. At the same time, the company owns or has an interest stake in 69,000 miles of natural gas pipelines in the United States.
Lastly, Kinder Morgan has the only oil sands pipeline serving the West Coast. As conventional sources of oil run out and the world turns more to alternative, slightly more expensive but higher volume sources of oil, oil sands will become increasingly popular. Kinder Morgan's effective monopoly on the transport of such assets will help it out tremendously.
At the same time, Kinder Morgan has an $18.2 billion dollar 5-year growth Capex program. For a $39.5 billion dollar company market cap, this 5-year growth spending will increase the company's effective value by 50%, without adding any value to the company's ability to get premium projects due to its spending capabilities.
Management
Now that we have talked some about the company's asset footprint, let us talk some about the management. By investigating the management, we can get an idea of how attached this company is to shareholder interests.
Richard Kinder, the founder of Kinder Morgan, is the kind of guy loved by the bulls and hated by the bears. He is commonly known as the most successful of Enron's executives, the famous company that went bankrupt after scamming its shareholders and the general public.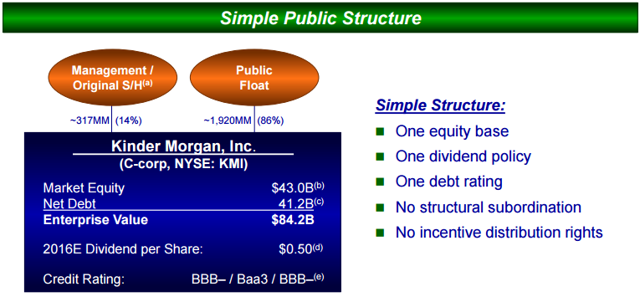 Click to enlarge
Kinder Morgan Simple Public Structure - Kinder Morgan Investor Presentation
The Kinder Morgan family of companies was consolidated almost two years ago into a single corporate structure that trades under Kinder Morgan. The company has a float of 2.237 billion shares, of which 14% are owned by management. Under management's 2016 dividend policies, the dividend will pay them $158.5 million or 25% of what it would under the old dividend policy.
The fact that management was willing to take an earnings cut equivalent to $475.5 million as a result of the dividend cut, shows how its faith in the long-term prospects of its business goes ahead of its desire for short-term earnings. Management took the enormous pay cut to maintain an investment grade debt rating, which will help itself out tremendously in the long run.
However, there is something negative for the long run that can potentially be seen from management's actions. Since 1997 when the company was created, Kinder Morgan has completed $54 billion of acquisitions and expansion projects. And yet the company's market cap is a mere $39.5 billion.
While the company's market cap was $98 billion a year ago and the company has paid out tens of billions of dollars through an impressive dividend yield for years, the fact that the company's present value is less than its acquisitions and expansions is disappointing. However, the fact that this represents the effective bottom of the cycle for oil, means that Kinder Morgan's ability to generate value is still impressive.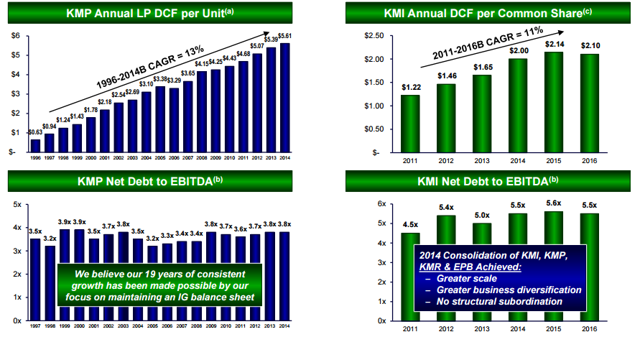 Click to enlarge
Kinder Morgan Growth Potential - Kinder Morgan Investor Presentation
In fact, in terms of distributable cash flow growth and distributions growth up until this year, Kinder Morgan's management has maintained impressive growth that should continue. At the same time, the company's Net Debt to EBITDA ratio has remained fairly constant with the exception of an uptick in debt from 2011-2012 due to a spike of growth.
Capital Investment
Now that we have a strong overview of the company's asset footprint along with a similarly good overview of the company's management, let us talk some more about the company's invested capital.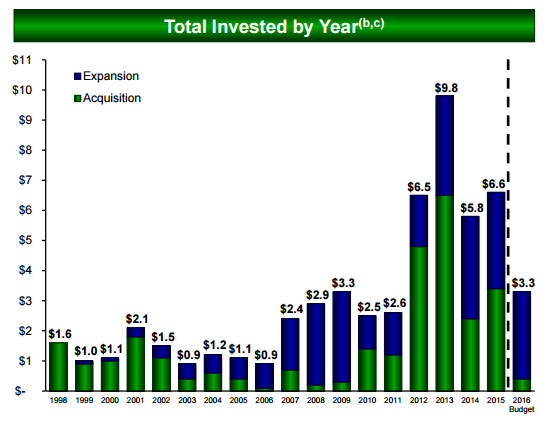 Kinder Morgan Total Invested By Year - Kinder Morgan Investor Presentation
Kinder Morgan has been rapidly increasing its investments in growth in recent years. The company has favored acquisition spending from 2012-2015, but after an immense pile on of debt and issues, the company has turned increasingly to expansion spending. Over the next several years, the company plans on spending approximately $5 billion a year in further expansion spending which should help its long-term growth potential.

Click to enlarge
Kinder Morgan Annual Returns - Kinder Morgan Investor Presentation
At the same time, throughout Kinder Morgan's history of investing capital, the company has managed to achieve strong returns on both equity and investment. While there is some sign of the company's returns dropping this is to be expected as the company grows and the number of large high potential projects decreases. 2015 was likely an anomaly in terms of performance as is to be expected when a bubble has burst.
However, there is something disappointing to be seen here. Kinder Morgan has become increasingly focused on KM Canada and Natural Gas Pipelines while decreasing investment in Carbon Dioxide. As a result, the company is becoming increasingly focused on investment in sectors that produce lower returns because they can handle higher rates of investments. That will bode less well for long-term growth.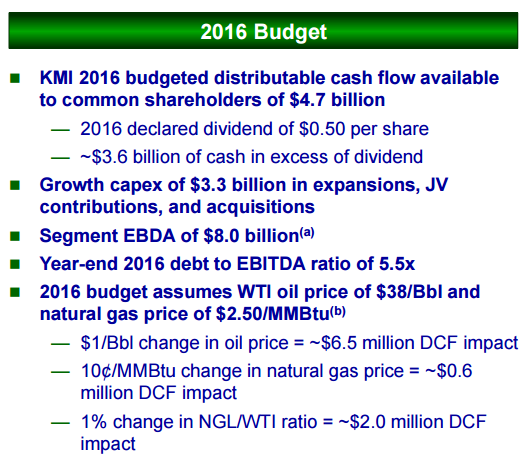 Kinder Morgan 2016 Budget - Kinder Morgan Investor Presentation
Now that I have talked some about the company's capital investment, it is time to talk more about the company's 2016 budget plan. The company, in the midst of an enormous oil downturn, is forecast to have 2016 distributable cash flow of $4.7 billion, of which $0.50/share will be a dividend leaving the company with $3.6 billion in excess cash.
The company's forecast growth Capex of $3.3 billion which leaves it with $0.3 billion to use for alternative things such as paying off debt. Here, there is some upside and downside. First, the 75% cut of the company's dividend leads to some clearly seen benefits. While the company would have been able to barely cover its dividend it wouldn't have been left with much for its growth.
The company has taken its $3.3 billion of saved dividend and put it into growth Capex. However, I am disappointed to see the company not spending any money on paying back its debt. While the company's debt is definitely manageable I would like to see the company spending some money to pay back its debt leaving it with the potential to take advantage of major future growth opportunities.
Lastly, the company should potentially look into expanding into natural gas production. While such markets are much more fluctuating, the transportation of such products is a limited market. Producing natural gas will allow the company to take advantage of a rapidly growing market with huge potential for increased profits. Beyond this, controlling the transport of such products will allow the company to lower its costs.
Counterparty Exposure
Now that we have talked about the company's enormous capital investment plans along with its potential and what I would do differently, it is now time to talk about the company's counterparty exposure, that is its exposure to the present oil crash.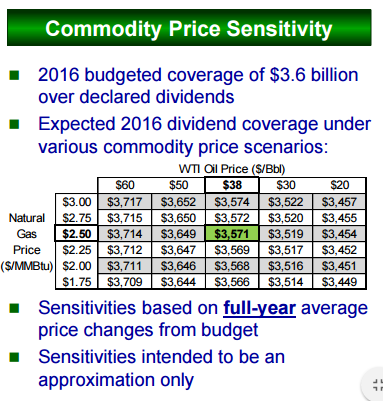 Kinder Morgan Commodity Price Sensitivity - Kinder Morgan Investor Presentation
To start, as a result of the company's reduced dividend, the company no longer has to worry about not being able to cover its dividend. The above image shows the expected spending based on oil prices of $38 and natural gas prices of $2.5 where the company has spare coverage of $300 million over its spending and dividend. Even if oil prices drop to $20 and natural gas prices drop to $1.75, the company will still have enough money to cover its planned budget program and dividend.

Click to enlarge
Kinder Morgan Top Customers - Kinder Morgan Investor Presentation
Now let us talk about the company's risk from customers. Kinder Morgan is a major company that deals primarily with other major companies and the quality of the contract is unimportant if the customer goes bankrupt. Kinder Morgan's average company generates 0.10% of the annual revenue but the top 25 companies represent 44% of its revenue while the top 209 represent 83% of its revenue.
While the company's revenue here is impressive, there is something potentially dangerous here. Each of the top 25 companies represent on average 1.76% of the company's revenue and ~4 of these companies are rated BB or below. Should for example all 4 of these companies fail, not an unlikely prospect during an oil crash that could cost the company $300 million per year approximately ~ or enough to wipe out its entire buffer balance.
Conclusion
Throughout this article, we have spent a long time talking about Kinder Morgan including its management, asset footprint, capital investment, and counterparty exposure. While we have identified some potential sources of improvement including spending more money on paying back debt, and minimizing exposure for bankruptcy, the company has shown its management cares about the long-term shareholders.
The company has $18.2 billion of identified growth projects which historically have provided the company with a yield on both equity and investment of over 10%. That means these growth projects should provide the company with an additional $2 billion or more of distributable cash flow which can go towards increasing the dividend almost back up to the previous level.
Even without increases however, the company still offers a dividend yield of almost 3% that has high potential for growth since the company's last dividend yield of almost 12% was still manageable but left minimal room for growth. At the same time, should the company's stock price recover it can issue equity to pay back its debt allowing future growth.
Disclosure: I am/we are long KMI.
I wrote this article myself, and it expresses my own opinions. I am not receiving compensation for it (other than from Seeking Alpha). I have no business relationship with any company whose stock is mentioned in this article.