The markets were up - yet again - on Wednesday. But it was much less than a resounding victory for the bulls. Both the S&P 500 (NYSEARCA:SPY) and Nasdaq (NASDAQ:QQQ) ended the day with gains of less than 0.5%, and both fell heavily from the day's highs.
Most notably, commodities continue to underperform. Copper (NYSEARCA:JJC) dropped again. The metal is really becoming a thorn in the bullish argument.
Oil (NYSEARCA:USO) also pulled a big reversal. It was up as much as 3% Wednesday morning, and spiked higher following what appeared to positive inventory numbers. Inventories of oil, gasoline, and distillates were all below expectations. And yet, oil couldn't sustain its gains - fading 4% off the day's high to close with a loss. This is on top of Tuesday's big drop even with the Yellen market prop.
At the other end of the risk spectrum, biotechs (NYSEARCA:XBI) resumed their fall. With both basic materials and risky new economy stocks losing any momentum they picked from the Fed comments, it's worth considering if the effect of Yellen's capitulation will be short-lived.
Brazil: Observe Closely
Perhaps the best indicator of global risk appetite - Brazil (NYSEARCA:EWZ) put up an ugly day. It started the morning much higher, moving to new 8-month highs. But by the end of the day, the gains were gone and the breakout had failed: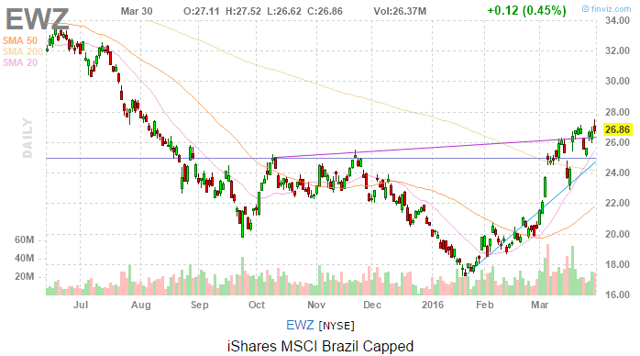 Investors who use fundamentals have been frowning at the Brazilian move - now almost 60% up - off the lows. The country is running a 10% of GDP budget deficit, the government is already junk-rated, and state-run oil giant Petrobras (NYSE:PBR) is leaking at a rate that would make even a BP offshore platform blush.
The country is woefully unprepared for the Olympics, setting the stage for an even more chaotic experience than the unruly 2014 World Cup. Zika continues to breed concern.
And that's to say nothing of the political mess. The West has become convinced that Rousseff will be forced to resign, and that when she does, political power will transfer peacefully. This is expected to somehow bring into being a new government that is investor-friendly, and to end the worst economic tailspin in the country in more than a century.
Even disregarding the fact that the country's vice president would be little improvement, and that Rousseff has said she won't resign under any circumstances, this is still hopelessly magical thinking. How many times have Latin American countries peacefully overthrown a corrupt left-wing government and replaced it with a friendly and upright pro-capitalist one without causing major social unrest?
I've read multiple articles suggesting (wishing?) that Rousseff and her Socialist friends will step aside and eagerly hand over power to conservative, pro-business people such as Joaquim Levy. This sort of voluntary release of power to your 180-degree ideological opponents hardly ever happens even in the first world. Why would it happen in one of the world's most corrupt third-world states? I wonder if the Brazilian bulls have ever spent a single day in Latin America.
At the risk of ranting, let me get back to the point. Recent data suggests Brazilian locals are heavily selling stocks to foreigners. Good on them. Economic data since January continue to be negative in Brazil - the 60% rally is almost all driven by general commodity bullishness and a complete misreading of the political situation by foreigners.
In short, there's little reason for Brazilian stocks to be up. This is an example of irrational exuberance by uninformed outsiders bidding a junk asset class way up. The foolishness has been made possible by the same perfect storm of bullish factors that have propped up oil and global equity markets since January.
Brazil is a much bigger version of the same sort of trade that sent zombie energy companies screeching higher a few weeks ago. At this point, I believe Brazil is one the single best global indicators of risk tolerance. It takes a great deal of bravery to buy that index up 60% in two months while the country heads toward a potential civil war as the government dissolves.
Other perilous emerging markets, such as Turkey (NYSEARCA:TUR), have taken the liberty of following Brazil's silly season. Turkey is up 30% in recent weeks, despite that country being a focal point for geopolitical tensions and also having a severely dysfunctional government.
When the "smart money" in New York and London starts having doubts on the longevity of the upswing, these outposts for international hot money will get hit hard and fast. Once you see Brazil drop 10% or 20% in a week, look out, because the rest of the world will then be on watch for a correction.
More Multinational Troubles: Boeing Edition
Boeing (NYSE:BA) announced it'll be cutting about 10% of its commercial aviation workforce, or around 8,000 people.
Airbus (OTCPK:EADSY) has gained dominance in the aircraft wars recently, seeing its market share for orders rise to 57% in 2015. The Guardian reports:
[Boeing], maker of the famed 747 jumbo jet and the US's biggest exporter, has been overtaken as the world number one for future orders by Airbus. Conner told employees Boeing needed to slash costs because it was in a price war with its European rival.

"Their biggest weapon that they're using... today is price. They are attacking us with price in every single campaign [for orders]. And as a result of that, you know, we're being pushed to the wall," he said.
As you can see, Boeing is losing share and having to cut jobs because it is losing on pricing wars. Why is it losing on price wars?
Simple, the euro (NYSEARCA:FXE) used to trade generally between 1.30 and 1.45 to the dollar. At 1.10 to the dollar, Boeing faces a 20% loss of competitiveness against Airbus simply due to the effect of currency.
As long as I've been writing this daily column, I've been warning that the overvalued US dollar (NYSEARCA:UUP) will surely lead to trouble. Yes, it's nice to be the strongest economy on the block, but it comes with its own set of problems.
In a world as globalized as ours, you can't operate as an economic or political island anymore. While the Fed may be backing away from their excessive hawkishness now, the ill effects of the overvalued dollar are already coming home to roost.
Take Boeing's 8,000 job cuts and multiple it across dozens of other multinationals that are facing similar layoffs to react to pricing pressure from European and Japanese competition, and you have the seeds of the next recession. While this recovery has generated plenty of service jobs, the loss of high-quality jobs is much harder to overcome.
Disclosure: I am/we are short EWZ.
I wrote this article myself, and it expresses my own opinions. I am not receiving compensation for it (other than from Seeking Alpha). I have no business relationship with any company whose stock is mentioned in this article.
Editor's Note: This article discusses one or more securities that do not trade on a major U.S. exchange. Please be aware of the risks associated with these stocks.