Activision Blizzard (NASDAQ:ATVI) has produced some of the most successful gaming franchises of all time, including the World of Warcraft and the Call of Duty series. While many of its video game creations have been unique and innovative, the stock has far outran the fundamentals of the company. While the company has seen no real sales growth in the last five years, the stock has nearly quadrupled as you can see below.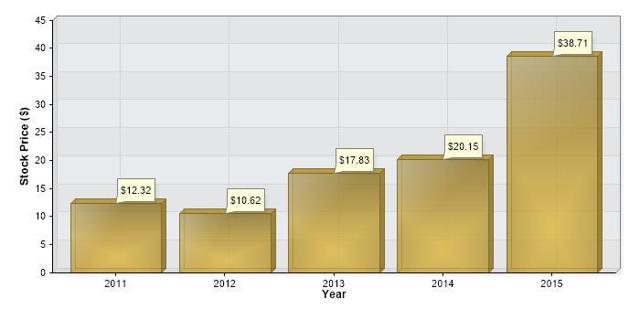 With price far outpacing fundamentals, along with flat sales due to aging game series, the opportunity has come to short Activision.
If one looks strictly at Activision's EPS growth over the last 5 years, it makes sense why the stock has seen such an advance. However, digging deeper reveals the key driver of these earnings, and how they were achieved. Look at total revenues for the company over the last 7 years.

Click to enlargeAn examination of this chart would lead most to assume that without any revenue growth, earnings would have followed a similar path. However, Activision's earnings grew 32% from 2011 to 2015. This large amount of growth was due not to revenue gains, but rather a 37% decrease in the total amount of shares outstanding. The company used substantial amounts of cash a debt to drive its earnings growth via buybacks, and in turn its stock price soared!
Due to the artificial increase in earnings, the stock is now far above what would be considered "fair value." Looking just at the P/E ratio of 77, the company looks grossly overvalued. Digging deeper and applying Ben Graham's valuation method, the company still looks expensive. Assuming EPS of $1.20 and a 2% growth rate in earnings, the current intrinsic value of Activision is $12/share assuming a 4% 30 year treasury yield. This means Activision is trading 183% above fair value!
While previous years' growth has mainly been driven by methods outside of revenue increases, the future for Activision's revenue streams may be growing darker still. An excellent example of this is the Call of Duty Series. Look at how total sales have trended for recent Call of Duty titles.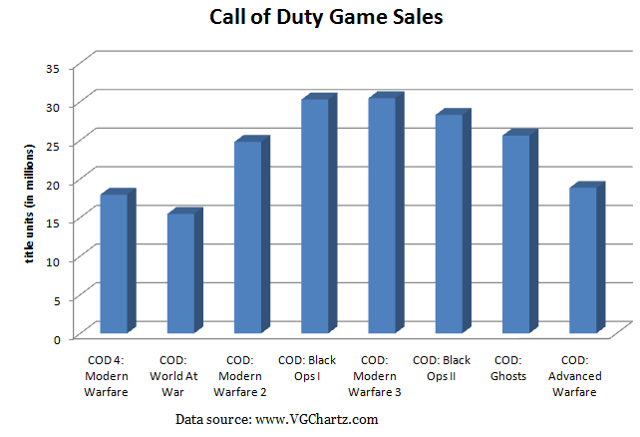 Click to enlarge
It is quite clear that this particular game franchise has hit its peak sales and is now in decline. Activision is trying to introduce new and exciting game franchises, but to do so takes tremendous amounts of money and more importantly time.
With sales that are stagnate, a stock price grossly overvalued, and aging franchises which will only compound current revenue problems, Activision is a stock which should be shorted. Until either the stock returns to fair value or the company proves to shareholders it can grow its EPS through organic revenue growth, attacking Activision from the short side is a game worth playing!
Disclosure: I am/we are short ATVI.
I wrote this article myself, and it expresses my own opinions. I am not receiving compensation for it (other than from Seeking Alpha). I have no business relationship with any company whose stock is mentioned in this article.