Earlier this month, I had focused on why Plug Power (NASDAQ:PLUG) shares will continue to rise post earnings. Now, since Plug Power released its latest set of results on March 10, the stock has appreciated to the tune of 9%. This is not surprising if we consider that Plug Power posted a terrific rise in its revenue and met the bottom line estimate. What's more, Plug Power's outlook also stood out as it expects its impressive growth to continue in 2016. So, in this article, we will take a closer look at the reasons why Plug Power is capable of achieving its targets this year, which will allow it to sustain its rally.
Ambitious targets
After having grown its revenue by 61% in 2015, Plug Power expects its revenue to grow more than 50% to $150 million in 2016. Now, this rosy outlook looks realistic for two reasons. First, Plug Power's contract bookings increased an impressive 33% to $205 million last year, exceeding its target of $200 million. This strong contract backlog sets Plug Power on the way to improving its revenue further this year.
Second, Plug Power anticipates that it will be able to improve its contract backlog further this year to $275 million, indicating growth of almost 38%. Now, Plug Power anticipates that its contract backlog contribution to its revenue will rise to 70% in 2016 as against 50% last year. This means that Plug Power will be realizing its contract bookings at a faster pace this year. So, what is the reason behind Plug Power's ambitious targets that it has set for itself this year? Let's take a look.
A growing end market
The use of fuel cell technology has increased at an impressive pace in the past few years. Global shipments of fuel cells, including portable, stationary, and transport segments, have increased by 90,000 units from 2009 to 2014, and then in 2015, shipments increased by 51% in just a year. This is shown below: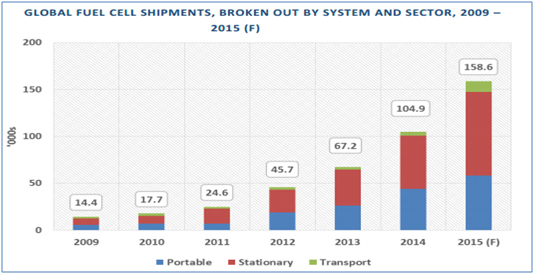 Now, it seems that Plug Power has taken the advantage of this rapid spurt in shipments of late by growing its revenue and backlog impressively last year. The company was able to do this because it expanded its product line by adding stationary products such as the ReliOn system and the TRU range extenders, which allowed it to tap growth in the stationary products segment.
Looking ahead, the trend is anticipated to continue as Plug Power anticipates that the market for stationary applications will grow at a CAGR of 21.5% until 2018, while GenKey will record 6.3% growth, as shown below: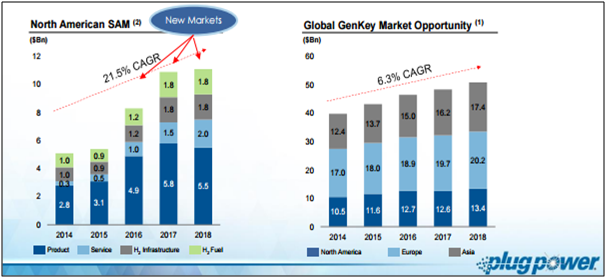 Source: Plug Power
Now, given the customer acquisition moves that Plug Power has made in the past year, it is quite likely that it will be able to make the most of the end-market opportunity. Let's see how.
The reasons behind the expected top line growth
In order to bolster the top line going forward and tap the end-market opportunity, Plug Power has been adding new anchor accounts that are expected to drive a sizable portion of the company's sales. For instance, Plug Power counts Wal-Mart (NYSE:WMT) and Kroger (NYSE:KRO) as anchor accounts already, and it added the likes of BMW, Volkswagen, and Lowe's (NYSE:LOW) to this category last year.
The benefit of anchor accounts is that Plug Power can install its solutions at multiple sites that these customers have. One such example is the continued expansion of its GenKey sites with Wal-Mart. The company rolled out 10 GenKey sites at Wal-Mart's distribution center across North America last year. Now that Plug Power has added more anchor accounts last year, it can now continue to increase its installation base further, and this will have a positive impact on the top line.
Apart from anchor customers, Plug Power also added eight new customers in 2015, including Nike (NYSE:NKE), The Home Depot (NYSE:HD), Colruyt and Prelodis in Europe, Uline, FreezPak, etc. The important thing is that although some of these customers have small distribution centers, such as Uline, but they have over 150 units deployed already. Therefore, as Plug Power enhanced its customer base last year, it will be able to deploy more units in 2016, which will improve its revenue performance.
What about the bottom line?
Plug Power is focused on improving its margin by strengthening the product mix, apart from reducing administrative costs and redesigning the infrastructure skid to reduce its hydrogen storage costs. As a result of these efforts, Plug Power's GenDrive product gross margin has improved to 25% from a negative 20% a couple of years ago. This is a big deal for the company as GenDrive accounted for nearly 50% of Plug Power's total revenue in 2015, which means that better margins in this category this year will enable the company to improve the bottom line.
Meanwhile, on the infrastructure front, Plug Power is making small improvements that will contribute to a better gross margin performance in the future. For instance, in the service business, the company has managed to reduce the transit time for its technicians at customers' sites, while adding infrastructure that will allow it to keep an eye on its units remotely in a real-time basis.
In all, Plug Power anticipates that these initiatives will drive its margin significantly in the coming years. Plug Power believes that all of its product lines will achieve a mid-30% margin profile in the long run.
Conclusion
As evident from the discussion above, Plug Power has a strong opportunity available in the end-market that it can tap with the help of a strong customer base. Additionally, the company's focus on margin growth will lead to a better bottom line performance in the long run. So, according to me, remaining invested in Plug Power is a good idea as more upside cannot be ruled out due to further growth in its financials going forward.
Disclosure: I/we have no positions in any stocks mentioned, and no plans to initiate any positions within the next 72 hours.
I wrote this article myself, and it expresses my own opinions. I am not receiving compensation for it (other than from Seeking Alpha). I have no business relationship with any company whose stock is mentioned in this article.