In late January we were very tempted by Tiffany & Co. (NYSE:TIF), feeling the shares were very cheap, but opted to sit on the sidelines and watch what unravels rather than buying into one of America's most iconic companies. Since then the share price has climbed by 18% and things are looking a lot more positive.

Click to enlarge
Nobody likes to turn up late to the party, but we don't think the party is over by any means. So we have recently bought shares in Tiffany at long last. The improved performance of both the company and the stock has reinforced our view that this is a good long-term investment.
As you can see on the chart below the share price has rebounded strongly this year, but is still a long way from its high of the last year or two. We believe the company is positioned well enough to reach these highs again in the next couple of years as investor sentiment shifts positively.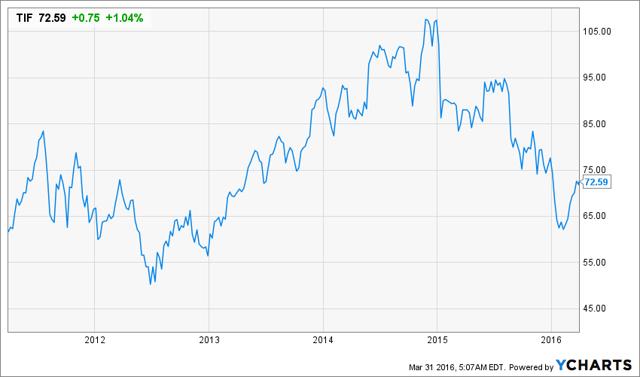 Click to enlarge
Investor sentiment was one of the key reasons we didn't buy the shares last time. Trading at a price-to-earnings ratio of just 16 looked like a bargain, but we were concerned they wouldn't climb back to our target multiple of 20 times earnings. But lo and behold they have. At a price-to-earnings ratio of 20 this will provide us with strong returns in the future that make an entrance, even after the strong rally, more than worthwhile.
Although the strong dollar has been a major headwind for the company, it has shown weakness recently which could be a big boost to the company's top line. With many now expecting Janet Yellen to increase interest rates just once in 2016 (if at all, if you ask some) then the strength of the US dollar could be limited substantially.
The strong dollar has a negative impact on the company in a couple of ways. It negatively impacts its foreign earnings when converted to US dollars, but it also has an impact on US inbound tourism and the amount of spending from these tourists. Tiffany's iconic Fifth Avenue store in New York is a big tourist hotspot, and the store counts on tourists for about 40 percent of its sales. As the company produced an increase in sales year-over-year on a constant currency basis, any weakening of the US dollar is going to be viewed very positively.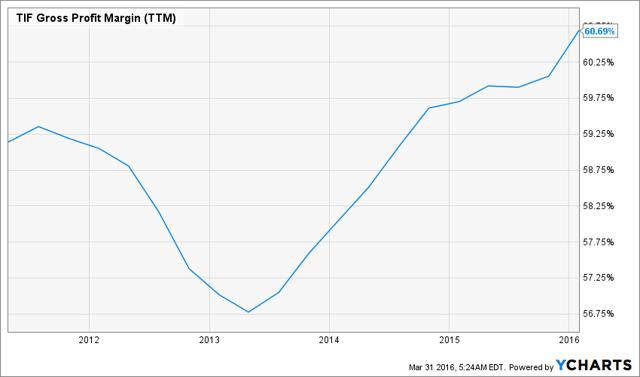 Click to enlarge
We have been very pleased with the expansion of the company's gross margin, as you can see above. If it can maintain this high level with a slightly weaker US dollar then the company's overall profitability should increase.
We do still feel the company will have to fight for the millennial and Generation-Z demographics in the future. We spoke previously about how there were concerns that the younger generations were shying away from luxury items. It is believed that they value experiences and technology over items like those Tiffany sell.
We do believe this is definitely something the company needs to address. But, it may not be as bad as we first thought. For a lot of people Tiffany is a special purchase. Few will accessorize with Tiffany jewelry, so the fact that Forever21 sells extremely cheap jewelry doesn't really take anything away from Tiffany. Few parents will buy their daughter a piece of jewelry from Forever 21 for her 21st birthday, yet many will opt for a piece from Tiffany.
Finally, we expect China's rapidly growing middle class will be a big boost to long term growth. China's middle class is expected to climb to 100 million by 2020. The spending power of this middle class and its love of luxury goods is a big reason why we have now invested with a long-term view. There will be many ups and downs along the way we are sure, but this 179-year old company still has its best days ahead of it in our view.
As we said at the beginning, a price-to-earnings ratio of 20 seems a good fit for Tiffany in our opinion. Although Tiffany's management offered disappointing guidance for the year ahead, we see the weakening US dollar and rises in disposable income as being catalysts to an improved performance. The general consensus is for earnings per share of $3.78, but we are more bullish than this. We expect earnings to come in at $3.88 per share. We believe the company will have had a great first quarter that sets it up for the full year.
This brings us to our one-year price target. For us it is $77.80, which is upside of just short of 7%. Add in the dividend that yields 2.25% at present (and growing) and you have yourself a sizable return. For us, though, this is a long-term investment and we expect to see strong returns for years to come.
Disclosure: I am/we are long TIF.
I wrote this article myself, and it expresses my own opinions. I am not receiving compensation for it (other than from Seeking Alpha). I have no business relationship with any company whose stock is mentioned in this article.