We have professed our love for Lululemon (NASDAQ:LULU) a couple of times now and feel no different this week after the company's excellent fourth quarter results. It now appears to us that no speculating is necessary on the future of the company, everything looks as though it is positioned for a great fiscal 2016. We see a lot of upside in the next twelve months and continue to hold onto our shares despite the rapid ascent of its share price.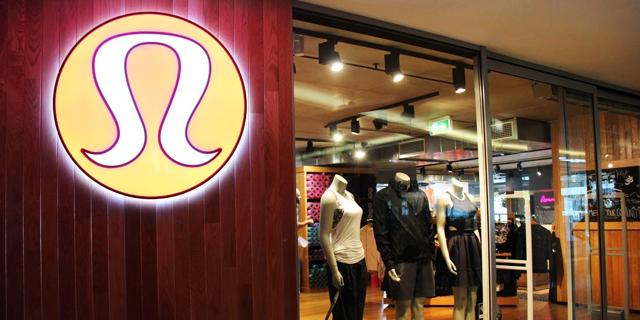 Click to enlarge
As many of you will be aware, Lululemon was one of a number of retailers that got caught up in the West Coast port slowdown back in late 2014. This caused significant delays with inventory and the company resorted to using air freight to fly in a lot of inventory in order to get it onto shelves. Not only was this more expensive and brought about unexpected headwinds, it also meant the company ended up with increasing levels of inventory.
Markdowns on inventory, especially for a company like Lululemon which operates at the premium price-point, is incredibly damaging for margins and can trigger a vicious circle of further discounting. For example, if a consumer decides to buy a discounted item instead of a full price item, not only is it less revenue, but that full price item that would have been bought now goes unsold. Potentially becoming a discounted item in the future. This theoretically could go on indefinitely.
So, rising inventory levels have been a real concern for investors. Thankfully, though, a lot of progress has been made and the company has reported that incremental markdowns helped it clear inventory in the fourth quarter. This is exactly what we wanted to hear. We had speculated that this would be the case, having made site visits, but having it confirmed was music to our ears.
Sales from stores open for at least one year increased by 11% in the last quarter, exceeding the 8.5% increase analysts were expecting. This strong performance gives us confidence that the company will outperform its guidance in the year ahead.
The rise in the athleisure trend, fresh inventory, its increasingly strong brand loyalty, and rises in consumer spending power should help make this less of a possibility and more of a certainty in our opinion.
In the long-term we see the company's Ivivva brand as being a key catalyst to maintaining this excellent performance for the next decade. The Ivivva brand is not just a rapidly growing segment with a lot of growth ahead of it, but a brilliant way of creating the next wave of Lululemon customers. It targets the active tweens market providing activewear for activities which include swimming, gymnastics, running, and dancing to name just a few. The company almost doubled its Ivivva store count in the last fiscal year when it increased from 22 to 43 stores. We expect similar growth to take place in fiscal 2016.
Management offered this guidance for the year ahead:
"For the full fiscal 2016, we expect net revenue to be in the range of $2.285 billion to $2.335 billion based on a total comparable sales increase in the mid-single digits on a constant dollar basis. Diluted earnings per share are expected to be in the range of $2.05 to $2.15 for the full year. This guidance assumes 138.0 million diluted weighted-average shares outstanding and a 30.2% tax rate. The guidance does not reflect potential future repurchases of the Company's shares."
The market is expecting earnings per share of $2.16, which is just outside the guidance offered. We are even more bullish on the company's prospects and see the company achieving earnings per share of $2.20 on revenue of $2.4 billion.
We expect margins to increase in the year ahead, helping to deliver on our earnings forecast. Gross margin dropped 250 basis points in fiscal 2015 due to a combination of factors. 70 basis points was attributed to a decrease in product margin from markdowns which should be eliminated now, and we hope to see improvements in product costs which attributed 90 basis points.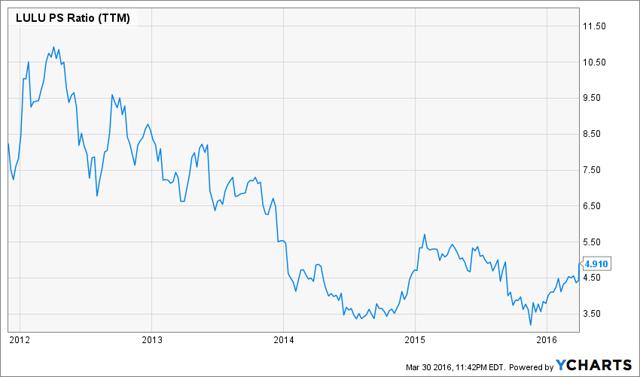 Click to enlarge
We believe that 4.5 times sales is a fair multiple to value the shares on. Which if we use our forecast of $2.4 billion revenue, together with the company's estimate for 138 million shares outstanding gives us our price target of $78.26.
Our price target of $78.26 represents a return of 15.2% from the last trade price. This for us makes the shares a great investment today and we intend on holding our position for the long-term.
Now that the company has freed itself of excess inventory, we believe it will be able to capitalise to an even greater level on the growing athleisure trend and heightening levels of consumer spending power. We expect the company's strong brand loyalty will keep consumers coming back in store repeatedly, and its ambassadors will continue to raise awareness and help develop its men's range.
Disclosure: I am/we are long LULU.
I wrote this article myself, and it expresses my own opinions. I am not receiving compensation for it (other than from Seeking Alpha). I have no business relationship with any company whose stock is mentioned in this article.