We have been fortunate enough to have had a good bit of success this year so far. But one of our least successful investments has been in Carnival Corporation (NYSE:CCL). This comes as a big disappointment as we have been very bullish on the prospects of the cruise line industry as a whole in 2016. There are a number of key catalysts which we expect will drive the industry forward, though, which means it is definitely worth holding onto your holdings for a while to come.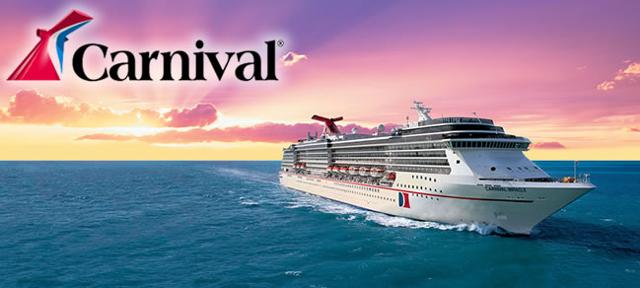 The company reported its first quarter results on Wednesday and we were very happy with what we saw. Despite the struggles the industry faced from lower demand in the Caribbean due to the Zika outbreak, the company managed to beat market expectations. It produced earnings per share of 39 cents, 7 cents ahead of expectations. It also beat on the top line by $20 million, with its $3.65 billion.
The market clearly hadn't been expecting this if you judge by the share price movements since we first spoke about the company, shown below.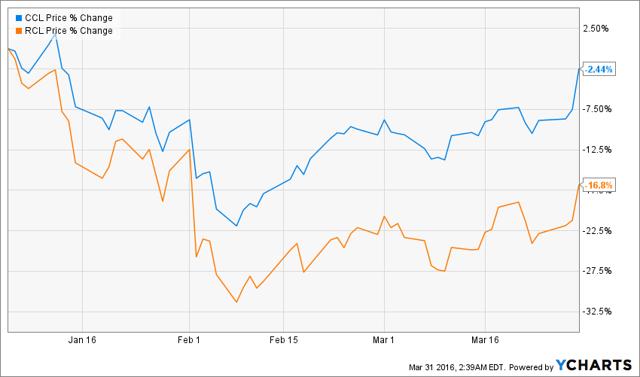 The share price has recovered most of its losses now having been down by as much as 20% at one stage. Anyone buying in on those lows has done very well for themselves, but we would still suggest they hold on longer as we feel quite sure there are plenty more gains ahead for Carnival. Royal Caribbean (NYSE:RCL) could also be worth considering as it has yet to recover fully from its losses and still remains down by almost 17% despite rallying strongly on the back of Carnival's results.
The reason we are sticking with Carnival is because there is an incredible demand coming from the massive Chinese market. Although it represents just 5% of the company's global capacity, China is set to become the biggest cruise line market in the world very soon. According to Euromonitor, the Chinese market is expected to almost double to $11.5 billion in sales by 2018.
With 100 million outbound Chinese tourists and a rapidly growing middle class, it is really is the future of the cruise line industry. So much so that Carnival Corp last year formed a $4 billion joint venture with two Chinese state-owned firms in order to launch a cruise line focused purely on the fast-growing Chinese market.
Elsewhere, there is a lot of excitement about the new AIDAprima ship. These are the first of a next­-generation platform for AIDA ships that combine leading environmental attributes and well designed features that will deliver an exceptional guest experience. The ship provides guests with everything from an ice rink to a German spa, and even a Christmas market. As you might have guessed it has been designed almost exclusively for its German guests. Similar can be said for its Holland America flagship - the Koningsdam. Each expertly caters to a particular demographic exceptionally well in our opinion and we expect to see this formula, which has worked so well in the past, continue to work well in the future.
Recently Carnival was the first cruise line company to be given approval to set sail for Cuba. We feel this could be a big selling point for the company in the future. The Chinese are seemingly very interested in Cuba as well. The Carnival CEO Arnold Donald was there recently and was overwhelmed by the number of Chinese tourists he saw. Tapping into this demand could be very lucrative.
Everything is looking very positive for Carnival at present. Increasing demand for cruises and low fuel costs are the perfect combination and we expect to see a strong performance for the rest of the fiscal year and next. This has enabled the company to positively narrow its guidance for full year earnings to $3.20 to $3.40 per share, from $3.10 to $3.40. We are anticipating earnings coming in at the high end of guidance at $3.40 per share.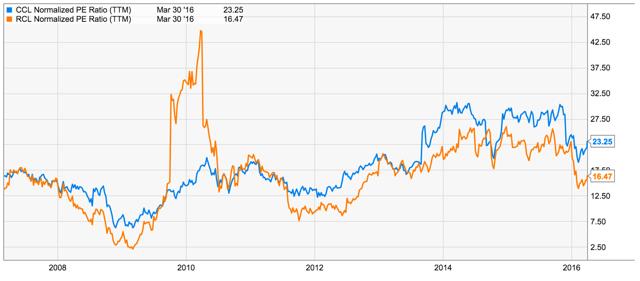 Source: Ycharts
As you can see above, the shares have had a tendency to trade in or around 17.5 times earnings in the last 10 years. They are admittedly up and down, but then so are the earnings of cruise liners. We now feel this is a fair multiple and very much comparable to competitor Royal Caribbean.
At 17.5 times earnings we have a price target of $59.50 on the shares. This is representative of upside in the region of 13.6% from the last close price.
Investments in the cruise line industry are dependent on a number of macroeconomic factors in our opinion. At present these factors all seem to be positively aligned, which has the makings of a great investment today.
Disclosure: I am/we are long CCL.
I wrote this article myself, and it expresses my own opinions. I am not receiving compensation for it (other than from Seeking Alpha). I have no business relationship with any company whose stock is mentioned in this article.