Just when I thought that Peabody Energy (NYSE: BTU) was quietly heading for bankruptcy, the company has released an 8-K which stated that it continued to work on the Bowie deal. The 8-K stated that Peabody waived its termination rights until April 7 and Bowie waived its termination rights until April 15. Companies intend to use this time to evaluate alternative payment structures which may include cash and non-cash consideration.
This news will most likely bring some life into Peabody's shares, which were trading in a mostly flat line after the company decided to exercise a 30-day grace period on interest payments. The Bowie deal was the cornerstone of optimism for the remaining Peabody bulls, as the company needs liquidity badly. However, Bowie was not able to find financing for the $358 million deal, and Peabody found itself on the verge of bankruptcy.
In a separate note, Peabody Energy announced that it was reducing approximately 235 positions at the North Antelope Rochelle mine. The company stated that it was forced to do this in order to match production with customer demand. This is bad news, as Powder River Basin was the stronger mining region. However, PRB prices stabilized at low levels which indicates the continuing weakness of demand.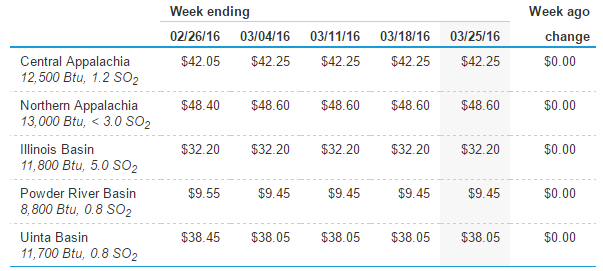 Source: EIA
This is an important development as Peabody needs improvements in the coal markets to make survival with the current capital structure a viable alternative. Even if Bowie deal is closed, it will provide just a breather for Peabody Energy as the company's debt load is not sustainable in the current market environment.
It's important to note that the 8-K indicates that the initial $358 million deal will turn into something else. The evaluation of non-cash alternatives is bad news, as the sole thing that Peabody needs now is cash. I believe that even if the deal is ultimately closed, the resulting outcome will be less than $358 million and the cash consideration may be significantly less than the original sum.
In my view, the Bowie deal may provide a short-term liquidity patch for Peabody Energy and the company may even choose to pay the due interest. However, I do not think that the positive outcome of the deal will change the big picture for the company.
First, it is already evident that Peabody will get less money than originally expected. Any inclusion of "non-cash" alternatives will make things worse. Second, coal markets don't get any better and Peabody may be faced with very low coal prices when it signs future contracts. It is clear that Peabody cannot afford lower prices as it is already losing money with current prices in the contracts.
Speaking about practical implications of the news, Peabody Energy may present an opportunity for short-term speculation. The company's shares have previously rallied without any fundamental developments in the beginning of March, so a similar scenario may be in play now.
From a long-term point of view, I believe that the company is doomed to restructure and completely wipe out current shareholders. The potential deal may prolong the agony, but the debt load in combination with low coal prices make Peabody's survival impossible.
Disclosure: I/we have no positions in any stocks mentioned, but may initiate a long position in BTU over the next 72 hours.
I wrote this article myself, and it expresses my own opinions. I am not receiving compensation for it (other than from Seeking Alpha). I have no business relationship with any company whose stock is mentioned in this article.
Editor's Note: This article covers one or more stocks trading at less than $1 per share and/or with less than a $100 million market cap. Please be aware of the risks associated with these stocks.