There is a well known joke about an Armenian man and a Georgian man. Apologies if this offends anyone, but it is so analogous to the behavior of Armenian founded Hovnanian Enterprises (HOV) that I think it's relevant. It goes like this: there is an Armenian man drowning in a lake and a passing Georgian pulls him out and revives him. The Armenian is so grateful he pulls out his checkbook and offers it to him as a reward. The Georgian retorts, 'but I cannot withdraw from your account', to which the Armenian replies, 'I know, but you can deposit'!
Unfortunately, for any buyer of HOV's preferred stock, the perpetual 7.625% coupon HOVNP, the joke has been on them. HOVNP IPO'd at the height of the US property market bubble in 2005. Investors were so bullish real estate they ignored the inflated price and unfavorable protective covenants, piling in to the tune of $125m. This is typical investor behavior during a bubble, even if it is easy to say so now with hindsight. HOV peaked only 3 weeks after the IPO and fell from an all time high of $73.40, to a low of $0.5 in '09. A similar fate befell the preferred stock, and dividends were suspended in '07 with little chance of being re-instated due to stipulations in the small print. Seeking Alpha contributor Richard Lejeune covers the weaknesses in these covenants in his excellent article here. Anyone participating in preferred stocks should familiarize themselves with this information; forewarned is forearmed. He rightly (in my opinion) places HOVNP in the Preferred Stock Hall of Shame, and since that article was published, HOVNP has been sliced in half again, now trading at $2.26. What I want to explore in this article is if there is any value at all left in HOVNP, what HOV could do to realize this value, and how we can reduce risk on any speculative bets.
Most of my articles deal with mathematical formulas and statistics, but I also appreciate a good story when I see one. The story of Kevork Hovnanian, an ethnic Armenian originally from Iraq, is a classic tale of the American dream come true, only to be smashed to pieces by the greed of the housing bubble. Back in 1959 Kevork Hovnanian and his three brothers chipped in $1k each, borrowed $20k, and created the foundations for a construction company that would become America's 6th largest homebuilder. From humble beginnings selling budget condos, HOV's valuation peaked at $4.5bn in 2005. However the reckless acquisitions of other home builders at premium before the crash, and it's current crippling debt (reported at $2.6bn), puts in question its very existence.
HOV's revenues are rising modestly, but there is no way we can safely buy common with a long term approach. Preferred stock is also a risky play, with no hope of ever receiving a dividend. Perhaps the best you could hope for is to be converted into common at a decent premium. This won't satisfy long term holders, but anyone buying below $3 should do pretty well. However, buying anything with 'hope' anywhere in your analysis should be avoided. What we do know, and this has statistical proof that I have written about before, is that any recovery in the company should boost preferred stock price more than common. We only have to look at 2 chart prices to see this:
HONVP: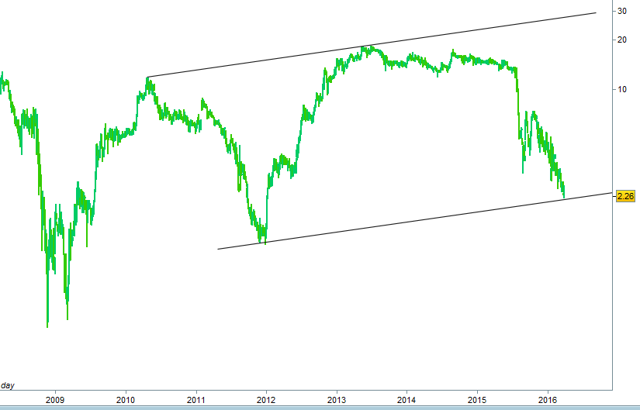 Click to enlarge
source: Prorealtime
HONVP rallied approximately 1500% from a low of $1.15 in '09 to a high of $17.96 in '13.
In the same period, the mother stock, HOV only rallied 750% from $0.79 to a lower high of $7.43 as shown below: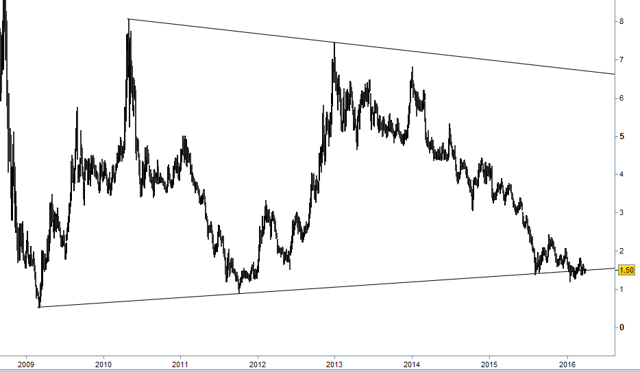 Click to enlarge
source: Prorealtime
I can't think of any reason why HOVNP rallied almost exactly twice as much as HOV, but at least it is backs up our thesis: when a distressed company recovers, preferred stock outperforms common.
Another interesting deduction that can be made from the above charts is that HOVNP reversals lag those of HOV. The pivots in '11, '13, and '15 all came months after HOV had already changed course. Could we simply wait until HOV rallies and buy HOVNP before it catches up? Perhaps, but with our strategy we do not have to.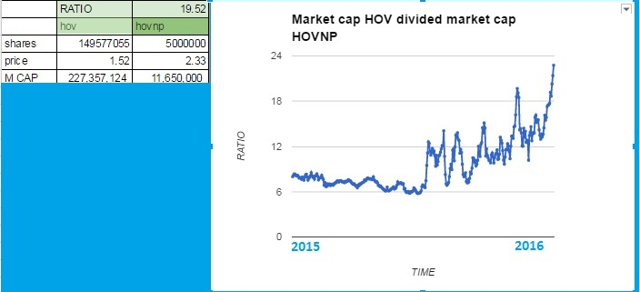 Click to enlarge
source: Author's input
As you can see from the data above HOV market capitalization divided by HOVNP's is at its one year high. It is probably close to all time highs. This is usually a pretty strong signal, but HOVNP is not what I call the normal preferred stock. As pointed out earlier, this stock is a "proud member" of Richard Lejeune's "hall of shame". I personally have never seen a prospectus like this. What I find really strange though is the recent sell-off. The one question I am asking myself is - "Can this preferred fall to zero while its common still has value". It certainly is headed there. I am usually very confident in common vs. preferred trades, but this one has surprised me and continues to do so.
My trade in HOVNP.
My trade has always been long HOVNP hedged with a short in HOV. I have traded this pair trade several times for some fast gains on the same mispricing with the common stock without even looking at the fundamentals (well, we all have trades like this). This time it was the same old signal that got me into it, but it was a fast loser. My initial purchase in HOVNP was in the $3 area while the short position in the common stock, was at $1.5. Not very proud to post this trade, but when looking at my trading statistics I am rarely so wrong. My last loser that was similar is actually one of my best trades recently and here is a link to it. I am adding this pair trade to my arbitrage trader portfolio at current prices ($1.51 for HOV and $2.26 for HOVNP) as of the close of trading on 3/30/2016
Positive catalysts for this trade:
Both securities falling to $0. In this case my position will be a nice winner, because my short position is bigger than my long position in the preferred stock. (It will be really sad to see this company going bankrupt)
The company improves its financial ratios by making an exchange offer for the preferred stock. I will take cash or an appropriate amount of common stock. Both scenarios will work just fine.
Conclusion.
HOVNP is really a lesson for preferred stock investors. The whole story about the company is so interesting that you are ready to make a losing trade just to see what happens next. With all the hoping and tales left aside, I seriously believe that HOVNP is undervalued compared to its common stock at current levels and the forces that were keeping those two stocks at their normal ratios will soon narrow the proposed arbitrage.
Disclosure: I am/we are long HOVNP.
I wrote this article myself, and it expresses my own opinions. I am not receiving compensation for it (other than from Seeking Alpha). I have no business relationship with any company whose stock is mentioned in this article.
Additional disclosure: I am short HOV