I took this picture on the last day of February at a gas station that I frequent near my home.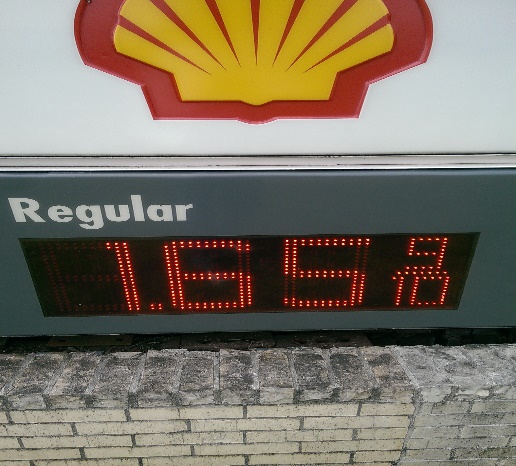 I had a suspicion that $1.65 might mark the low in prices. My daughter had commented the day before about how inexpensive it was to fill up the tank of her Prius, which for a teenage girl means a few extra bucks to spend at the Starbucks (NASDAQ:SBUX) right next door. Yet for millions of other Americans it means a whole lot more than a Frappuccino. It means they are still able to realize a small increase in their annualized earnings and purchasing power from one year to the next.
Every penny in the price of a gallon of gasoline (NYSEARCA:UGA) equates to approximately $1 billion in annualized consumer spending. That's not pocket change. So when the price of gas declines over the course of a year, it equates to a multi-billion-dollar tax cut for the American consumer. In December 2014 the average cost of a gallon of regular gas was $2.64, which was 62 cents lower than in December 2013. That meant that consumers had approximately $62 billion in savings to spend on other goods and services, according to the Wall Street consensus at the time.
The problem with this logic is that it assumes that this $62 billion was money in hand and available to be spent on other items. It was not. Instead, it was an expense that consumers did not have to incur, simply lessening the financial burden of the monthly cost of living. The average cost of a gallon of gas is just over $2.00 today, which is approximately 45 cents cheaper than it was a year ago. Again, this is simply easing the financial burden on the American consumer. Despite the cost savings that has resulted from the steady slide in gas prices over the past two years, the rate of growth in consumer spending on goods and services has declined year-over-year in each of the past four quarters, according to the final estimate for economic growth in the fourth quarter of last year.
It is income growth that drives consumer spending growth, and the decline in energy prices has been the primary factor in keeping real (inflation-adjusted) income growing. We focus on real income because the rate of growth in GDP, and the consumer spending that drives it, is forecasted and reported in real terms. The best measure of real income is real average hourly earnings. This figure most accurately represents what the average working consumer earns, and it excludes the earnings of highly compensated corporate executives that distort the average.
In the latest Consumer Price Index report we learned that the rate of inflation fell from 1.4% to 1.0% in February on a year-over-year basis. The index for all items less food and energy rose 2.3%, which is its largest annual increase since May 2012. The cost of energy fell 12.5%, led by a more than 20% plunge in the price of gasoline, which is the major category depressing the overall index. As a result of the CPI report, real average hourly earnings rose 1.2% in February on a year-over-year basis. A 2.2% increase was reduced to 1.2% in real terms because the CPI index rose 1.0%. Yet real weekly earnings rose a meager 0.6% on a year-over-year basis because the average work week shrank from what it was a year ago.
These statistics show how the decline in the cost of energy, led by the plunge in gas prices, has kept real incomes growing on a year-over-year basis. Still, the rate of growth in incomes continues to slow. In February 2015 real average hourly earnings were growing 1.9% on an annualized basis and real weekly earnings were growing 2.9%. Additionally, there was a 20% plunge in gasoline prices in front of the American consumer, which doesn't appear to be the case today. To the contrary, the price of gas has risen precipitously over the past 30 days.
The picture below shows the cost of a gallon of gas in my neighborhood today, just one month after hitting the low of $1.65. It equates to a $30 billion annualized tax increase on the average consumer, and it will result in an increase in the CPI index on a year-over-year basis in March.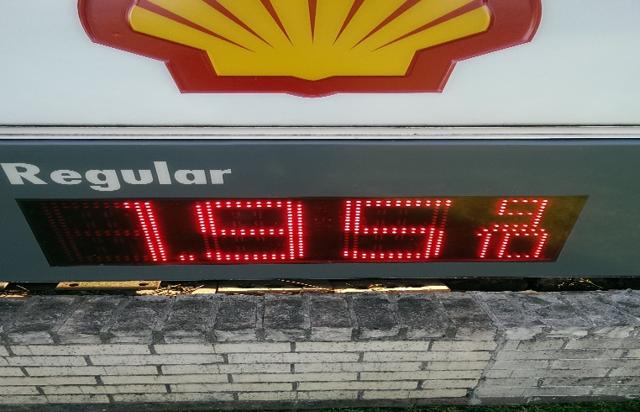 Click to enlarge
For all of the American consumers who don't have burgeoning stock portfolios, this creates a big problem. As the cost of a gallon of gas continues to rise towards its average price of approximately $2.45 a year ago, it will no longer suppress the year-over-year rate of inflation. Gasoline has a weighting of approximately 3% in the index, so a 20% decline from a year ago reduces the overall rate of inflation by 0.6%. This amounts to the annual increase in real average weekly earnings that was just reported for February. In other words, if the national average for gas prices rises to $2.45 in the short term, which is highly probable, it will result in a decline in real average hourly and weekly earnings.
Then stock investors would have a big problem, but you wouldn't know it based on the performance of the stock market (NYSEARCA:SPY) over the past six weeks, as oil (NYSEARCA:USO) and energy stocks (NYSEARCA:XLE) have led the way for most of the rally.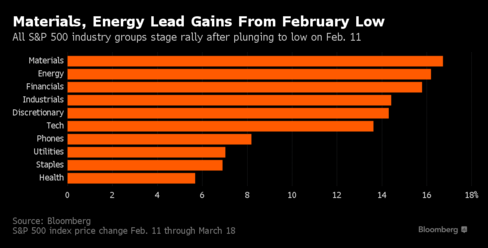 It may make sense to cheer for an oil price recovery, considering that oil and the stock market remain so closely correlated, but the negative impact that a continued rise in oil and gasoline prices would have on overall market fundamentals far outweighs the benefits that would result for the energy sector.
There is a strong correlation between the rate of growth in real average hourly earnings and the rate of growth in real consumer spending, with earnings leading spending. If real earnings decline on a year-over-year basis, due to the rise in cost of energy, then the rate of growth in consumer spending is bound to slow further. Since consumer spending accounts for approximately 70% of overall US economic activity, the rate of economic growth would also slow. The rate of economic growth is the primary factor in determining the potential for corporate revenue and earnings growth, and it is earnings that ultimately dictate stock prices.
What is ironic is that as Janet Yellen fans the flames that are inflating financial assets, including oil, with her dovish rhetoric, she is indirectly instigating a decline in real average hourly earnings. I wish she could connect these dots rather than the silly ones that the Fed plots in an attempt to provide the public with forward guidance for interest-rate policy.
The bottom line is that oil is now the enemy. A rise in the price of oil from current levels would put additional upward pressure on gas prices and translate into higher energy costs for consumers. Even if the price of oil stabilizes at current levels, gas prices may continue to rise as demand increases during the summer months. This would lead to an increase in the rate of inflation that is likely to wipe out the modest annualized gains we still have in real average hourly earnings. The Bureau of Labor Statistics will release the report on real earnings growth for March in mid-April, at which point we will see the impact of the recent surge in gas prices.
I believe that we will see a decline in year-over-year real average hourly earnings in the months ahead. Such a decline will further slow the rate of growth in consumer spending and economic activity. It will also undermine the consensus forecast for a significant recovery in corporate profits during the second half of this year. As a result, the 14% rally we have seen in the S&P 500 over the past six weeks is nothing more than a counter-trend rally in what is still a gradual decline for this index. It has no fundamentals basis, and a rise in the cost of energy further undermines the fundamentals.
Disclosure: I/we have no positions in any stocks mentioned, and no plans to initiate any positions within the next 72 hours.
I wrote this article myself, and it expresses my own opinions. I am not receiving compensation for it (other than from Seeking Alpha). I have no business relationship with any company whose stock is mentioned in this article.
Additional disclosure: Lawrence Fuller is the Managing Director of Fuller Asset Management, a Registered Investment Adviser. This post is for informational purposes only. There are risks involved with investing including loss of principal. Lawrence Fuller makes no explicit or implicit guarantee with respect to performance or the outcome of any investment or projections made by him or Fuller Asset Management. There is no guarantee that the goals of the strategies discussed by will be met. Information or opinions expressed may change without notice, and should not be considered recommendations to buy or sell any particular security.