Summary
As one might expect with Disney (NYSE:DIS), our story starts at a happy and magical place…the movies. Disney has enjoyed a superior group of recent film launches both in terms of numbers of movies launched and in number of blockbuster movies launched.
Disney's finances, per Table 1 following, show steady widespread gains in total revenue. With this year's lineup of movie releases as set out below, there can be no doubt that 2016 will be a record year at the box-office for Disney by some considerable margin. The 2017 lineup looks equally strong, although it is certainly going to be tough to match 2016's record so far.
The movie business at Disney, which I will show is the driver for the non-cable side of the business, is better than it has ever been. This success is not a new phenomenon which has sprung up as a surprise. Rather it is the result of a series of brilliant acquisitions; Pixar in 2006, Marvel in 2009 and Lucasfilm in 2012 which have been successfully melded into the company. Instead of corrupting the creative side of Disney, they have charged it with new energy.
It can appear intuitively attractive to split ESPN and the cable operations from Disney's other businesses. However, this is not the path management has chosen. Disney's management has proven its merit. Its multiple successes in growing and burnishing the Disney brand entitle it to the benefit of every doubt on such matters. Certainly Disney's management ought not be second-guessed by outsiders as have so many other managements whose struggling businesses gave credence to the exercise.
Disney's Financials
Accounting for movies tends towards the byzantine. Certainly Box Office Receipts are not a line item on any Disney financials I have ever seen. Disney's financials include Disney's share of Box Office Receipts and other movie revenues in its "Studio Entertainment Revenue" shown as item 3 in Table 1.
In its revenue reporting, "Studio Entertainment Revenue" is made up of three separately listed components into which movie revenues get divided: "Theatrical distribution", "Home entertainment" and "TV/SVOD distribution and other".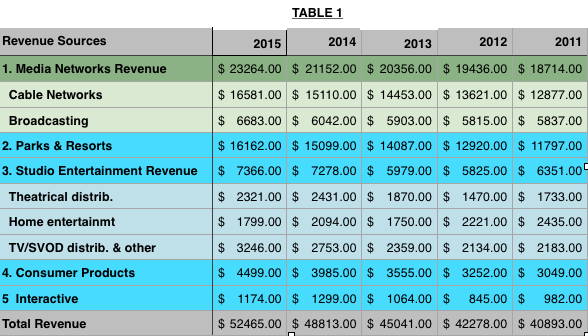 Source: Table derived from Financials included on Disney's 10-k's over several years
Nonetheless, the prosaic Box Office Receipts are a publicly available piece of the movie revenue picture. They are helpful in assessing a movie's general popularity, even if they cannot be directly modeled into Disney's financials. Disney's movies of late have been very popular indeed when measured by this Box Office Receipts yardstick.
Disney has four movies that are still in some theaters. These four were all first released after the close of Disney's 2015 fiscal year on October 3, 2015. The four movies first introduced by Disney since then (less than half a year's worth of revenues) have generated a total domestic box office to date exceeding $1.3 billion.
To put that in perspective, consider that in calendar 2015 the total domestic box office for all of the 697 movies released domestically, as tracked by Box Office Mojo was $11.270 billion. Disney's domestic box office for four movies during its first two quarters of 2016 will exceed 10% of the domestic box office for all of these 697 movies released in 2015.
I expect Disney's Studio Entertainment line for 2016 will show another huge increase. This has already been foreshadowed by the most recent Earnings Conference Call when Bob Iger announced that:
"With the incredible success of Star Wars: The Force Awakens, our studio delivered $1 billion in quarterly operating income for the first time in history."
Table 1 above shows Revenues. During the 5 years shown there are nice increases in each category. No one of these appears hugely dramatic. Table 2, showing the far more important Operating Income for Disney's major operating arms, provides lots of drama.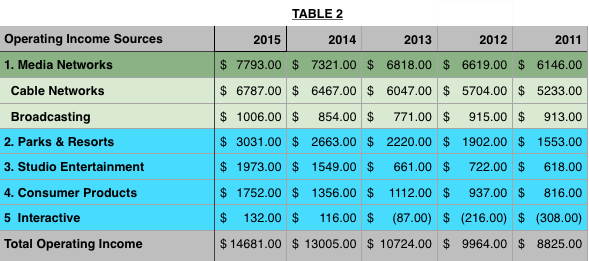 Source: Table derived from Financials included on Disney's 10-k's over several years
Overall, during the five years from 2011 through 2015 Disney's operating income has increased by over 60%. This is a nice increase but far from remarkable. Over this same period, Cable Networks, Disney's largest division has shown an increase of only less than 30%, its companion Broadcasting has shown a paltry 10% increase. The divisions that have carried the laboring oars in securing this overall corporate operating income increase are: Disney's second largest division, Parks and Resorts, which has nearly doubled its Operating Income from $1.55 billion to $3.03 billion and Disney's third largest division, Studio Entertainment, the real hero in this story. During the 5 year reference period, Studio Entertainment has more than trebled its Operating Income from $0.618 billion to $1.973 billion.
Obviously, Studio Entertainment is the driver of Disney's financial growth. Studio Entertainment achieved this five year record of success even though it stumbled its first two years out of the blocks growing less than 2% during this aggregate first two of the five years.
During this 5 year period Disney's management had achieved an astonishing pirouette. In 2011, Media Networks accounted for nearly 70% of Disney's Operating Income while accounting for only 46% of its Revenue. These percentages dropped to 53% of Operating Income generated from 44% of revenues at the close of 2015. Even as it was experiencing this dramatic drop-off of profitability from its largest division, Disney's other divisions picked up the slack as reported above. As a result, Disney managed to increase overall enterprise profitably each year during this five year period.
Ongoing Movie Success
Disney's recent box office successes show every sign of continuing over the next several years. The success of "Zootopia", released March 4, 2016, along with the continued drawing power of "Star Wars: The Force Awakens" assure a strong Studio Entertainment revenue production for the 2d quarter of fiscal 2016.
The remainder of the fiscal year will play out with 6 new releases. These include four releases from Walt Disney Studios: "The Jungle Book" on 4/15/2016; "Alice: Through the Looking Glass" on May 27, 2016; "The BFG" on July 1, 2016 and "Pete's Dragon" on August 12, 2016. Marvel has a superhero entry, "Captain America Civil War" on tap for May 16, 2016. Pixar will contribute "Finding Dory" on June 17, 2016.
There can be little doubt that one or more blockbusters will emerge from this group. The younger demographic through to adults in my family are unanimous in anticipation for "Finding Dory". There is also enthusiasm for "Captain America Civil War" among the superhero enthusiast subset. As for the four releases from Walt Disney Studios, no one can reliably predict how they will fare. Check out the trailers for "The Jungle Book" and "Pete's Dragon". They will surely draw attention to these films. At least one, and possibly more of the four from Walt Disney Studios, will achieve meaningful success.
Anyway you slice it, fiscal 2016 will be a banner year for Studio Entertainment Revenue. I explain below how this success will saturate several other Disney divisions with profitable future income drivers.
There is no letup in upcoming years. Disney has movies teed up for years to come with no less than five major studios cranking them out, including: Marvel, Lucasfilm, Pixar, Walt Disney Animation Studios and Walt Disney Studios Motion Pictures.
The Character of Disney
Movies are stories about characters. When audiences like the stories, they tend to identify with one or more of the characters. If you have any doubt about this, think back to Halloweens' past.
How many times has a little trick-or-treater been dressed as a character in a movie from the Disney stable? Thinking just of "Frozen", in the last couple of years that has surely has been a lot. Add the redoubtable Star Wars franchise to the mix, and you have many more. I haven't touched on any of the classic fairy tale stories that Disney has adopted as its own, nor have I yet mentioned any of the Marvel superheroes that have surely assaulted your door in search of Halloween candy.
The Disney entertainment conglomerate provides virtually unlimited scope for audiences to interact with characters that interest them. Let me count some of the ways this can occur. Keep in mind the wide age range of Disney's customers when looking over these products with which Disney's customers interact. They include books and toys of every conceivable variety, stickers, costumes, CD's, DVD's, radio and television shows, stage productions, amusement park rides and themed areas, along with attractions for cruise ships, resort properties and hotels.
Disney sums the situation up well on its web site when, across from the heading "Global" it says:
"Disney's stories, characters and experiences reach consumers and guests from every corner of the globe. With operations in more than 40 countries, our employees and cast members work together to create entertainment experiences that are both universally and locally cherished."
Traditionally, starting with historic successes such as "Snow White and The Seven Dwarves" (1937), and "Cinderella" (1950), Disney has first introduced its characters through the movie medium.
In some cases Disney's founders borrowed the characters from beloved fairy tales as was the case for the aforementioned two, in others they have invented their own as was the case with Mickey Mouse (1928) and Donald Duck(1934).
In the instance of "Fantasia" (1940), Disney's creators allowed their raw creativity to run wild, with borrowed classic symphonies. In so doing they birthed a beautiful orphan, giving rise to a movie of character with no memorable character development. It has been weakly commercialized as the following blurb from a description of attractions at the Disneyland Hotel illustrates:
"Shopping

Located in the Fantasy Tower, 2 retail stores-Disney's Fantasia Shop and small world Gifts & Sundries-offer special edition pins, toys, apparel, collectibles and sundries for sale."
"Fantasia" is a great work of the human spirit. It is a wonderful movie for the entire family. It is available for purchase on that basis. It is not something that has proven it can be profitably sliced and diced and sold and resold in a dozen iterations. As such, it makes a perfect model of what the Disney empire is not about.
The current Disney roster is pretty much devoid of similar movies. Disney prefers and has perfected an entirely different model. Its preferred movie introduces or reintroduces audiences to memorable characters. These are characters which drive the 69% of Disney's revenues outside of Media Networks.
The 69% comes from Divisions 2 - 5 as shown on Tables 1 and 2. These divisions are listed in descending order of size of their Revenues as shown on Table 1. They are: 1. Media Networks, 2. Parks and Resorts, 3. Studio Entertainment, 4. Consumer Products, and last and currently least, 5. Interactive.
The Disney Ecosystem in Operation
Star Wars is the archetypal movie franchise driving profits through every corner of the Disney ecosystem save Media Networks.
In his first quarter 2016 Conference Call, Chairman and CEO Bob Iger was barely able to contain his enthusiasm. After noting that Star Wars spearheaded Studio operating income exceeding $1 billion during the current quarter for the first time in company history he continues:
"Breaking records at the box office is only the beginning. Global retail sales for Star Wars merchandise in the first quarter exceeded $3 billion, more than triple the global retail for this franchise in Q1 of last year. Star Wars is also driving unprecedented growth for our mobile games, and EA's launch of Star Wars Battlefront was the biggest video game release in Star Wars history, with more than 13 million units sold."
source Q1, 2016 Conference Call
This shows how a movie and its characters affect not just Division 3 (Studio Entertainment), but also Division 4 (Consumer Products) and Division 5 (Interactive).
Later in the call we learn that Star Wars also sprinkles its largesse across Division 2 (Parks and Resorts), when Iger notes:
"And on the Parks front, later this year, we'll break ground on spectacular new Star Warsthemedlands in Disneyland and Walt Disney World."
source Q1, 2016 Conference Call
Iger's Star Wars vision is broad. He goes on to state:
"Clearly, Q1 saw the impact of our extremely successful "re-launch" of the Star Wars franchise, as well as its enormous potential to drive value across our entire company for the foreseeable future. Given our unparalleled mix of some of the world's best IP and strongest brands, we're well positioned for continued growth over the long term, regardless of changing dynamics in the media landscape."
source Q1, 2016 Conference Call
Star Wars may be an exemplar of this business model at Disney, but it is most certainly not the Lone Ranger [literally and figuratively] in this regard. There are products throughout Disney's lineup based on movie characters from Captain Jack Sparrow to more recently Anna and Elsa and then a far stretch in the way-back machine, Snow White, Cinderella and countless others.
So it is that Disney has a character-driven ecosystem. The characters traditionally start with popular movies. If movies are doing well, Division 3 (Studio Entertainment) is doing well by definition. Absent some extraneous event Divisions 2 (Parks and Resorts", 4 (Consumer Products) and (Interactive) 5 are certainly quite likely to be doing well also.
The Movie Lineup (now and upcoming)
According to Disney's website the following Disney movies are currently in theaters:
1. "The Good Dinosaur", Release: November 28, 2015, Rated: PG
2. "Star Wars: The Force Awakens", Release: December 18, 2015, Rated: PG-13
3. "The Finest Hours", Release: January 29, 2016, Rated: PG-13
4. "Zootopia", Release: March 4, 2016, Rated: PG
Domestic Box Office Receipts for these four movies are all over the map. The domestic Box Office Receipts providing a rough proxy for their relative popularity to date are:
"Star Wars: The Force Awakens", Lucas Films, $933,674,012; "Zootopia" Disney Animation Studios $241,431,697; "The Good Dinosaur" Pixar $123,006,802, "The Finest Hours" $27,452,772, Walt Disney.
Among other things these figures show the vast variances among different movies, variances that are not easy to forecast at early stages in the process. The superstar at the box office, "Star Wars: The Force Awakens" which is still chugging away was somewhat predictable. It was widely expected to be a blockbuster movie, as indeed it has turned out to be.
On the other hand few would have predicted that Pixar's effort, "The Good Dinosaur" which has been out for over four months, would have a box office only slightly over half that of Disney Animation's Zootopia which has barely been out an entire month.
What does the future hold? When Disney launches "Through the Looking Glass" as it plans to do on May 23 of this year it will have launched an even dozen movies in a scant 13 months. It has plans for 2016 as revealed above. There are eight movies slated for fiscal 2017 release. Seven so far have been scheduled for fiscal 2018.
The rumored upcoming release of the sequel to "Frozen" is not included as it has yet to be scheduled.
The Cable Networks Bugaboo
As noted Studio Entertainment is Disney's most important division. It is is growing like gangbusters. It is the driver of the bulk of Disney's revenues and operating income outside the slow growing Cable Networks division. Disney's largest division Cable Networks, once the star of the ball is now growing, but only glacially. Some fear that, like the glaciers, its profitably is in retreat.
In this scenario, Disney is electing to stick with its current corporate makeup. Its chairman opines that its cable assets give it a seat at the table when decisions are made relating to the future of entertainment distribution:
"We actually believe we're in an enviable position in a market, so that if there is disruption of what I'll call the 'traditional businesses,' the opportunities that the disrupters are creating for us are very exciting as far as we see it and we're going to participate."
This suggests to me that management is unwilling to concede that cable's current challenges are irreversible. Disney's largest exposure to the cable world resides in ESPN. ESPN's sports programming is a special breed. Disney's management must hold out the belief that it can regain some portion of its former profitable luster as the situation unfolds. Since the "timing is really [Disney's] to determine" it makes good sense to see how things play out. Disney has certainly managed the last 5 years well in this regard.
Closing Summary
There are two sides to every story. Disney is all about stories. I see this story as a happy one with years of growth as Disney's movie prowess builds characters who feed Disney's other Divisions as noted.
Others take a far less sanguine view. They see Media Networks as an albatross, resulting from a squeeze between mushrooming costs to acquire top sports content, coupled with cord cutters reducing revenue streams. The flip side of the coin, that movies hit a rough patch is also a possibility. Sad Sacks can point to 2012's "John Carter", 2013's "The Lone Ranger" and 2015's "Tomorrowland" as proof of the fickleness of the movie biz.
Will some of Disney's shiny new upcoming movies fill the goat's role in the future? Probably some, but certainly not many. All is well at Disney. Disney is in the catbird seat. it has several options, without any need to move quickly. Disney has played its hand adroitly to this point. It is best to stick with what is working, at least for the time being.
For the next several years Disney shows every prospect of growing its movie-character based ecosystem on a highly profitable basis. This should give it the space it needs to continue to grow profitably while it endeavors to maneuver its cable assets into a growth posture.
The real question should be, what is the prospect that Media Networks can catch on? It is an industry in flux. Some like Disney's opportunistic chairman see opportunity. He has generally been correct in his judgments. Shouldn't that be enough?
Disclosure: I am/we are long DIS.
I wrote this article myself, and it expresses my own opinions. I am not receiving compensation for it (other than from Seeking Alpha). I have no business relationship with any company whose stock is mentioned in this article.
Disclosure: I am/we are long DIS.
I wrote this article myself, and it expresses my own opinions. I am not receiving compensation for it (other than from Seeking Alpha). I have no business relationship with any company whose stock is mentioned in this article.
Additional disclosure: I/we may purchase additional positions within the next 72 hours.