Global interconnection leader Equinix (NASDAQ:EQIX) and its IBX data centers comprise the largest network of cloud dense ecosystems around the world.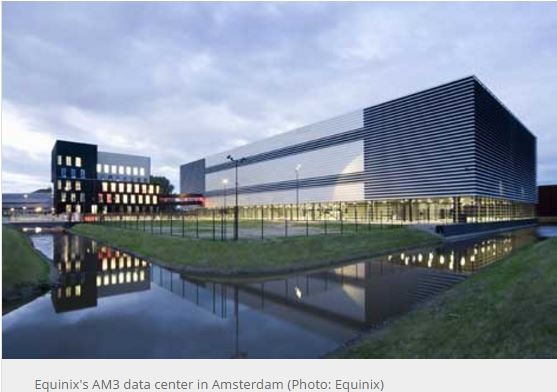 Source: Data Center Knowledge
The Equinix story began almost 18 years ago after winning an RFP process to create the locations where U.S. Internet traffic was handed off between telecom networks. This resulted in the first Equinix data center locations having a large concentration of fiber optic cables linking six key markets.
Equinix continued over the years to invest $14 billion, including acquisitions, to expand and replicate this network globally. During the past five or so years, Equinix also has invested to add "on-ramps" to hundreds of cloud computing providers in its IBX facilities.
Much of this build-out centered around state-of-the-art access to the "Big 3" public cloud providers: Amazon Web Services (NASDAQ:AMZN), Microsoft Azure (NASDAQ:MSFT) and Google Cloud Platform (NASDAQ:GOOG) (NASDAQ:GOOGL).
The real estate that Equinix operates is so valuable that this $22.35 billion market cap S&P 500 company tracks its monthly revenues by server cabinet, rather than tenant square footage, or megawatt (MW).
Equinix now leases to over 7,500 customers worldwide, yet CEO Steve Smith feels that this is only scratching the surface of the addressable market.
Many REIT investors are unfamiliar with the Equinix business model and growth strategy because until midway through 2015 Equinix was in the Technology sector.
Last December, I wrote a Seeking Alpha focus article "Data Center REIT Equinix: Why Most REIT Investors Missed A 40% Return" to help readers understand how this unique business model works.
Tale Of The Tape - Another Record High
At the time of that writing, Equinix had a market cap of $18 billion, and just barely three months later, it has increased to $22.35 billion.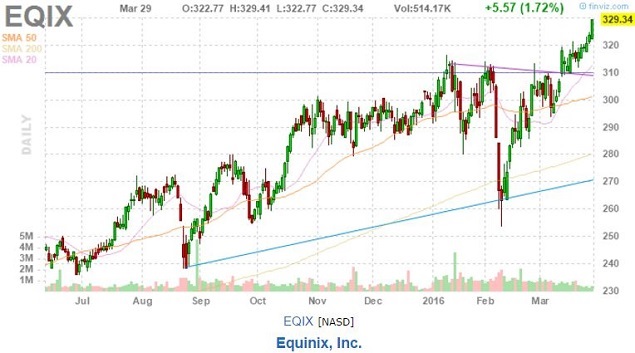 During the past 52 weeks, Equinix has traded in a range of $215.25 - $329.41 per share.
Sector Overview
As of this writing, all six publicly traded data center REITs are either trading at-or-near new 52-week and/or all-time highs.
Equinix is considered to be a "retail" data center REIT. Data center REIT blue-chip Digital Realty (NYSE:DLR) has the largest global data center footprint measured by square footage, and Equinix is Digital's third-largest tenant by revenues.
Last year, Digital Realty pivoted from its decade-long "wholesale" data center orientation and acquired Telx for $1.9 billion. Telx now offers colocation and interconnection services to Digital customers at many of its largest campuses.
While Equinix is impressively up over 11% YTD, it is still far from the sector top performer.
CoreSite Realty (NYSE:COR) is a smaller, but highly successful, connectivity-focused REIT. CyrusOne (NASDAQ:CONE) and QTS Realty Trust (NYSE:QTS) offer colocation and interconnection products and services to their tenants as well.
The lone remaining wholesale data center REIT pure-play is DuPont Fabros Technologies (NYSE:DFT), which leases space to hyper-scale cloud and other large footprint compute and storage customers.
A rising tide lifts all ships certainly applies to the data center REIT sector.
Enterprise Shift To Cloud Computing
Cloud deployments are a tailwind for both retail and wholesale data center landlords.
Social networks like Facebook (NASDAQ:FB) and Twitter (NYSE:TWTR), streaming media such as Netflix (NASDAQ:NFLX) or YouTube, and Software-as-a-Service such as Microsoft Office 365 are all examples textbook cloud business models. Even closer to home, Seeking Alpha recently migrated its platform from its own servers over to Amazon Web Services.
While in the early innings, enterprise migration of IT workloads to the cloud is creating a need for a linking legacy data centers with public and private cloud providers, often referred to as the "hybrid cloud."
Enterprise wholesale data center deployments often consist of "back-office" applications such as ERP, email, HR and accounting. These applications are not considered "high-performance" and lend themselves to longer lease terms of 5 to 10 years.
Typically, retail deployments are more dynamic in nature. These leases only run 2 to 3 years, (about the same as the equipment refresh cycle), usually with ongoing additions of cross-connects and power upgrades during the lease term. This is a source of organic revenue growth for Equinix.
These requirements often spin-up and scale quickly, or can be seasonal with peaks and valleys in usage. Cloud platforms have an advantage of being flexible, or "elastic," allowing companies to pay for what they need.
However, providing a network to securely connect a large enterprise with its vendors and customers across multiple service providers and geographies while meeting stringent performance standards is where Equinix really shines.
Equinix calls it creating the home of the interconnected cloud.
Equinix Insights - Citi Global Property CEO Conference
Equinix believes it has created a huge moat.
Equinix CEO Steve Smith described replicating the IBX Platform network would be like attempting to "…recreate the international airport network around the world." While there might be a bit of hyperbole in his comparison, it immediately gets your attention as an investor.
Here are some key presentation takeaways:
Paradigm Shift - Cloud computing is in the early stages of deployment by enterprise customers, and is likely to be a growth driver for 10 years. Smith compared it with mainframe to minicomputers and client server to desktop computing IT deployments.
Addressable Market - Smith shared there are over 350,000 companies with $10 million in sales and employ at least 500 workers globally.
In early January, I wrote up Smith's presentation Equinix CEO Unveils Aggressive Plan to Court Enterprises where he discussed the need to invest to create new ecosystems such as: payments, cloud services, advertising, and Big Data - especially data generated by the Internet of Things.
While currently Equinix has only 1,000 enterprise customers, Smith believes that Equinix should be able to grow the enterprise business exponentially to 20,000-50,000 logos, or more.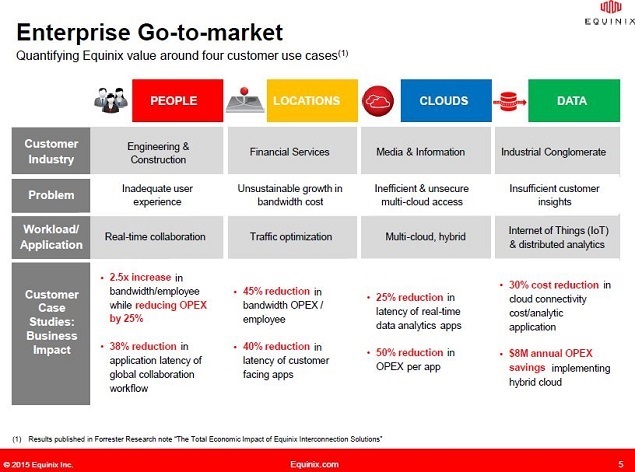 Source: Equinix 3Q'15 presentation
The Equinix approach has been to help design a solution as a case study, and then roll it out to industry peers. It appears to be working quite well as EQIX has gone from 20-30 Fortune 500 customers to 140 Fortune 500 customers, in just two years.
While the original 1,000 enterprise customers may have been more sophisticated when it came to deploying multi-cloud solutions, CFO Keith Taylor said now all large enterprise CIOs/CTOs must consider which applications in their IT stack are best suited to take advantage of hybrid cloud architecture.
Smith pointed out a global enterprise like General Electric might have 9,000-10,000 IT applications worldwide, and perhaps only 20% of them are well suited to be deployed into the cloud. Equinix's multinational footprint helps CTOs manage compliance with EU data sovereignty regulations, security and performance requirements.
Key Metrics/ROIC - Taylor explained how the Equinix "30% cash-on-cash, or greater" capital deployment goal really works.
Equinix considers 67 of 106 IBX data centers (not including another 39 net new Bit-isle and Telecity facilities) to be "stabilized."
The stabilized IBX facilities are 86% occupied and are generating a 33% cash-on-cash yield.
These mature, stabilized locations average 5% revenue growth, and 6%-7% same-store NOI growth, due to operating leverage.
The initial phase of a new build usually covers Equinix cost of capital. Subsequent phases generate high-teens ROIC, with phase four leasing generating 30% or greater cash yields.
Equinix has a lot of moving parts, and I found this explanation to be particularly helpful. The 30% is a longer term goal and capital allocation hurdle rate. It will not be attained as long as Equinix keeps expanding its footprint, but that is where the puck is headed.
Telecity Update - The TelecityGroup acquisition in Europe combines the largest network (Equinix) with number two Telecity. Integration efforts are proceeding smoothly, but "revenue synergies will come over time." The Telecity acquisition was underwritten at ~15x EBITDA.
The EU required a divestiture process for eight "highly sought after" Telecity data centers, which should be completed by mid-2016. These are interconnection and cloud-dense data centers that are generating in aggregate ~$70 million in EBITDA.
The assets being divested are more fully utilized than the legacy Telecity assets which will be kept and converted into Equinix IBX facilities. These eight data centers will be sold off in a granular fashion to multiple bidders, so as not to create a new competitor in Europe.
Food For Thought
Equinix continues to focus on revenue growth and building out its global IBX Platform as its number one priority.
Now that Equinix is in the REIT sector, EBITDA margins, along with FFO and AFFO growth which supports the dividend, will be getting more scrutiny from analysts and investors.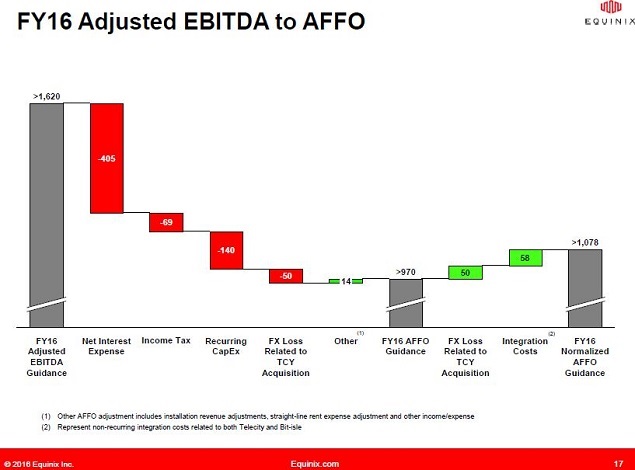 Source: EQIX - Q4 2015 earnings presentation
The $50 million Telecity FX loss and one-time integration costs were underwritten into the deals and are added back to normalized AFFO.
Equinix is a true global technology company with a headcount of over 5,000 employees. At the other end of the scale, wholesale data center REIT DuPont Fabros operates with just 130 employees in a few US markets.
Predictably, the Dupont Fabros business model delivers much higher margins and has fewer moving parts. Selling square-footage and megawatts of power is what most folks think of when they hear "data center REIT."
However, the network and cloud-dense ecosystems that Equinix has built in the largest cities around the globe serve as an engine for revenue growth as well as a competitive moat. I certainly like the Equinix story and its global IBX platform franchise for the long term.
Meanwhile, even a 7- to 10-year outlook for the commodity wholesale data center business is unclear. DuPont's investment grade tenants also operate their own fleet of data centers, and may choose to vacate at the end of their initial lease terms.
Investor Takeaway
Technology investors are used to seeing companies focus on top line growth and paying dividends might signal that growth is slowing down.
REIT investors are a bit stodgier, looking under the hood at key metrics and looking for dividend growth to drive price appreciation as well as multiple expansion which boosts total returns.
Here's a link to a Data Center Knowledge article which I wrote after Equinix reported Q4 2015 earnings: "Equinix: the Complicated Math of a Technology REIT."
Equinix is just beginning its first full-year as a REIT, and it wouldn't surprise me if a bit of tension develops between expectations of telecom and REIT investors. I believe that a lot of the good news is already baked into the Equinix shares at these price levels.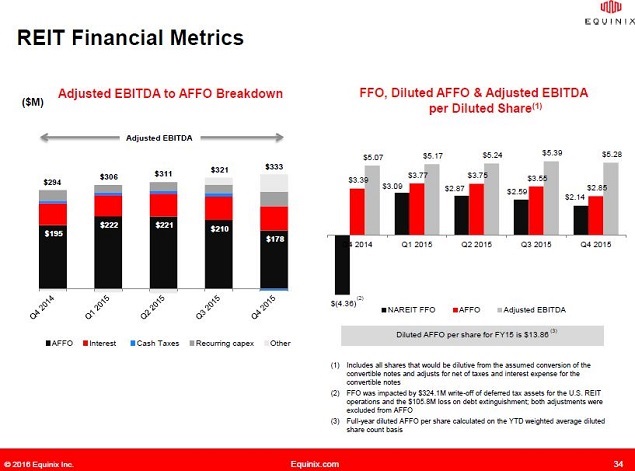 Source: EQIX - Q4 2015 earnings presentation
The downward trends in AFFO per share and NAREIT FFO per share metrics shown above will concern many traditional REIT investors.
There are a lot of moving parts with Equinix, including: 1) The integration of Telecity and Bit-isle, 2) The investments in enterprise sales, marketing and engineering initiatives, and 3) Over 50% of EQIX revenues being generated from international operations.
The Equinix story is impressive, but not simple. REIT investors generally prefer a simple story.
I would recommend that investors wait for EQIX shares to pull back prior to jumping in and buying a full position. My sense is that Equinix could be the most volatile of the data center REITs and there will be opportunities to purchase shares closer to $290 or below.
I also would strongly urge investors to consider owning EQIX shares along with other data sector peers to help reduce this risk while still having the opportunity to participate in the considerable long-term upside.
I relentlessly hunt for diamonds in the rough and rising stars, in addition to closely following data centers, covering REIT blue-chips, and breaking news. Please consider following me as a Seeking Alpha author if you would like to be notified when my future articles are published.
Disclosure: I/we have no positions in any stocks mentioned, but may initiate a long position in CONE, QTS over the next 72 hours.
I wrote this article myself, and it expresses my own opinions. I am not receiving compensation for it (other than from Seeking Alpha). I have no business relationship with any company whose stock is mentioned in this article.